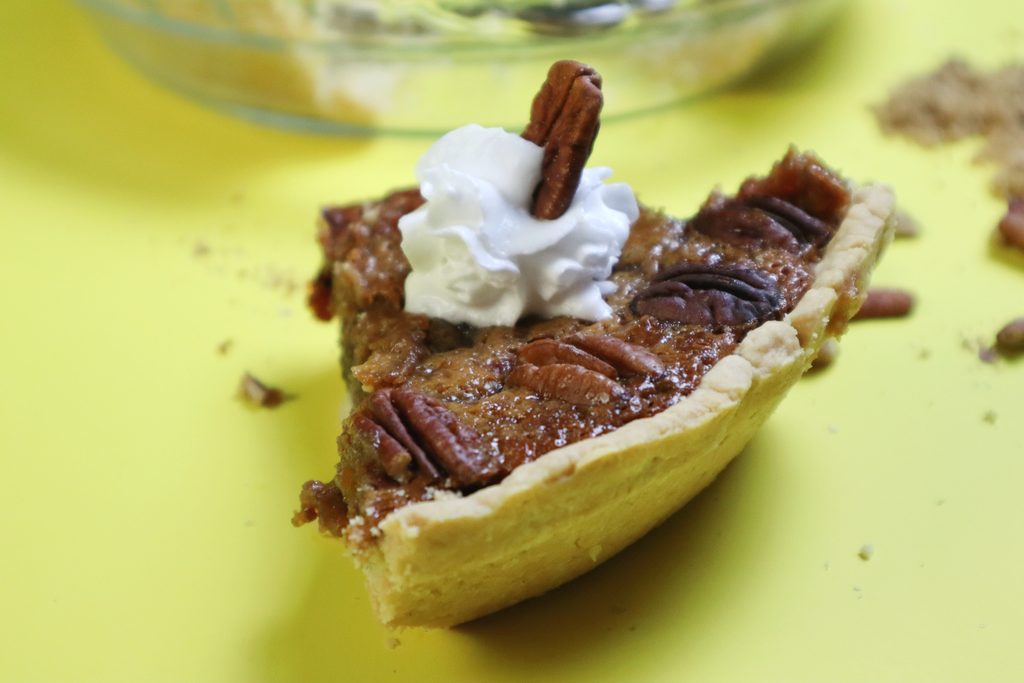 Vegan Pecan Pie Recipe Recipe
By Peanut Palate
🔪Prep Time: 30 mins
👩‍🍳Cook Time: 10 mins
Ingredients
Pie Crust
2 cups all purpose flour
½ teaspoon salt
⅔ cup coconut oil, chilled in the fridge for 15 minutes. It should be chunky and not melted. Preferably refined coconut oil – does not smell like coconut, as compared to virgin or extra-virgin.
6 tablespoons ice cold water I chilled 6 tablespoons water in the freezer for 15-20 minutes until it was ice cold, so you would have enough if you needed to use more than 3 tablespoons.
Pie Filling
⅓ cup vegan butter
1 cup coconut sugar or light brown sugar
¾ cup maple syrup
¼ cup cornstarch
½ teaspoon salt
2 teaspoons vanilla extract
1 cup silken tofu The pack should say silken or soft tofu on it. This is not the same as firm cooking tofu.
½ cup plump black raisins
1½ cup pecans
Extra pecans, for topping Optional
Instructions
1Mix together the flour and the salt – I would use a whisk so there are no flour clumps.
2Using a pastry cutter, add in the coconut oil and "cut" it into the dough.
3Add in the ice cold water. You can use your hands or a fork for this. Keep kneading it and eventually, a dough will form after 15-20 minutes. Roll this dough out onto a floured surface and into a circle, with a rolling pin. This might take some time, because the dough will crack if it isn't kneaded properly. When I rolled out my dough and it cracked, I had to knead it once more before I was able to put it into the pie tray. (See the photos in the post for how it looked once it was put in the tray).
4Once the crust is made, grease a 9.5 inch pie tray. Slowly lift the crust and carefully pat it down into the tray. Then bake it for 10 minutes at 350 degrees F to let it set before adding the filling.
5In a saucepan, combine the butter, sugar, maple syrup and cornstarch over medium heat. Stir and let it cook until it boils. Once boiling, reduce heat to low and cook it for another minute. Take it off the heat and stir in salt and vanilla.
6Add tofu to a blender and blend until completely smooth. Add in everything from the saucepan on the stove, and pulse the blender to make pecan chunks. Do not fully blend it, or you won't have pecan chunks in your pie.
7Pour the pie filling over top of the pie crust that should be out of the oven by now. Arrange extra pecans on top of the pie as you wish.
8Bake the pie at 350F for 1 hour. Remove from the oven and let it cool. It will continue to bake as it cools so you need to wait at least ~30-60 minutes. I let it cool for a few hours though.
9Using a sharp knife, cut the pie into 8 slices, and using a pie spatula, serve! Pie spatulas come in handy because they're shaped like a slice of pie to be able to lift the slices out of the pan.
View Full Recipe
Top Vegan Recipe Resources
🥑