Recipes

Vegan Carrot Cake Recipe (Raw Carrot & Coconut)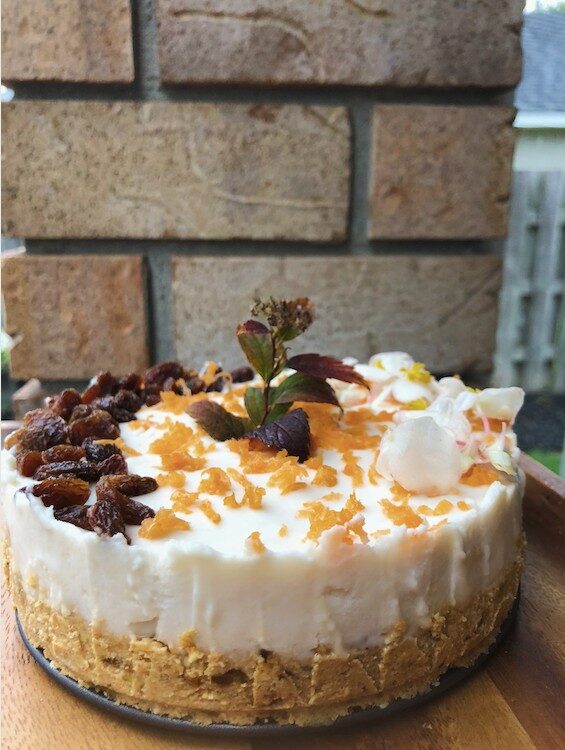 Vegan Carrot Cake Recipe (Raw Carrot & Coconut) Recipe
By Peanut Palate
Ingredients
For the Carrot Base Layer
1 cup finely shredded carrot ~1 large, fresh carrot
1 cup soft Medjool dates pitted
½ cup raw walnuts
¾ cup dry rolled oats
1 tsp vanilla extract
⅛ tsp pink salt
¾ tsp ground cinnamon
¼ tsp ground ginger
¼ cup coconut flour
3 tbsp plump black raisins
For the Coconut Top Layer
1 can full-fat coconut milk, using only the cream see section on Wet Ingredients above for how to make coconut cream from a can of coconut milk
¼ cup pure maple syrup
1 tsp vanilla extract
Instructions
1For the first layer, blend together all carrot layer ingredients, except the raisins and the coconut flour, until smooth. Once this mixture is smooth, mix in the coconut flour and raisins by hand.
2Use a piece of parchment paper or lightly oil the base with melted coconut oil (use refined coconut oil, which should smell neutral. Not virgin or extra-virgin). This will help to avoid the dough sticking to the base of the cake pan.
3Now pat the carrot mixture down into the prepared pan.
4For the second layer, use a hand mixer to whip together all the coconut layer ingredients until they're smooth and fluffy, like buttercream frosting.
5Pour this on top of the carrot layer, then put in the freezer to harden for 4-5 hours. If you want to add flowers or other things as topping, I suggest it should be done before the cake goes in the freezer.
6Once it is frozen, remove from the freezer and take off the sides of the cake pan. Allow the cake to thaw for a few minutes before cutting. Use a knife run under boiling hot water for a clean cut. Enjoy!
View Full Recipe
Top Vegan Recipe Resources
🥑