Recipes

No Bake Nutella Cream Pie With Chocolate Crust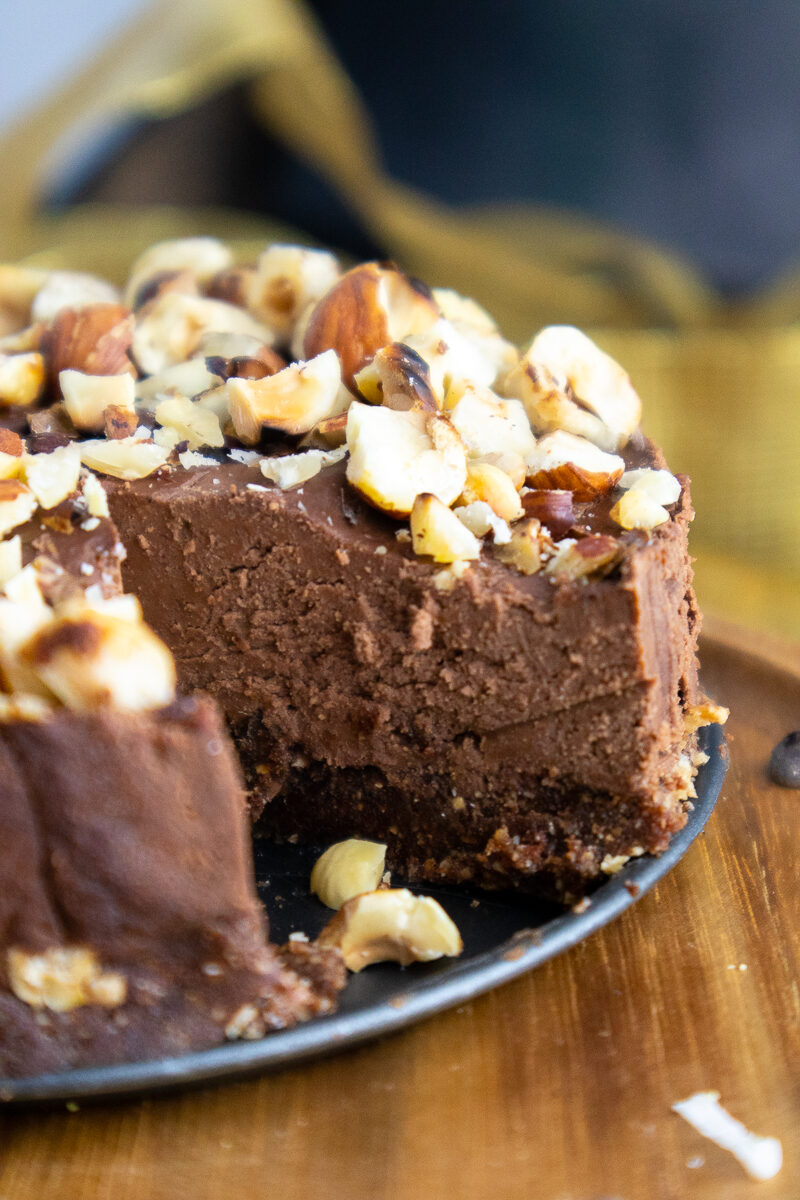 No Bake Nutella Cream Pie With Chocolate Crust Recipe
By Peanut Palate
Ingredients
For the Crust
½ cup Medjool dates pitted
9 tbsp almond flour
1½ tbsp cacao powder
¼ tsp vanilla extract
pinch pink salt
For the Filling
⅓ cup coconut cream
½ cup vegan semisweet chocolate chips melted
¼ cup hazelnut butter
¼ tsp vanilla extract
pinch pink salt
For the Topping
¼ cup toasted hazelnuts skins removed, chopped
Instructions
1Grease the bottom and sides of the springform cake tray with vegan butter, refined coconut oil or another neutral oil or vegan butter of choice.
2Blend together all crust ingredients until a dough forms. You may have to stop the food processor and scrape it down as necessary to help the blending process.
3Press the crust evenly down into the pan.
4Add the semisweet chocolate chips into a microwave-safe bowl. Microwave on 20 second intervals, stopping and stirring in between, until melted.
5Now blend together all filling ingredients, including the melted chocolate, until a creamy mixture forms.
6Pour this mixture over top of the crust, using a rubber spatula to evenly spread it around as needed.
7To toast the hazelnuts, add them to a small saucepan over low heat.
8Stir them around for 1-2 minutes, until they start to toast. They will burn quickly, so keep an eye on them.
9You can taste test the to check if they are toasted – the hazelnut flavor will be much stronger than the raw nut.
10Turn off the heat and add the hazelnuts into a paper towel or a cloth. Rub them in the cloth to remove the skins.
11Once the skins are removed as much as possible, press them down into the top of the pie to cover it completely with hazelnuts.
12Place the pie in the refrigerator for at least one hour to set.
13Once set, remove it from the fridge. Slowly remove the sides of the pan, making sure the pie is not stuck to the sides of the cake pan.
14Use a pizza cutter or a sharp knife to cut the pie into 6 slices. Enjoy!
View Full Recipe
Top Vegan Recipe Resources
🥑