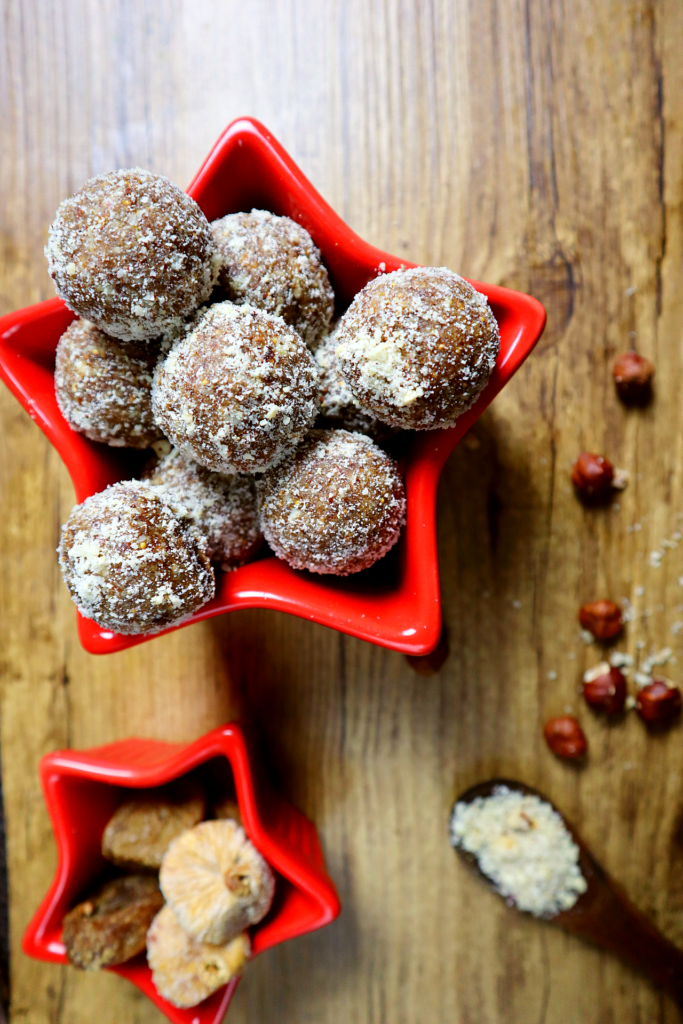 Toasted Fig Hazelnut Balls Recipe
By Peanut Palate
Ingredients
⅓ cup toasted, dried figs
⅔ cup toasted hazelnuts skins removed
Pinch salt
1 tbsp maple syrup or agave, coconut syrup, or other liquid sweetener. Sub with 2 more large dates if you want to keep this as raw as possible.
5 large dates pitted
¼ cup almond meal
¼ tsp vanilla extract
2 tbsp toasted, crushed hazelnuts skins removed. These are for rolling the balls in.
Instructions
1To toast the figs and hazelnuts, add them to a steel pan over high heat. Stir them around constantly until they are browned. You can taste the hazelnuts before and after toasting, and you'll notice that the nutty flavor comes out after toasting it. The figs should also start to turn brown and toast.
2Remove from heat. Remove the skins from the hazelnuts by rolling them in a paper towel and removing the skins.
3Blend together these hazelnuts, figs, and all other ingredients except the 2 tbsp hazelnuts for rolling. You can also toast these hazelnuts with the 2/3 cup you will use for blending, but set these aside and crush them with a mortar and pestle to use later.
4When a dough forms in the blender, turn it off and shape it into 10-11 balls. Roll them in the crushed hazelnuts you had set aside earlier.
5Store at room temperature. Enjoy!
View Full Recipe
Top Vegan Recipe Resources
🥑