Recipes

Vegan Maple Quinoa Nut & Seed Granola Recipe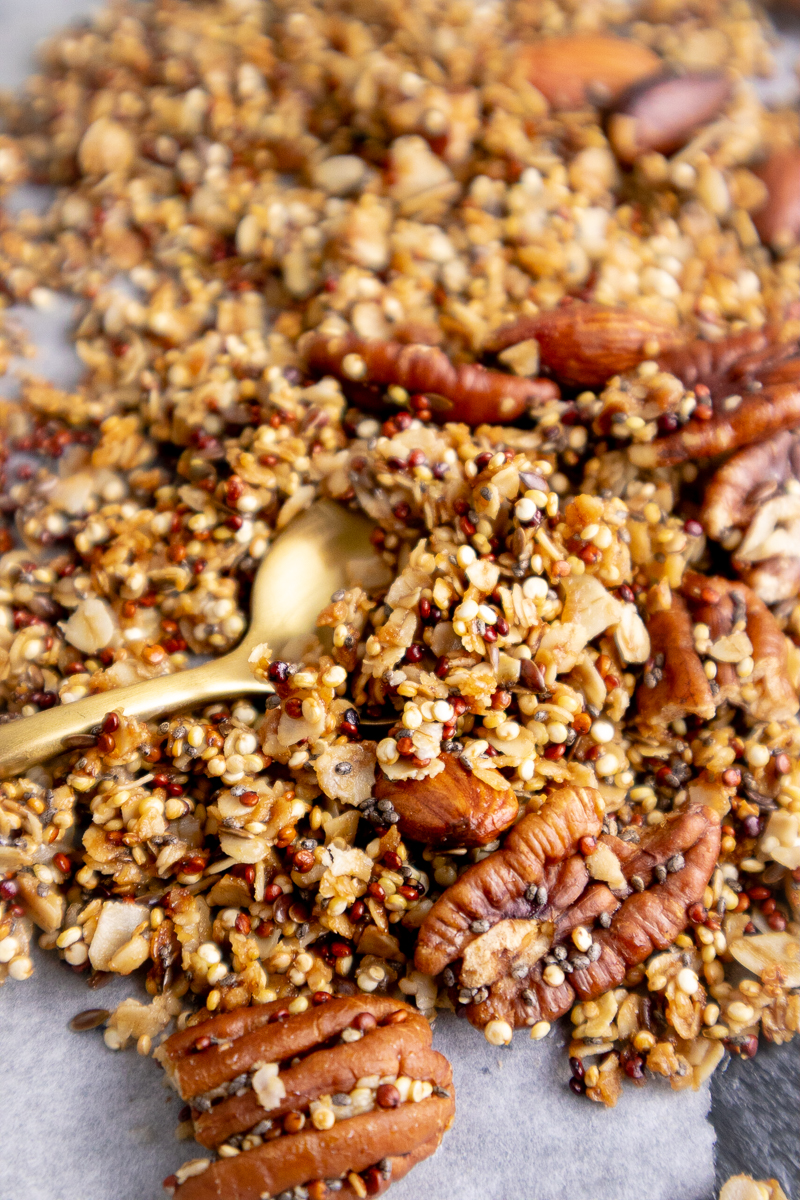 Vegan Maple Quinoa Nut & Seed Granola Recipe Recipe
By Peanut Palate
🔪Prep Time: 15 mins
👩‍🍳Cook Time: 16 mins
Ingredients
⅓ cup uncooked quinoa
⅓ cup dry quick-cooking oats
2 tbsp refined coconut oil
2 tbsp pure maple syrup
1 tbsp chia seeds
1 tbsp flax seeds
2 tbsp raw almonds
2 tbsp raw pecans
½ tsp vanilla extract
2 pinches pink salt
Instructions
1Preheat oven to 325 degrees F.
2In a small saucepan over low heat, add the wet ingredients (coconut oil and maple syrup). Stir around until melted.
3Stir in the salt and vanilla.
4Add this oil mixture to a large bowl, followed by the dry ingredients: chia seeds, flax seeds, almonds, pecans, oats and quinoa.
5Mix together all the ingredients to incorporate.
6Line a baking tray with parchment paper, or lightly grease it. Spread the granola mixture out on the prepared baking sheet in a single layer.
7Bake for 16 minutes at 325 degrees F, stirring the mixture around halfway.
8Once the time is done, remove the tray from the oven.
9Allow it to cool at room temperature for about a half hour. The granola will firm up as it cools.
10Once the granola has cooled, add it some into a bowl with plant-based milk, top it on a fruit parfait or enjoy it in your favorite way!
View Full Recipe
Top Vegan Recipe Resources
🥑