Recipes

Nature Valley Granola Bar Recipe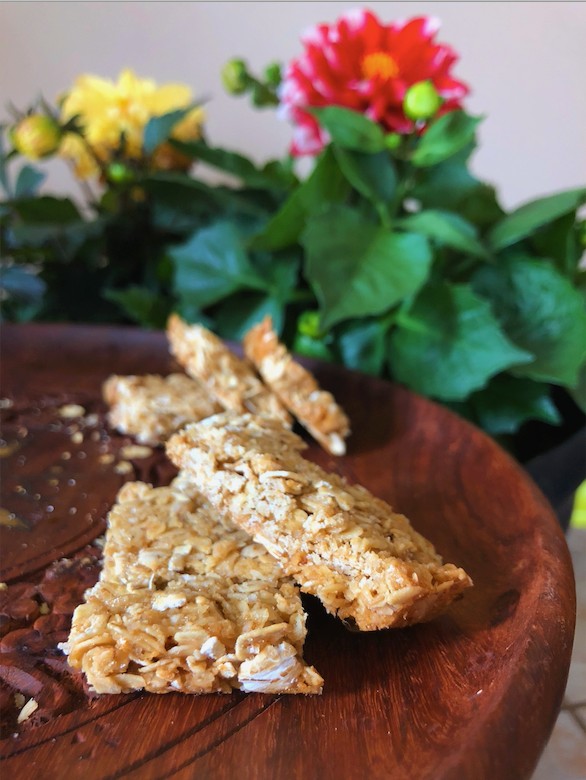 Nature Valley Granola Bar Recipe Recipe
By Peanut Palate
Ingredients
2 ½ cups dry rolled oats
¼ cup melted vegan butter
¼ cup agave nectar or pure maple syrup
¼ cup cane sugar
1 tsp vanilla extract
¼ tsp baking soda
scant ¼ tsp salt
Instructions
1Preheat the oven to 350 degrees F.
2In a medium bowl, add 2 cups of dry oats.
3Blend the remaining half cup in a spice grinder or blender until it's oat flour. This should take a few seconds in a high speed blender.
4Add the oat flour into the rolled oats, then add baking soda and salt. Stir to combine. Set aside.
5Melt the vegan butter in a small saucepan on the stove over medium heat, then add in the honey, sugar and vanilla until it is all a liquid. Turn off the heat and stir in the vanilla.
6Pour the wet mixture into the dry mixture and stir to combine.
7When everything is fully mixed, lightly grease the bottom of the baking tray or line it with parchment paper. Then pat the mixture down evenly into an 8×8 inch baking tray.
8Bake at 350 degrees F for 20 minutes, then take them out of the oven and let them cool. They'll harden and become crispy after they're completely cooled. I would eat them right after that, but you could also store them in a container (I probably wouldn't put them in an airtight container though, because it usually makes my baked goods softer than they should be over time).
View Full Recipe
Top Vegan Recipe Resources
🥑