Recipes

Crispy Vegan Fried Chicken Tofu Nuggets Recipe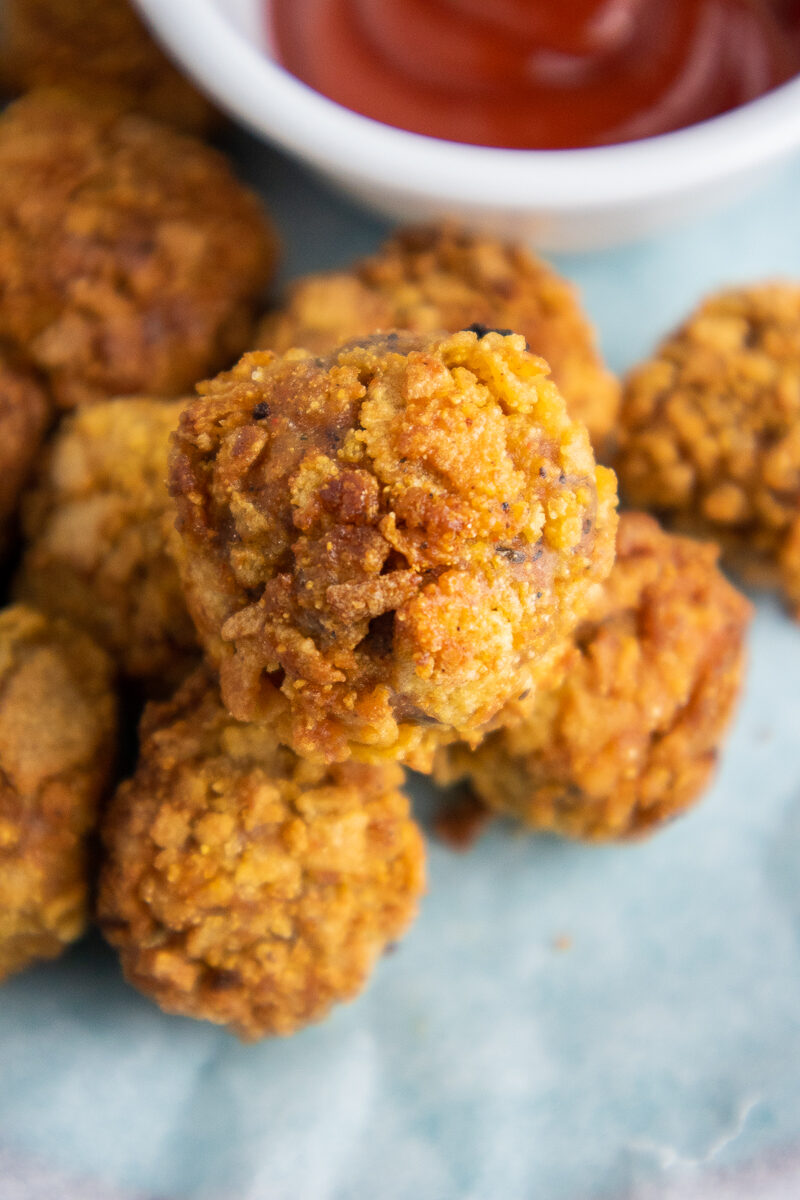 Crispy Vegan Fried Chicken Tofu Nuggets Recipe Recipe
By Peanut Palate
Ingredients
For the Wet Mixture
¾ tsp apple cider vinegar
10 tbsp oat milk make buttermilk
½ tsp garlic-ginger paste
¼ tsp red chili powder
1 tbsp tamari
For the Dry Mixture
1 block extra-firm tofu
15 tbsp gluten-free all-purpose flour 15 tbsp = 1 cup minus 1 tbsp
2½ tbsp cornstarch
1¼ tsp smoked sweet paprika
1¼ tsp onion powder
1¼ tsp garlic powder
½ tsp dried thyme
½ + ⅛ tsp dried sage
½ + ⅛ tsp dried tarragon
½ + ⅛ tsp dried oregano
½ + ⅛ tsp dried basil
½ + ⅛ tsp paprika
½ + ⅛ tsp powdered ginger
½ + ⅛ tsp celery salt
¼ tsp dried rosemary
¼ + 1/16 tsp red chili pepper powder
½ + ⅛ tsp pink salt
½ + ⅛ tsp black pepper
For the Crispy Coating
2 cups + 14 tbsp vegan cornflakes crushed into smaller flakes
For Frying
avocado oil
Instructions
1Use a tofu press to remove excess moisture from the tofu before using. This makes it even crispier! You can keep the tofu pressed for at least an hour, or overnight, in the tofu press. Alternatively, unwrap the tofu from its wrapping and wrap it around a clean kitchen towel.
2Place some medium-heavy objects on it, not enough to crush the tofu but just enough to gently get some of the liquid out. After at least an hour, you can cut the tofu into cubes and move ahead with the recipe.
3Make the buttermilk first, by mixing together the apple cider vinegar and oat milk in a small bowl. Set aside for 15 minutes.
4Once that's ready, add the garlic-ginger paste, tamari, red chili powder and buttermilk into a medium-sized, shallow bowl. Mix to combine.
5For the dry mixture, mix together all dry ingredients, except for the tofu, in a large shallow bowl.
6Once the dry mix is ready, set aside.
7Fill a frying skillet with avocado oil, over medium-high heat.
8Take each cube of tofu and roll it in the wet mixture, followed by the dry mixture. Repeat this once more for a double coat. Lastly, coat it in the crushed cornflakes. This will be a total of 5 coatings on each cube of tofu.
9Once each tofu piece is done, set it aside in a separate bowl.
10Keep a wide plate lined with paper towel aside, ready for the hot tofu cubes.
11When the oil is hot, add each tofu cube into the skillet. Make sure they are in a single layer and not overlapping, depending on the size of the skillet.
12Allow the tofu to brown on one side, then using a pair of tongs, flip each piece over until the other side is browned.
13Remove each piece from the oil and place it on the paper towel lined plate. Repeat the frying process for all the tofu cubes.
14Once the entire block of tofu has been used up, turn off the heat and set the skillet of oil aside.
15Add the tofu to a serving dish and serve with your favorite dipping sauces. Enjoy the fried tofu while it's warm! *Be careful, as it gets very hot when straight out of the oil.
View Full Recipe
Top Vegan Recipe Resources
🥑