Recipes

Keto Chia Pudding Recipe (Lemon Coconut)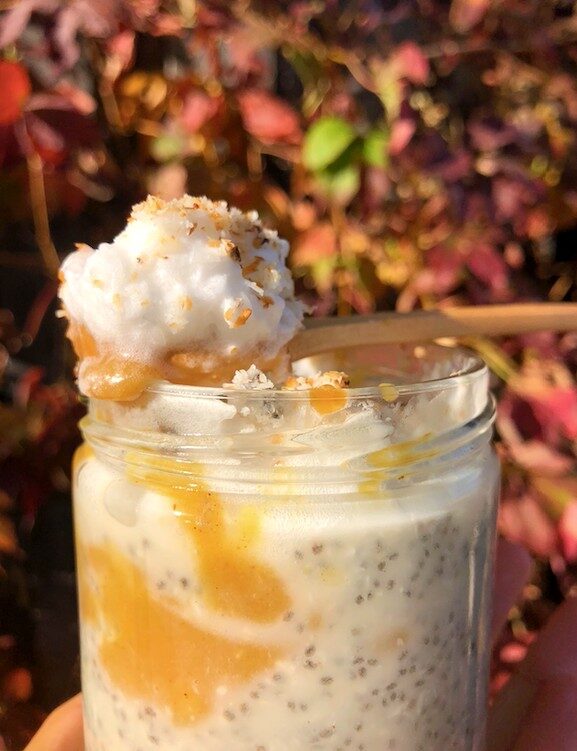 Keto Chia Pudding Recipe (Lemon Coconut) Recipe
By Peanut Palate
Ingredients
For the Chia Pudding
2 tbsp chia seeds
1 tbsp unsweetened shredded coconut
½ cup + 2 tbsp full-fat, canned coconut milk
1 tbsp pure maple syrup see substitutions section for keto options
½ tsp vanilla extract
For the Lemon Caramel Curd
¼ cup coconut sugar see substitutions section for keto options
¼ cup oat milk see substitutions section for keto options
2 tbsp fresh lemon juice
For the Topping
1 tsp unsweetened shredded coconut
vegan whipped cream I use Gay Lea brand, omit for keto
Instructions
1Mix together the pudding ingredients until they are well mixed, and set it in the fridge to thicken for about 20 minutes.
2Whisk together the milk and sugar in a small saucepan over medium-low heat until there are no clumps.
3Then mix in the lemon juice, and stir every so often until it starts to thicken in a few minutes.
4Remove from the heat and let it cool for 15 minutes.
5Add the coconut to a small saucepan over low heat, stirring it around constantly for 1-2 minutes until it's toasted.
6Remove from the heat and set aside once the coconut is starting to turn light brown. Be careful as it burns very quickly!
7In a mason jar or a clear cup, pour half the chia pudding, followed by all the lemon caramel. Then top with the remaining chia pudding.
8Then top with whipped cream, if using. Lastly, sprinkle on the toasted coconut. Enjoy!
View Full Recipe
Top Vegan Recipe Resources
🥑