Recipes

Homemade 3-Ingredient Cashew Cookie Larabars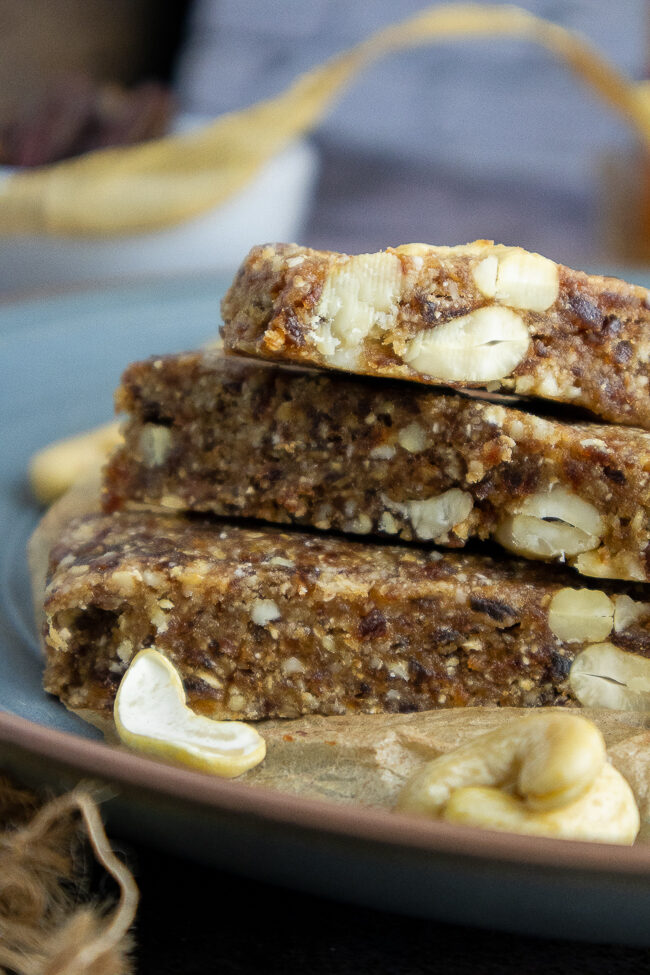 Homemade 3-Ingredient Cashew Cookie Larabars Recipe
By Peanut Palate
Ingredients
1⅓ cup Medjool dates pitted
¼ cup dry quick-cooking oats
1 cup raw cashews
Instructions
1In a blender, blend the dry oats separately to make oat flour. Remove from the blender cup and add to a bowl.
2Now add only 10 tbsp of the raw cashews into the blender. Blend to turn it into cashew flour. I only had to blend it for a few seconds – don't over blend or it will go from dry powder into something that's closer to cashew butter instead!
3Once the cashews are made into a powder, add the oat flour and the dates.
4Blend until a dough forms (the consistency should be as shown in the pictures). Scrape down the sides of the food processor as needed in order to blend.
5Add in the remaining 6 tbsp of raw cashews, and pulse it 1-2 times until the dough has cashew chunks throughout. Do not over blend or you won't have any cashew chunks remaining in your dough, and the consistency of the dough itself will change if cashews are fully blended, rather than pulsed, in.
6Remove the dough from the blender and get a piece of wax paper, a silicon mat or a small baking tray lined with parchment paper.
7Pat the dough down as thick as shown in the pictures.
8Refrigerate for 2 hours. Then remove from the fridge and cut into 8 bars.
9Once cut, you can let them come to room temperature to eat them if preferred. To store, keep in an airtight container at room temperature or in the fridge.
View Full Recipe
Top Vegan Recipe Resources
🥑