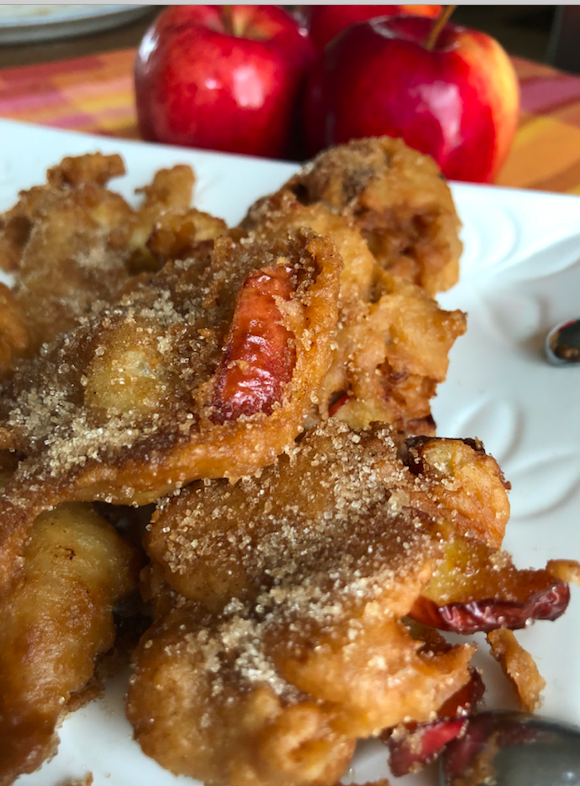 Amish Apple Fritter Recipe Recipe
By Peanut Palate
Ingredients
2 tbsp flaxmeal
4 tbsp room temperature water
2 medium fresh apples diced // Granny Smith or Pink Lady apples work the best
2 tbsp fresh lemon juice
3 tbsp vegan unsalted butter
10 tbsp non-dairy milk this is a half cup milk plus two tbsp
1½ cups all-purpose flour
2 tsp baking powder
dash vanilla extract optional
For a Cinnamon-Sugar Coating
2 tbsp cane sugar brown sugar may work
¾ tsp ground cinnamon
½ tsp pink salt
For a Glaze Coating
½ cup icing sugar / powdered sugar
non-dairy milk
For Frying
canola oil or vegetable oil
Instructions
1Make the cinnamon-sugar mixture or the glaze first by combining the ingredients for each as given in the list above. For the glaze, start by adding one spoon of non-dairy milk to the icing sugar. Keep adding more until it can "drizzle" in terms of consistency.
2Mix the ingredients in a wide bowl, so each donut can be dipped fully into the mixture. Set this bowl aside until the fritters are done frying.
3In a small bowl, make the flax meal egg by mixing warm water and flaxmeal. Let sit in the fridge for 15 minutes.
4After 15 minutes, in a separate bowl mix together the butter, milk, and flaxmeal mixture.
5In another bowl, mix chopped apples with 2 tablespoons lemon juice. Then mix this into the wet ingredients.
6In a separate large mixing bowl, mix together the dry ingredients.
7Add the wet apple mixture to the dry flour mixture. It should be a little runny and if it isn't, add some more water to it (go teaspoon by teaspoon) until it's not a dough. You shouldn't be able to form a ball with it.
8Heat a frying pan filled with vegetable oil on the stovetop to 350 F. If you don't have a deep-fry thermometer to check the temperature, then drop a little bit of the mixture into the hot oil to make sure it is hot enough and the mixture is frying well.
9Drop small mounds of the apple mixture into the oil. The fritters should be small-medium sized. Allow them to brown on one side, then flip them over after. This should take about 5 minutes per fritter.
10When each fritter is done, use a slotted spoon to pick it up out of the oil. Roll the freshly fried fritters in the cinnamon mixture and place on paper towels to soak up any excess oil. Alternatively, drip glaze over the entire top of the fritter.
11When all the fritters are done, turn off the heat for the oil and let them cool for 10 minutes on a wire rack before eating.
12Enjoy fresh!
View Full Recipe
Top Vegan Recipe Resources
🥑