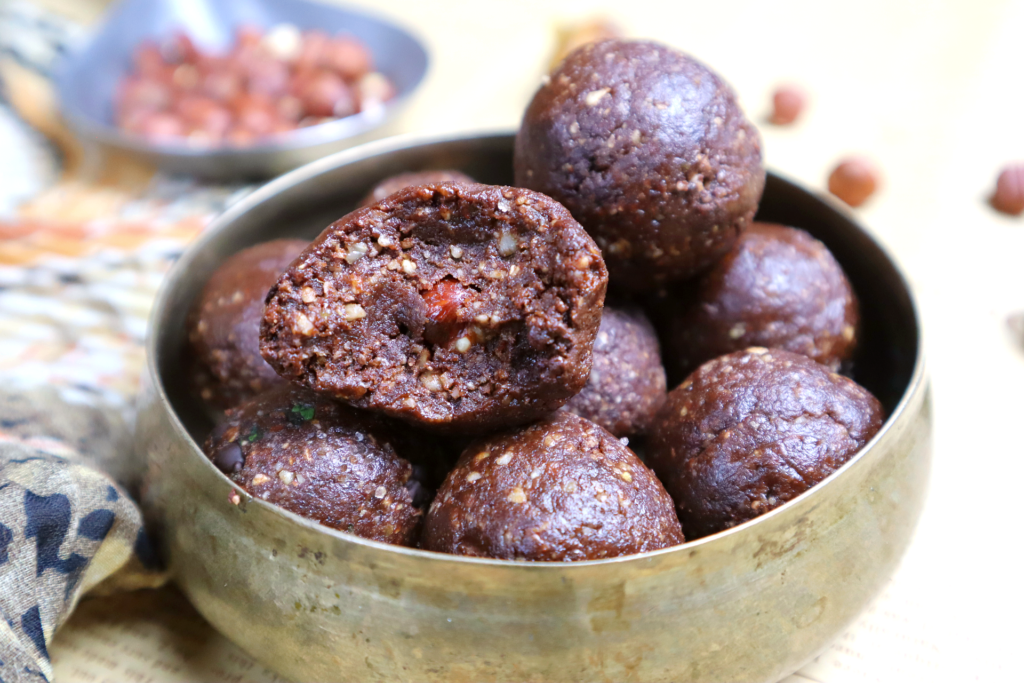 Nutella Bites Recipe
By Peanut Palate
Ingredients
½ cup soft, pitted dates
3 tbsp cocoa powder
¼ tsp vanilla
⅛ tsp salt
2 tbsp liquid sweetener agave, 100% pure maple syrup, etc
2 tbsp dark chocolate chips, melted
⅔ cup toasted hazelnuts
Instructions
1To toast the hazelnuts, turn the stove to medium-high and add them in.
2Continuously stir them around for just a couple minutes, until they are starting to brown. When you bite one, the flavor should taste toasted, very different from just a raw hazelnut. They toast fast so be careful.
3Once they are toasted, turn off the stove. Dump the hazelnuts into a towel and rub them together until the skins come off. This should just take a minute. Then take out the toasted hazelnuts and throw away the skins.
4Blend these hazelnuts together with the rest of the ingredients, but reserve 9 of them for later use.
5Once a dough forms in the blender (it should be sticking together very easily), turn off the blender and shape the dough into 9 balls, adding a hazelnut inside each before rolling it up (you can see the pictures above and how there is a hazelnut in the center).
6Enjoy! Store them in an airtight container in the refrigerator or at room temperature. They will become more fudgy/chewy in the fridge, or they'll stay soft if you keep them at room temperature.
View Full Recipe
Top Vegan Recipe Resources
🥑