Recipes

Easy Vegan Sugar Cookie Recipe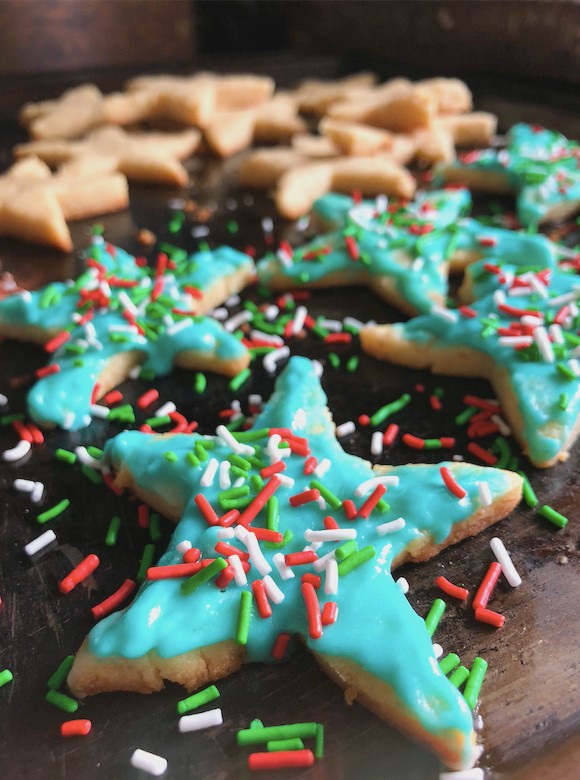 Easy Vegan Sugar Cookie Recipe Recipe
By Peanut Palate
🔪Prep Time: 20 mins
👩‍🍳Cook Time: 10 mins
Ingredients
Cookies
1½ cups all purpose flour
½ cup vegan butter softened at room temperature
½ cup cane sugar or white sugar
1½ tsp flax meal (ground flaxseeds)
1½ tbsp water room temperature
¾ tsp vanilla extract
¾ tsp baking powder
⅛ tsp salt
Icing
1 cup plus 2 tablespoons icing sugar confectioners' sugar
6 tbsp vegan butter softened at room temperature
Splash oat milk as needed
food coloring as desired
sprinkles to top, as desired
Instructions
1Keep the butter at room temperature. Make sure it is fully softened before beginning.
2Preheat the oven to 350 degrees F.
3Mix together the flax meal and water and set aside for 15 minutes to make a "flax egg" before starting.
4In the meantime, mix together the flour, baking powder and salt with a whisk in a bowl.
5Once the flax egg is ready, in a separate bowl use an electric mixer to cream together the butter and sugar for 2 minutes. Once creamed, add in the flaxmeal with water mixture and vanilla.
6Add the wet ingredients to the dry using an electric mixer.
7Once a dough begins to form, you can shape it with your hands or use a mixer to get the remaining chunks combined. When the dough comes together, roll it out onto a floured surface and begin shaping the cookies with a cookie cutter.
8Using a silicon mat or parchment paper, lay the cookies on a baking tray.
9Once the oven is ready, bake the cookies for 7 minutes on the middle rack.
10While the cookies bake, use an electric mixer to cream together the icing ingredients until the icing forms peaks.
11By the time the icing is ready, the cookies should be just about done. Remove them from the oven after 7 minutes and let them cool for an hour. Do not try to remove them from the baking tray until they are fully cooled, or they will break apart!
12Once they are completely cooled down, frost the cookies and throw some sprinkles on there!
13Eat them fresh or store them at room temperature. See storage notes below.
View Full Recipe
Top Vegan Recipe Resources
🥑