Recipes

Peanut Butter & Vegan Nutella Cups Recipe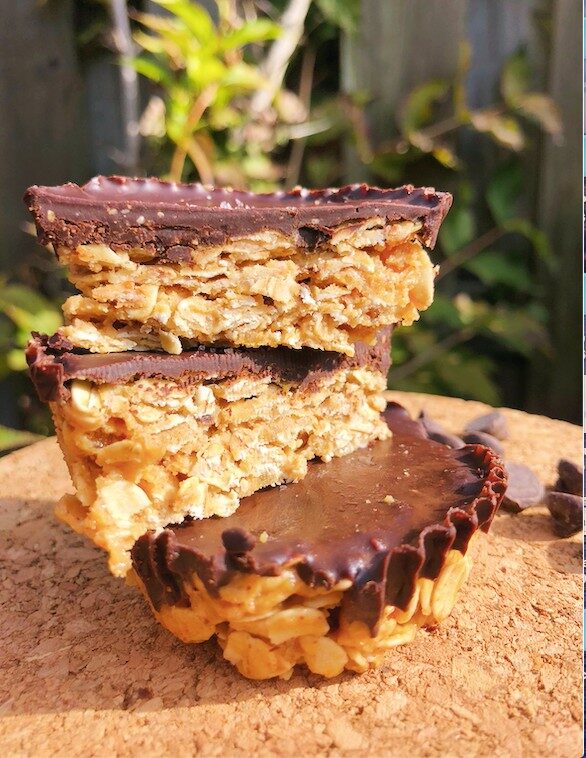 Peanut Butter & Vegan Nutella Cups Recipe Recipe
By Peanut Palate
Ingredients
For the Base Layer
½ cup dry rolled oats
2 tsp refined coconut oil melted
¼ cup natural creamy peanut butter
3 tbsp pure maple syrup
⅛ tsp vanilla extract
pinch pink salt
For the Top Layer
⅓ cup vegan semisweet chocolate chips
2 tbsp hazelnut butter
1 tbsp pure maple syrup add 1 tbsp more if desired
pinch pink salt
Instructions
1If making the hazelnut butter at home versus buying the pre-made butter, start out with a half cup of raw hazelnuts. This will make more than the amount of hazelnut butter needed. A half cup or more is ideal for blending – otherwise, if there aren't enough hazelnuts to blend, it will not blend properly.
2Turn the oven on to 350 F. Spread the raw hazelnuts in a single layer on a baking tray lined with parchment paper. Once the oven is ready, roast them for about 9 minutes, stirring them halfway through.
3Remove them from the oven once done. Wait for them to cool down, then using a clean kitchen towel, rub the hazelnuts together until the brown skin comes off. Once the skin is off the majority of the hazelnuts (some will still stick), then add them all to a food processor. A blender is not recommended to make homemade nut butter because there is less surface area to blend as compared to a food processor.
4Blend for 5-6 minutes until the hazelnuts reach a creamy consistency. The natural oils will start to come out after a few minutes to make it creamy.
5Mix all the ingredients for this together until it forms a sticky mixture. Take 3 cupcake liners in a cupcake tray and pat down the crust – make it thick, like in the photo. Place this in the freezer for 15 minutes.
6Melt all ingredients together over low heat in a small saucepan on the stove. Once melted, take the crust out of the freezer, and pour over top.
7Place the cups back in the freezer for 3-4 hours, or until the chocolate tops are hardened.
8Enjoy!
View Full Recipe
Top Vegan Recipe Resources
🥑