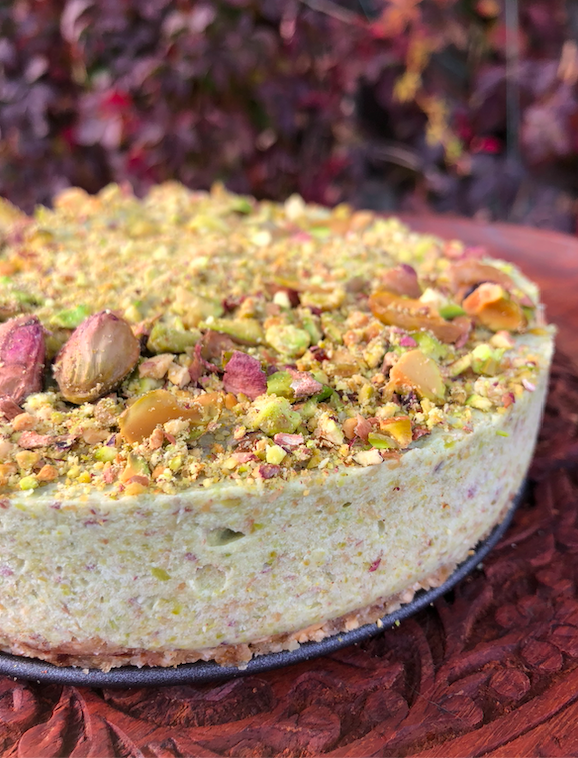 No Bake Pistachio Cheesecake Recipe
By Peanut Palate
Ingredients
Crust
½ cup raw walnuts
¼ cup dry rolled oats
¼ soft, pitted dates
⅛ tsp pink salt
Filling
¾ cup roasted, salted pistachos shells removed
1 small ripe avocado peeled and pitted
1 can coconut milk, only the cream required see instructions below for the cream
¼ cup pure maple syrup
1 tbsp coconut flour
¼ tsp vanilla extract
Topping
¼ cup crushed, roasted pistachios shells removed
Instructions
1Before starting, make sure the dates are soft. Medjool dates are my favorite to use here! If your dates are not super soft and caramel-like, put them in boiling water for 30 minutes. Drain the water very well before using them.
2Blend together all the ingredients until a crumbly dough forms. Pat this down into the cake pan. You can lightly oil the bottom of the cake pan with refined coconut oil, or use parchment paper to fit the base.
3To get the coconut cream, refrigerate a can of full fat coconut milk overnight. The next day, open up the can and you will notice that there is a thick layer of cream that has risen to the top. This is coconut cream! Scoop all this out to use in the recipe.
4Blend together all ingredients until smooth and creamy, then pour on top of the crust. Top with the extra crushed pistachios.
5Freeze the cake for 6 hours, or until it's solid enough to be removed from the cake pan.
6Remove it from the freezer 15 minutes before serving, to soften.
7Eat fresh, or see below for storage notes!
View Full Recipe
Top Vegan Recipe Resources
🥑