Recipes

Nut And Seed Granola Bars (Almond Sea Salt & Dark Chocolate Kind Bars)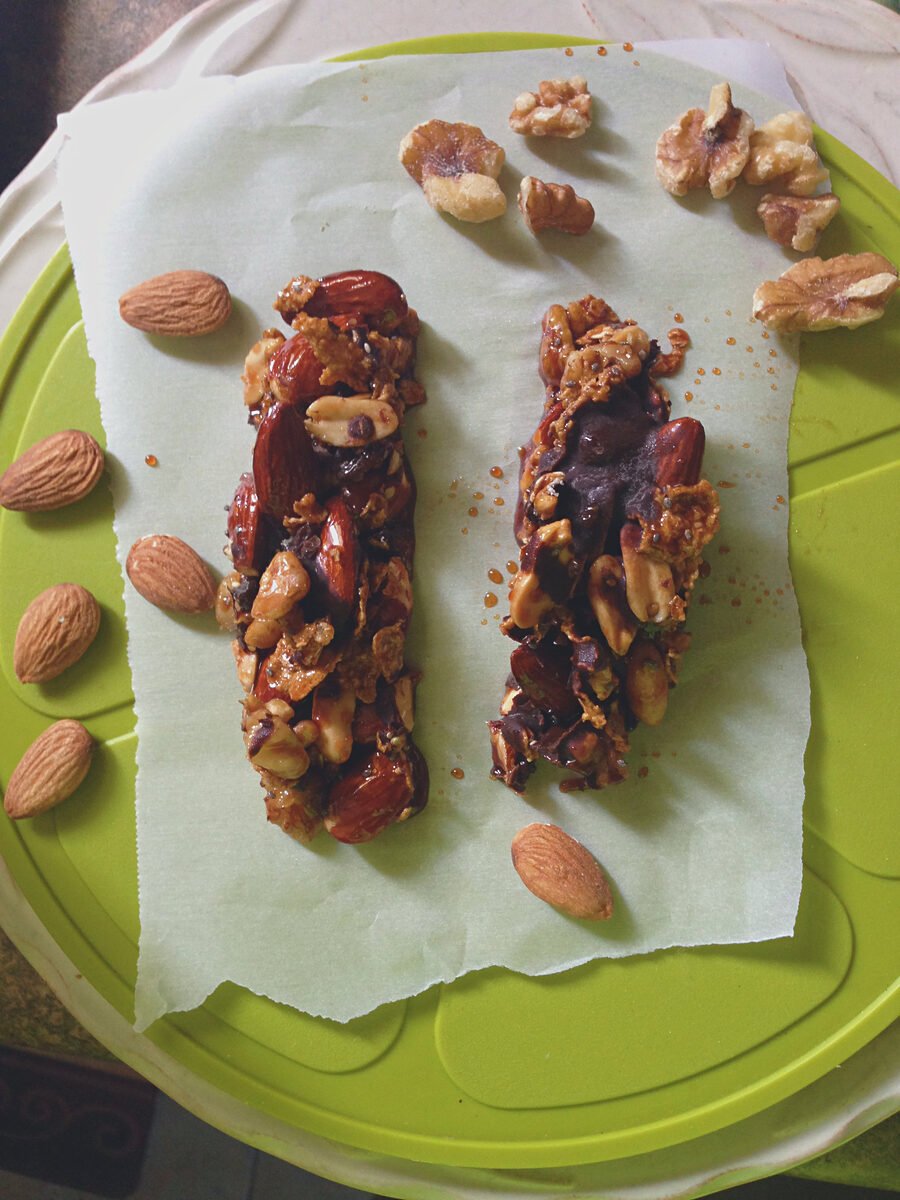 Nut And Seed Granola Bars (Almond Sea Salt & Dark Chocolate Kind Bars) Recipe
By Peanut Palate
Ingredients
1 cup crispy rice cereal
1 tbsp refined coconut oil not virgin/extra-virgin
1 cup whole almonds unroasted
⅓ cup whole peanuts unroasted
⅓ cup chopped walnuts unroasted
5 tbsp pure maple syrup start with 3 tbsp
½ tsp vanilla extract
½ tsp sea salt keep ⅛ tsp aside from this
For the Chocolate Drizzle
½ cup vegan dark chocolate chips
½ tbsp refined coconut oil not virgin/extra-virgin
Instructions
1Line a baking tray with parchment paper. Spread the nuts in an even layer, then place in the oven at 400 degrees until they are lightly browned, about 5-7 minutes. Keep a close eye on them, as they tend to burn quickly
2When these are done, remove them from the oven. Allow the nuts to cool for 20 minutes before using.
3Then mix the nuts with the cereal in a separate bowl and set aside.
4In a small saucepan over medium heat on the stove, mix the maple syrup, 1/8 teaspoon salt and vanilla extract, until the mixture reaches "hard ball stage." The maple syrup will reduce in volume, turn darker in color and become thicker. This can take about 10 minutes.
5Immediately take this and pour it over the nuts in the other bowl, using a rubber spatula to scrape it all out of the pan. This is the point where the mixture will harden right over the nuts.
6Mix everything in the bowl together. Then transfer this to the prepared pan. Pat the granola mixture down into the tray with a flat spatula.
7Take the 1/2 tablespoon of coconut oil and the chocolate chips and put them into a small saucepan over low heat on the stove top, constantly stirring until melted.
8Drizzle this over the bars, and then sprinkle with the remaining sea salt. Put in the freezer to harden for a couple hours, and then transfer to the fridge once they are fully hardened.
9Cut into bars with a sharp knife when ready to serve. Carefully use a sawing motion with the knife to make sure it cuts through the nuts without breaking the bar shape.
10See storage notes below.
View Full Recipe
Top Vegan Recipe Resources
🥑