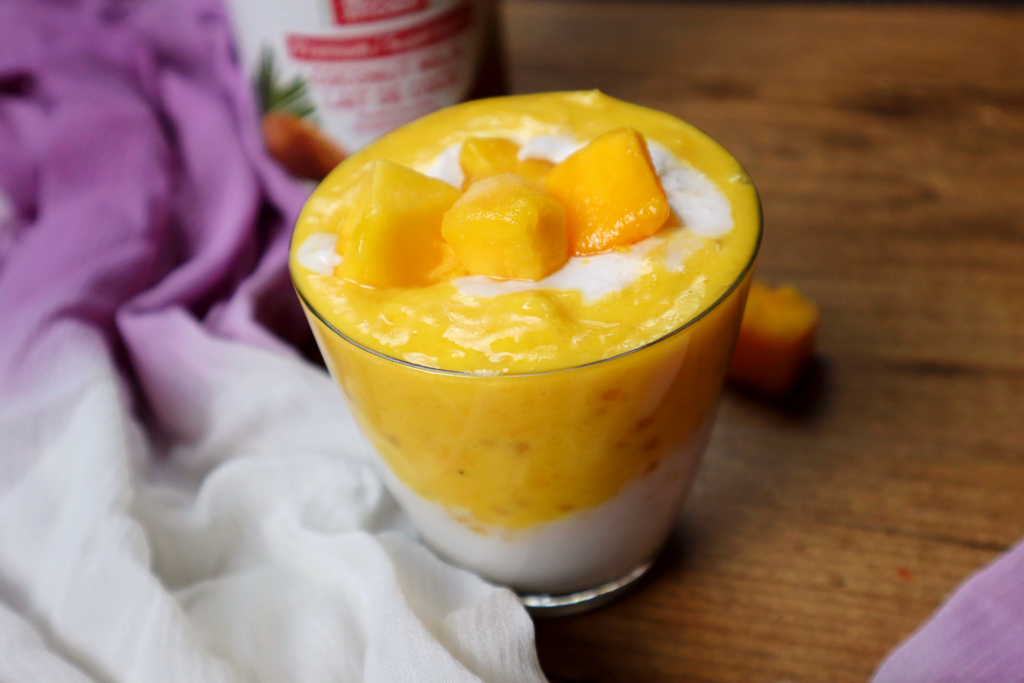 Mango Sago (楊枝甘露) Recipe
By Peanut Palate
Ingredients
For the Mango Layer
2 tbsp small white tapioca pearls uncooked
1½ cups fresh or frozen mango, diced
scant ¼ cup coconut milk canned
1 tbsp coconut cream canned
⅛ tsp vanilla extract
For the Coconut Layer
¼ cup coconut cream canned
1 tbsp maple syrup
⅛ tsp vanilla extract
Instructions
1Cook the tapioca pearls as per the instructions on the back of the bag you bought. Usually, there are instructions for cooking it on the back side. If not, then you'll want to boil 1 cup of water on the stovetop, then add the mini tapioca.
2Cook on medium-low for 15 minutes, until the tapioca is transparent. When it is cooked thoroughly, drain the water and soak in a new bowl of cold water.
3Remove a small handful of the mango for topping. In a small blender cup, add the rest of the mango, coconut milk, coconut cream and vanilla. Blend it until it's smooth. Then mix in the tapioca pearls by hand. You can refrigerate the mango mixture to chill the dessert before adding the tapioca pearls, if you would like it to be colder.
4When it will be served, mix the mango mixture with the tapioca pearls by hand if you haven't already. Then mix together all the ingredients for the coconut layer in a separate bowl.
5In a cup, layer the mango layer, then the coconut layer, then mango chunks on top. Serve right away!
View Full Recipe
Top Vegan Recipe Resources
🥑