Recipes

Homemade Fresh Peach Ice Cream Recipe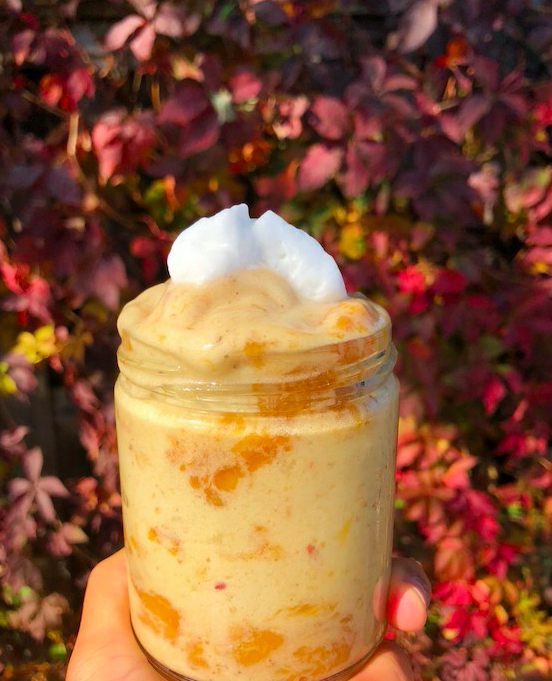 Homemade Fresh Peach Ice Cream Recipe Recipe
By Peanut Palate
Ingredients
For the Ice Cream
2 medium frozen bananas peeled and chopped before freezing
2 medium frozen peaches peeled and chopped before freezing
¼ tsp vanilla extract
For the Peach Mixture
½ medium room temperature peach peeled and chopped into small pieces
1 tbsp xylitol
½ tbsp room temperature water
For the Topping
vegan whipped cream optional
Instructions
1Before beginning this recipe, make sure to freeze the chopped peaches and bananas in a freezer-safe container until completely frozen. While these are freezing, make the peach mixture below and place it in the refrigerator to chill so everything is ready to go once the fruits are frozen.
2Mix together the chunks of peaches with the water and xylitol in a saucepan over medium-low heat until it starts to boil and thicken. This will take about 7-9 minutes.
3Once the compote has thickened, pour it into a heat-proof bowl and allow it to cool at room temperature for an hour. Then place it in the refrigerator for 4 hours to chill.
4After four hours, blend together all ice cream ingredients in a high-speed blender until it forms a soft-serve consistency.
5Scrape the ice cream mixture out of the blender and into a bowl. Top it with the chilled peach mixture.
6Enjoy right away!
View Full Recipe
Top Vegan Recipe Resources
🥑