Recipes

Caramel Chocolate Candy Cups (O'Henrys)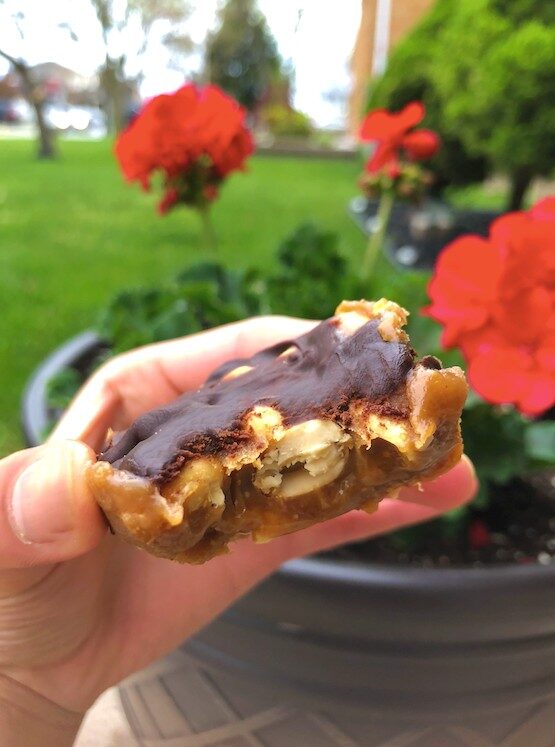 Caramel Chocolate Candy Cups (O'Henrys) Recipe
By Peanut Palate
Ingredients
For the Caramel Sauce
3 tbsp coconut sugar
¼ cup full-fat, canned coconut milk
pinch pink salt
6 tbsp roasted, salted peanuts
For the Candy Cups
¼ cup vegan dark chocolate chips melted
2 tbsp natural, creamy peanut butter
Instructions
1Heat together the caramel ingredients in a saucepan over medium heat.
2Keep stirring until it begins to boil, then set the heat to low and stir for around 15 minutes until it begins to thicken. You can measure out 4 tablespoons to use for this recipe (it should make about that much anyways).
3Mix in the peanut butter to the saucepan with the caramel sauce so it can melt.
4Mix in the roasted peanuts last.
5Melt together the chocolate chips and peanut butter in another small saucepan over low heat, stirring until melted.
6Remove from heat once melted.
7Line a muffin tray with 3 muffin liners.
8Add an equal amount of the peanut-caramel mixture to each of the muffin liners.
9Top caramel layer with an equal amount of chocolate all over each cup. Do not swirl it around.
10Freeze for a couple hours, until the filling has set and the chocolate is frozen.
11Enjoy cold! Keep them frozen – they may melt in the fridge.
View Full Recipe
Top Vegan Recipe Resources
🥑