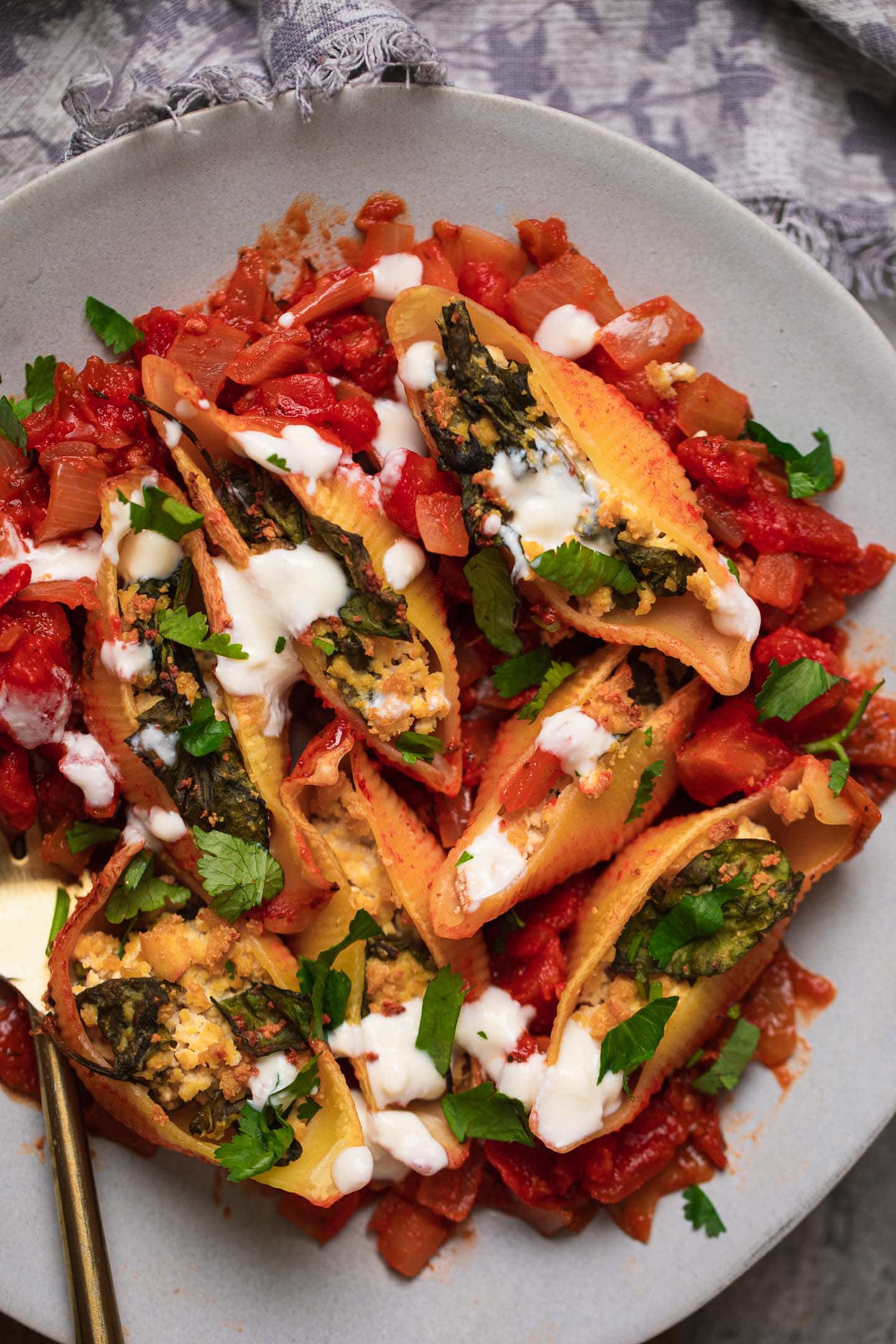 Vegan Stuffed Shells With Spinach Ricotta Recipe
By Earth of Maria
🔪Prep Time: 10 mins
👩‍🍳Cook Time: 25 mins
Ingredients
10 oz conchiglie, (around 15 large shells)
1 tbsp olive oil, (or vegan butter) to grease the baking dish
1 tbsp olive oil
1 large onion, diced
2 cloves garlic, minced
2 tbsp tomato paste
1 can canned tomatoes, (14 oz can)
1 tbsp dried oregano
1/2 tsp salt
10 oz extra firm tofu
1/4 cup nutritional yeast
1 tbsp apple cider vinegar
1 tbsp tahini
1/3 cup plant based milk
Instructions
1Cook the conchiglie: Cook the pasta shells for around 2-3 minutes less than the packaging instructions. Drain and rinse when done.
2Preheat the oven: Lightly grease a rectangular baking dish with olive oil or vegan butter, and preheat the oven to 180 degrees C/350 F.
3Make the tomato sauce: Heat some olive oil in a frying pan or saucepan over a medium-high heat. Now add onion, garlic and tomato paste and cook for 5 minutes, until softened and fragrant. Next, add canned tomatoes, dried oregano and salt, and cook for a further 3-4 minutes, stirring frequently.
4Make the tofu ricotta: Add extra firm tofu, nutritional yeast, apple cider vinegar, tahini and plant based milk to a blender or food processor and blend on a low speed for a few seconds.
5Add spinach: Transfer the 'ricotta' to a frying pan over a medium heat together with the spinach. Stir for a couple of minutes, until the spinach wilts, and season to taste with salt and pepper.
6Assemble the pasta shells: Add a layer of the tomato sauce to the baking dish. Next, add around 1-2 tbsp to the ricotta to each pasta shell and arrange them in an even layer above the tomato sauce. If you wish, you can add some more tomato sauce on top.
7Bake the shells: Bake in the preheated oven for 25 minutes, until crispy and golden.
View Full Recipe
Top Vegan Recipe Resources
🥑