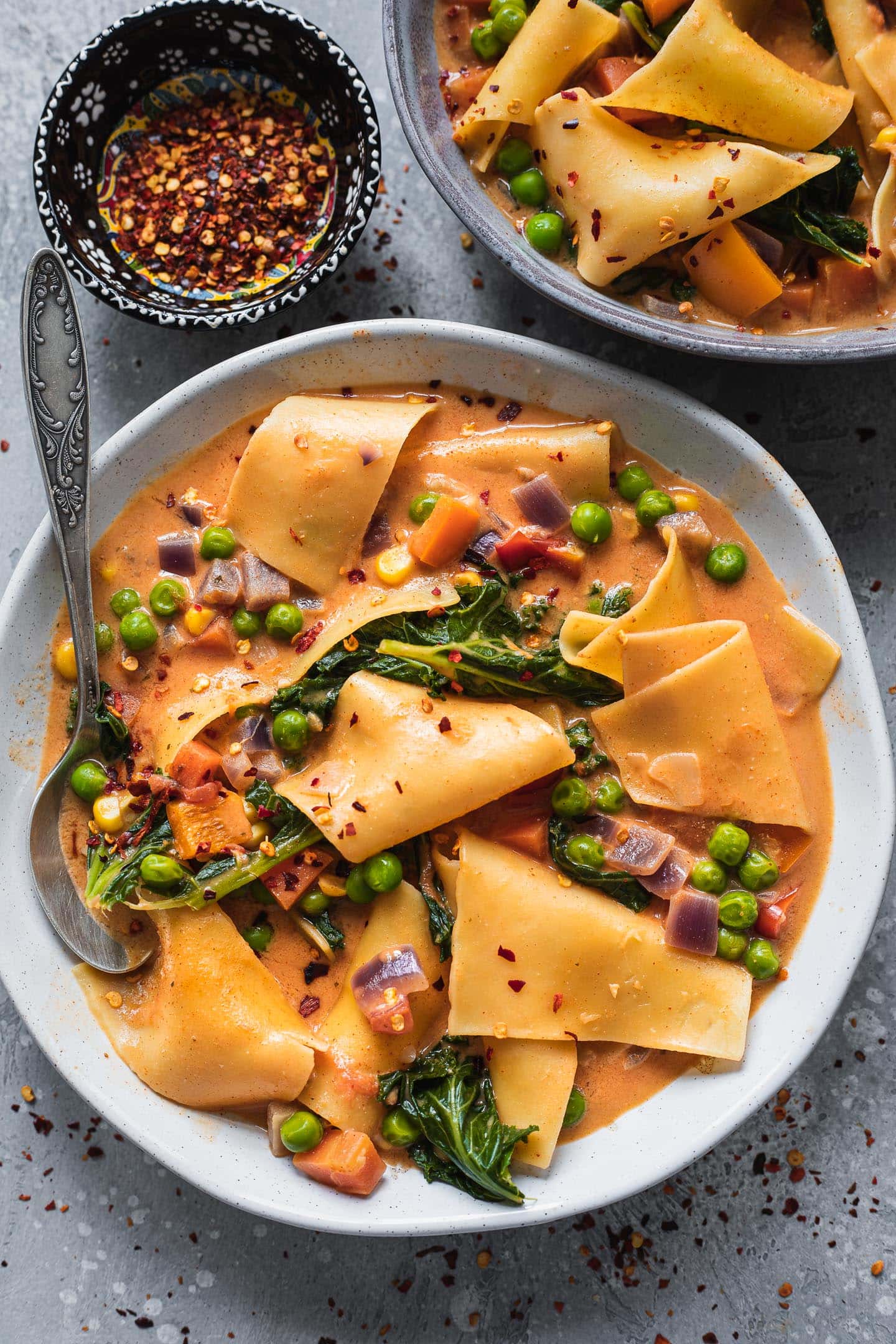 Vegan Lasagna Soup Recipe
By Earth of Maria
🔪Prep Time: 0 mins
👩‍🍳Cook Time: 25 mins
Ingredients
2 tbsp olive oil
1 large onion, diced
2 cloves garlic
1 cup diced tomatoes
1 large carrot, peeled and diced
1 large orange bell pepper, de-seeded and diced
1 tsp cumin
1 tsp paprika
1/2 cup sweetcorn
8 lasagna sheets, ensure vegan
1 can coconut milk, 14 oz
2 cups vegetable broth
3 tbsp nutritional yeast
2 tbsp tamari
2 cups kale, de-stemmed and chopped
1 cup green peas
Instructions
1Heat the olive oil in a large saucepan over a medium-high heat, adding the onion, garlic and tomatoes. Cook for 2-3 minutes to soften.
2Add the carrots, orange bell peppers, cumin, paprika and sweetcorn. Cook for 5 minutes more, until the vegetables are softened.
3Break apart the lasagna sheets and add them to the saucepan together with the coconut milk, vegetable broth, nutritional yeast and tamari. Stir together well, then simmer for 12-15 minutes over a medium heat, until the lasagna sheets are fully cooked through. Add more liquid if necessary.
4Add the kale and green peas and stir for a few minutes more, until the kale wilts.
View Full Recipe
Top Vegan Recipe Resources
🥑