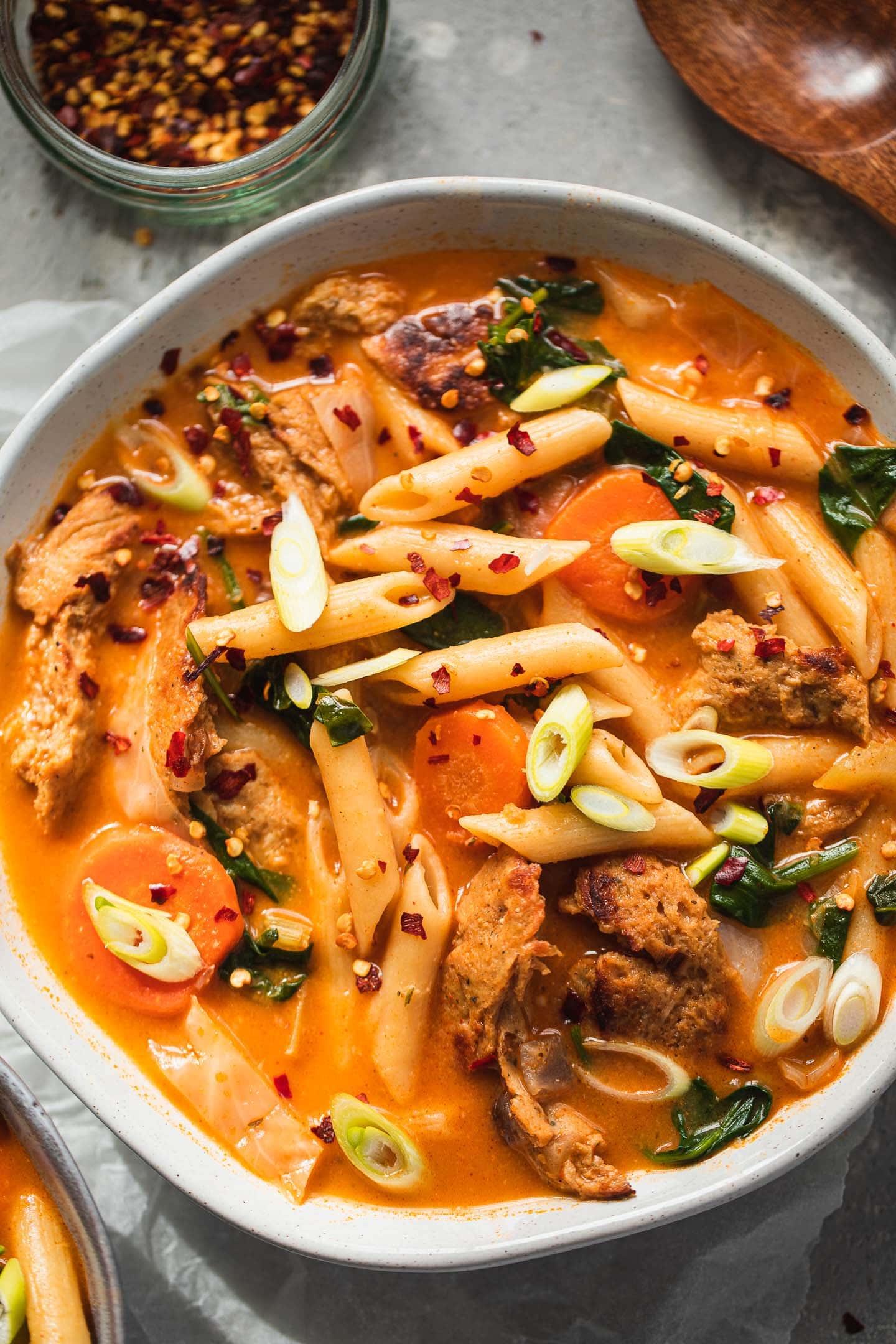 Vegan Chicken Noodle Soup Recipe
By Earth of Maria
🔪Prep Time: 0 mins
👩‍🍳Cook Time: 25 mins
Ingredients
1 tbsp olive oil
1 large red onion, diced
2 cloves garlic, minced
3 cups vegan chicken
1 tsp paprika
1 tsp cumin
1 tsp garlic granules
1 cup zucchini, chopped
1 large carrot, peeled and chopped
1/2 cup cabbage, chopped
3 cups vegetable stock
3 cups pasta
1/4 cup nutritional yeast
1 cup plant based milk
2 cups spinach
salt and pepper, to taste
Instructions
1Heat the olive oil in a large pan over a medium-high heat. Next, the onion and garlic, sautéing for 3-4 minutes, until fragrant and translucent.
2Add the vegan chicken, paprika, cumin and garlic granules. Cook for 3-4 minutes more, until lightly browned.
3Add the carrots, celery, zucchini, and cabbage and/or any other vegetables you're using. Cook for 5 minutes, until the vegetables soften.
4Add the vegetable stock, pasta/noodles, nutritional yeast, and coconut milk. Simmer over a medium heat for 10-12 minutes, or until the pasta is fully cooked through. Add more vegetable broth if necessary.
5Stir in the spinach right at the end and season to taste with salt and pepper. Serve when the spinach wilts.
View Full Recipe
Top Vegan Recipe Resources
🥑