Recipes

Starbucks Copycat Twix Frappuccino Recipe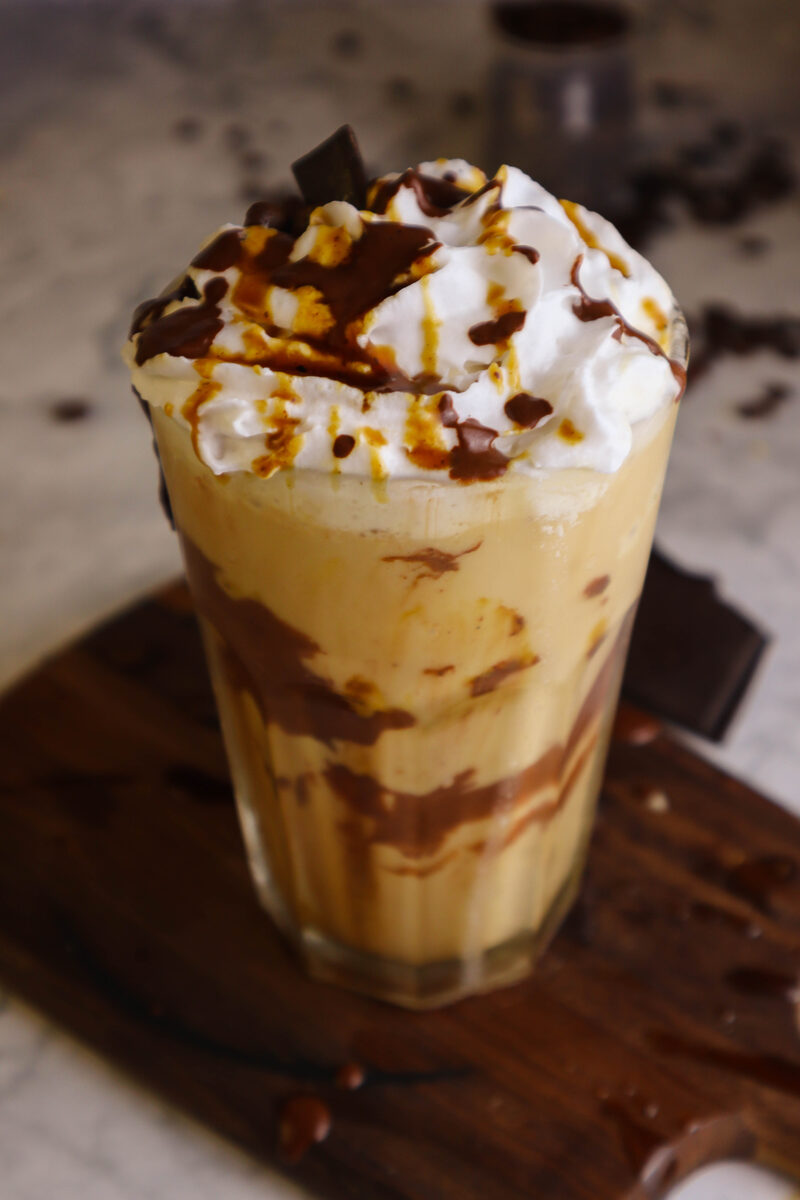 Starbucks Copycat Twix Frappuccino Recipe Recipe
By Peanut Palate
Ingredients
For the Frappuccino
⅓ cup black coffee
1 cup oat milk ice cubes
⅓ cup oat milk chilled
1 tbsp vegan caramel sauce recipe linked under notes above
¼ tsp vanilla extract
1 tbsp vegan semisweet chocolate chips
pinch pink salt
pure maple syrup as needed
For the Insides and Topping
1 tbsp vegan semisweet chocolate chips melted, for the inside of the glass
1 tbsp vegan semisweet chocolate chips melted, for the topping
½ tbsp vegan caramel sauce for the inside of the glass
½ tbsp vegan caramel sauce for the topping
vegan whipped cream for the topping
Instructions
1Before beginning, prepare the vegan caramel sauce as linked above in the recipe notes.
2Blend together all ingredients for the frappuccino, except the extra maple syrup and chocolate chips, in a high-speed blender until a frappuccino consistency forms.
3Add the chocolate chips and run the blender for a few seconds, just enough to break them up into tiny, crunchy bits. These will act similar to java chips.
4Taste test the mixture and add pure maple syrup or another sweetener as desired.
5In a microwave-safe bowl, melt the chocolate chips for 15 seconds at a time, stirring in between until melted.
6Use a fork to smear ½ tbsp of the caramel and 1 tbsp of the melted chocolate to the insides of the cup.
7Pour the mixture into a tall glass.
8Top with vegan whipped cream, the remaining 1 tbsp melted chocolate and ½ tbsp caramel sauce. Enjoy!
View Full Recipe
Top Vegan Recipe Resources
🥑