Recipes

Creamy Vegan Hot Chocolate (Chai Spice)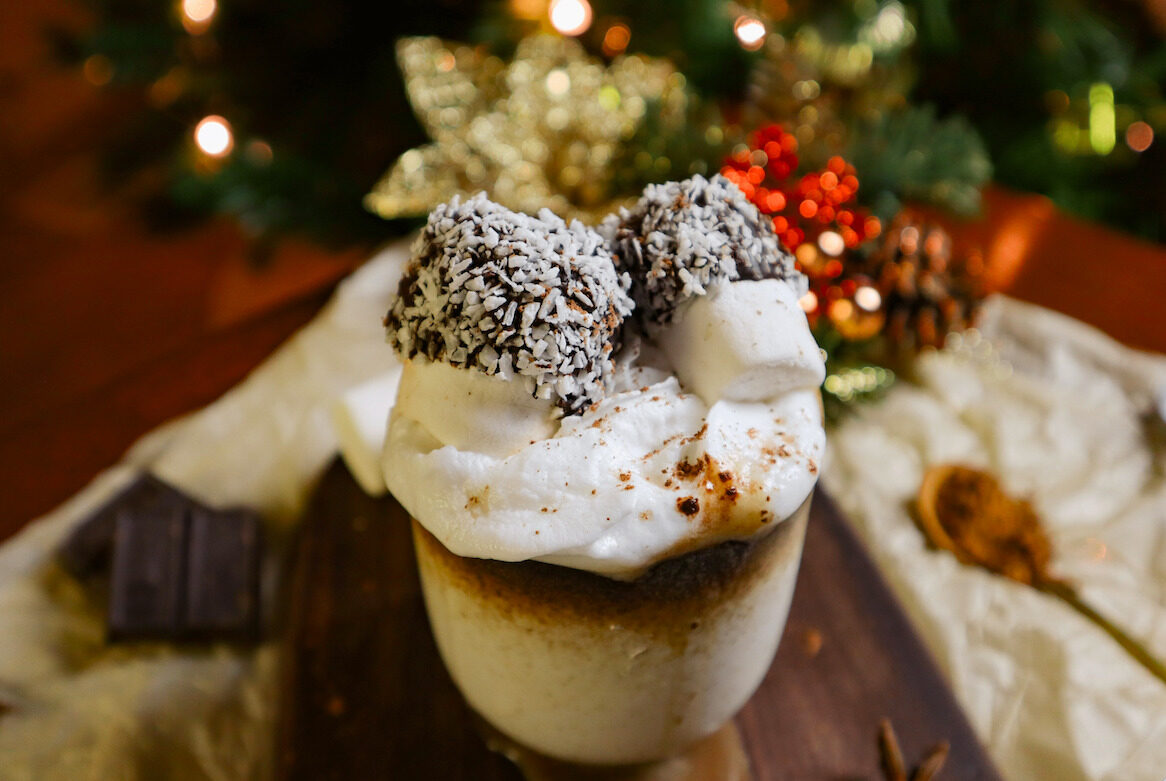 Creamy Vegan Hot Chocolate (Chai Spice) Recipe
By Peanut Palate
🔪Prep Time: 45 mins
👩‍🍳Cook Time: 10 mins
Ingredients
For the Coconut Snowmen
2 large vegan marshmallows
1 oz vegan semisweet chocolate chips or baker's chocolate
2 tablespoons sweetened shredded coconut
For the Drink
½ cup oat milk
½ cup canned coconut milk
¼ tsp vanilla extract
1 star anise
⅛ tsp ground cinnamon
¼ teaspoon grated fresh ginger
4 teaspoons cacao powder
1 black cardamom, seeds removed
1 green cardamom, seeds removed
1 clove
2 tbsp maple syrup
1 bag Indian black tea
vegan coconut whipped cream
Instructions
1Melt the 1 oz of chocolate in a small saucepan over low heat. Continuously stir until melted. Remove from heat.
2Keep the shredded coconut ready in a small bowl. Using clean hands (or using a toothpick), dip one half of each marshmallow into the melted chocolate, then roll it in the coconut. Place on a plate to dry, and then refrigerate (or freeze, so it sets quicker). This should be done 20 minutes in advance, so the chocolate has time to harden.
3In another saucepan over medium heat, add the rest of the ingredients. These include everything except the first 3 ingredients that were used to make the coconut snowmen. Now allow the mixture to boil.
4Pour the hot chocolate using a tea strainer into a mug. Top it with vegan whipped cream (optional), and then take the marshmallows out of the fridge and place on top. Enjoy warm!
View Full Recipe
Top Vegan Recipe Resources
🥑