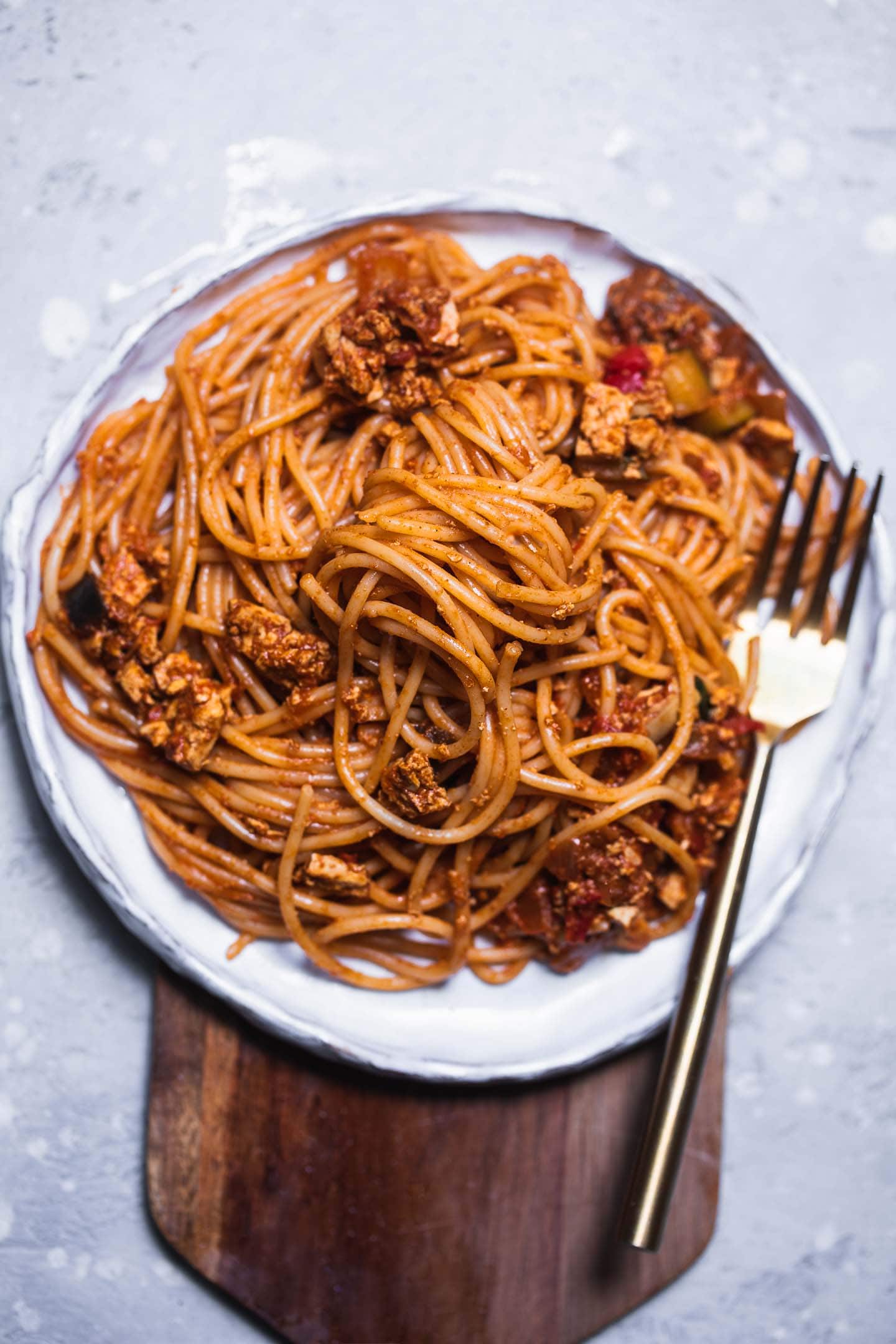 Smoky Tofu Eggplant Pasta Recipe
By Earth of Maria
🔪Prep Time: 5 mins
👩‍🍳Cook Time: 19 mins
Ingredients
1 medium onion, chopped
2 cloves garlic, minced
1 small red chilli, chopped finely
1/2 tbsp curry powder
1 tsp cumin
2 tsp smoked paprika
2 tbsp tomato paste
3/4 cup tomatoes, diced
1 cup eggplant, diced
3/4 cup zucchini, diced
2 tbsp tamari
10 oz extra firm tofu, crumbled
1 cup veggie broth, (stock)
10 oz gluten-free pasta
1/4 cup vegan cheese, grated (optional)
salt , to taste
Instructions
1Add the onion, garlic, red chilli, curry powder, cumin, smoked paprika and tomato paste to a non-stick frying pan and sauté for 3-4 minutes, until softened. If you want to, you can use olive oil, coconut oil or vegan butter for sautéing.
2Add the tomatoes, eggplant and zucchini. Stir through to combine everything, then add the tamari and tofu. Cook for 5 minutes, stirring continuously.
3Add the tamari, tofu and veggie broth. Bring to a simmer and cook, stirring frequently, for 10 minutes, until most of the liquid had evaporated. You can also use this time to cook your chosen pasta.
4Add the vegan cheese to the sauce if using and season to taste with salt.
5Drain and rinse the pasta. Transfer it to the frying pan and toss together with the sauce using a pair of kitchen tongs before serving.
View Full Recipe
Top Vegan Recipe Resources
🥑