Recipes

Pecan Bark Chocolate Recipe (Toffee)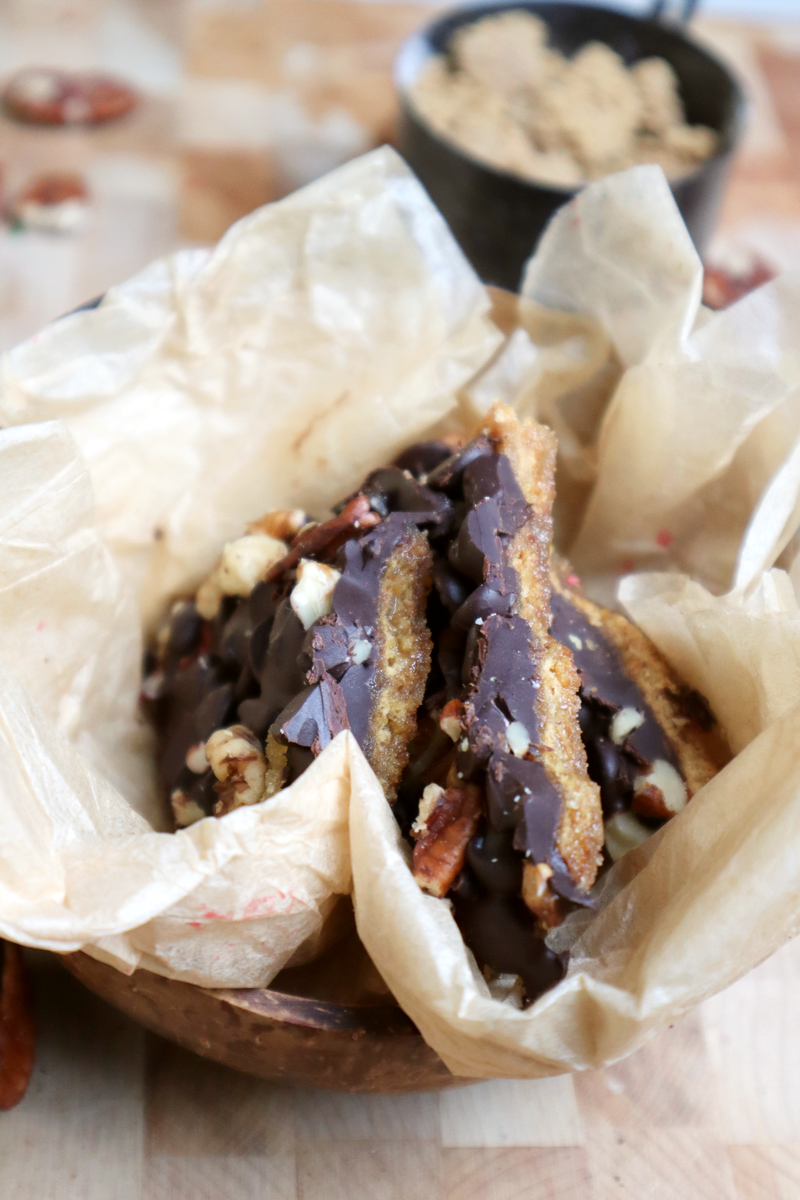 Pecan Bark Chocolate Recipe (Toffee) Recipe
By Peanut Palate
🔪Prep Time: 5 mins
👩‍🍳Cook Time: 15 mins
Ingredients
8 rectangular vegan graham crackers enough to fill the baking dish – may be more than 8 depending on the size of your crackers
1/4 cup vegan butter
1/4 cup brown sugar or coconut sugar
6 tbsp vegan dark chocolate chips
2 tbsp chopped pecans
Instructions
1Line the baking tray with the graham crackers side by side.
2Melt the butter and sugar over medium heat in a saucepan. Allow it to boil, then turn the heat to medium-low for 4 minutes, constantly stirring. If you stop stirring, the butter and sugar will separate and mess up the recipe. Pour this evenly over top of the graham crackers.
3Bake this at 350F for 8 minutes. Once done, remove from oven.
4Add the chocolate chips to a heatproof bowl and place over a saucepan filled with water over low-medium heat on the stovetop, constantly stirring (this is a double boiler method, so the chocolate is not in direct contact with the heat).
5Once the chocolate is fully melted, pour over top of the graham cracker toffee in the baking dish. Immediately sprinkle with chopped pecans.
6Place in the fridge or freezer for 2 hours to harden. Once hardened, cut into pieces and serve! See storage notes below.
View Full Recipe
Top Vegan Recipe Resources
🥑