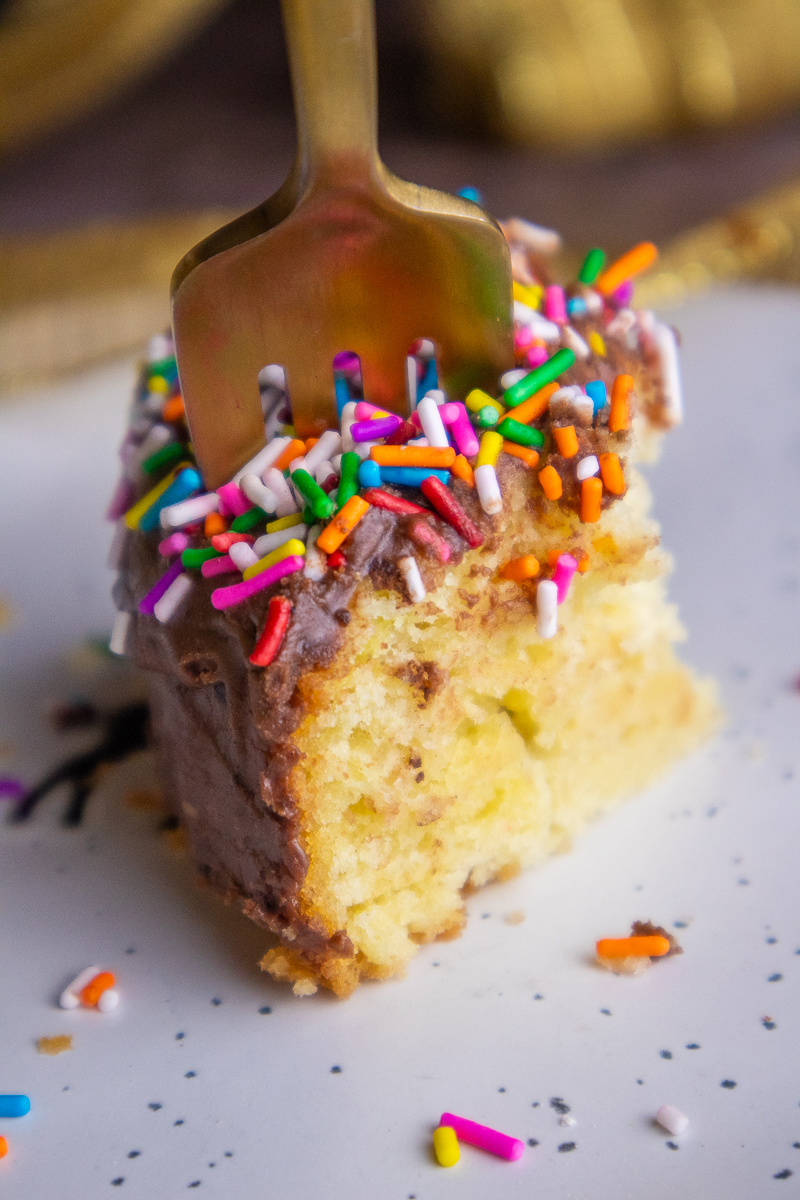 Vegan Yellow Cake Recipe (With Chocolate Frosting) Recipe
By Peanut Palate
🔪Prep Time: 25 mins
👩‍🍳Cook Time: 45 mins
Ingredients
For the Cake
1 cup all purpose flour
¾ cup white sugar
¼ cup vegan butter softened to room temperature
½ cup oat milk
½ tsp pink salt
1 tsp baking powder
½ tsp vanilla extract
pinch yellow food coloring
For the Buttermilk in the Cake
7½ tbsp oat milk at room temperature
½ tbsp apple cider vinegar
For the Chocolate Frosting
2½ tbsp vegan butter softened to room temperature
7 tbsp powdered xylitol sieved
1½ tbsp cocoa powder sieved
⅜ tbsp oat milk at room temperature
Pinch pink salt
⅛ tsp vanilla extract
For the Topping
¼ cup vegan rainbow sprinkles optional // vegan sprinkles brands listed in the post
Instructions
1Preheat the oven to 350 degrees F.
2Make the buttermilk first. To do this, mix the buttermilk ingredients together and set aside for 15 minutes. You will only need 6 tablespoons from this.
3In a large bowl, cream together the sugar and the butter until fluffy.
4Add in the buttermilk, half of it at a time and beat between each addition.
5In a separate bowl, mix together the remaining dry ingredients.
6Add in the flour mixture alternately with the ½ cup oat milk into the butter and sugar mixture until just combined, then stir in vanilla.
7Lightly grease the cake pan with some neutral oil or vegan butter, then pour the cake batter in.
8Bake for 40-45 minutes until a toothpick inserted in the center comes out clean.
9Remove the cake from the oven and allow it to cool on a heat-proof surface.
10Beat the butter for two minutes, until creamy. Add in the rest of the ingredients while beating on low speed, then continue beating for another minute on high speed. Do not over-whip it.
11If the frosting is too thin, add in half a tablespoon more of powdered sugar. If it's too thick, add in a splash of oat milk.
12Set aside when done.
13Once the cake has cooled down (this usually takes 2 hours), remove the cake from the springform pan.
14Frost the top of the cake with the chocolate frosting.
15Sprinkle the sprinkles all over the top of the cake.
16Serve! To store, keep it in an airtight container at room temperature.
View Full Recipe
Top Vegan Recipe Resources
🥑