Recipes

No Bake Peanut Butter Fudge Cups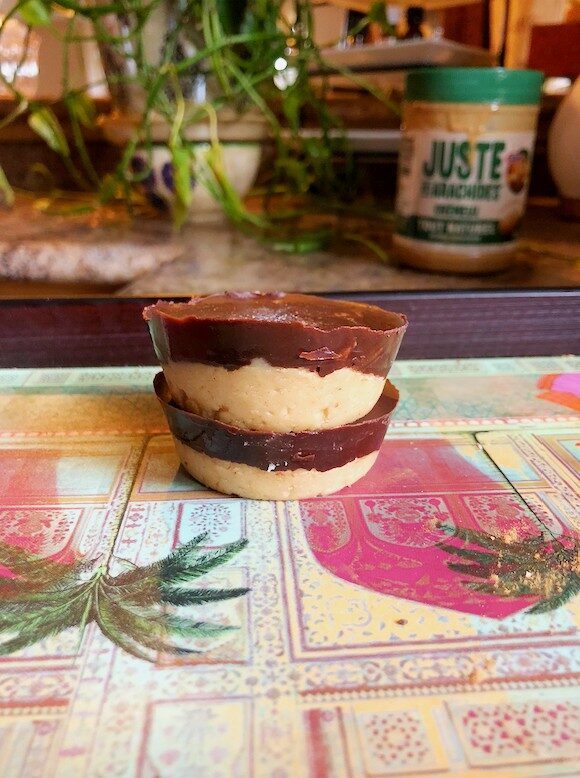 No Bake Peanut Butter Fudge Cups Recipe
By Peanut Palate
Ingredients
For the Peanut Butter Layer
¼ cup (56g) vegan butter melted
½ cup (56g) almond flour
½ cup (60g) icing sugar (confectioner's sugar)
¼ cup (60g) smooth peanut butter
For the Chocolate Layer
1 tbsp (15g) smooth peanut butter
6 tbsp (90g) vegan semisweet chocolate chips
Instructions
1In a medium saucepan over low heat, melt and stir the vegan butter and peanut butter together until they are well combined. Remove this from the heat once it's all melted, and stir in the almond flour and icing sugar.
2Line four regular-sized cupcake trays with cupcake liners, and pour the peanut butter mixture into each, evenly spreading into all four.
3In a small saucepan over low heat, melt the chocolate layer ingredients until the chocolate chips are completely melted and a chocolate sauce forms.
4Pour this over top of the peanut butter filling in the cupcake liners.
5Freeze for about 4 hours, then enjoy. Thaw before eating, or enjoy them straight out of the freezer!
View Full Recipe
Top Vegan Recipe Resources
🥑