Recipes

No Bake Cake Balls: Golden Oreo Funfetti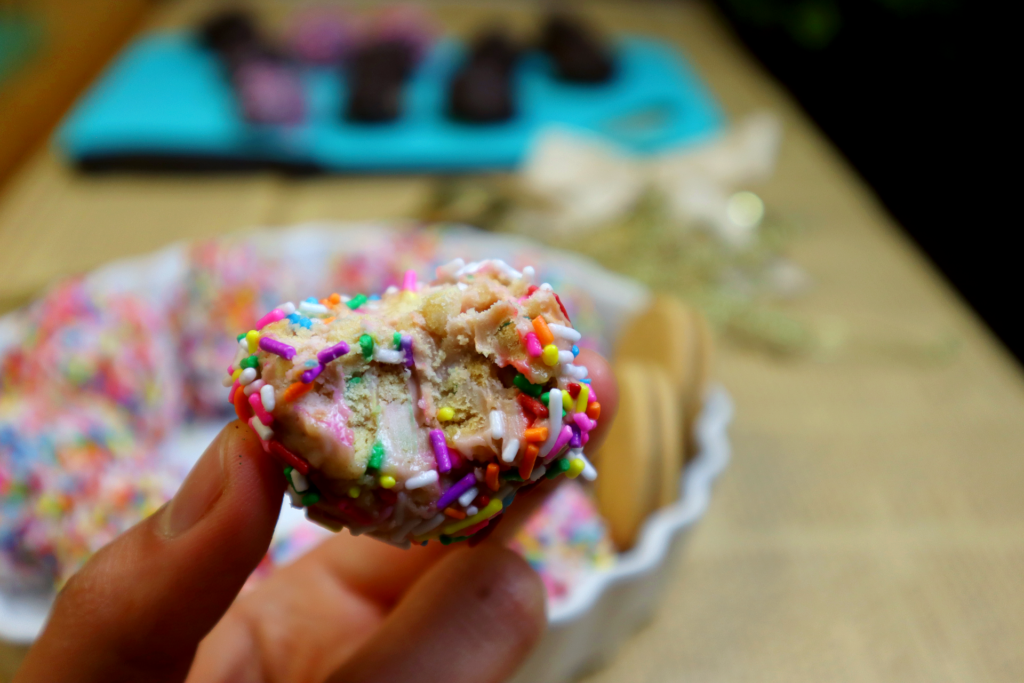 No Bake Cake Balls: Golden Oreo Funfetti Recipe
By Peanut Palate
Ingredients
½ cup vegan cool whip I used So Delicious brand of Dairy Free CocoWhip
3 tbsp vegan rainbow sprinkles
⅓ cup vegan cream cheese I used Tofutti brand of Better than Cream Cheese
18 Golden Oreos, regular size
Extra bowl of sprinkles, for rolling the truffles in a few extra tablespoons
Instructions
1Break up the Oreos by putting them in a ziploc bag and rolling over them with a rolling pin. Crush them into tiny pieces, but not enough to become a fine powder. Alternatively, grind them into a coarse powder with a food processor, but be careful that it doesn't become a sugar-like powder texture!
2Once they are crushed, mix in the rest of the ingredients.
3Freeze the mixture for 1-2 hours, until it has hardened a little bit and is easy enough to scoop into balls. Check it every half hour once it's in the freezer.
4When the mixture is ready to roll, take it and form 8 truffles.
5Roll each truffle in the bowl of sprinkles.
6Set it in the freezer to stay firm. I kept mine in the freezer and the texture was great when it was bit into. You could try to refrigerate them as well. Enjoy!
View Full Recipe
Top Vegan Recipe Resources
🥑