Recipes

Mushroom And Potato Piroshki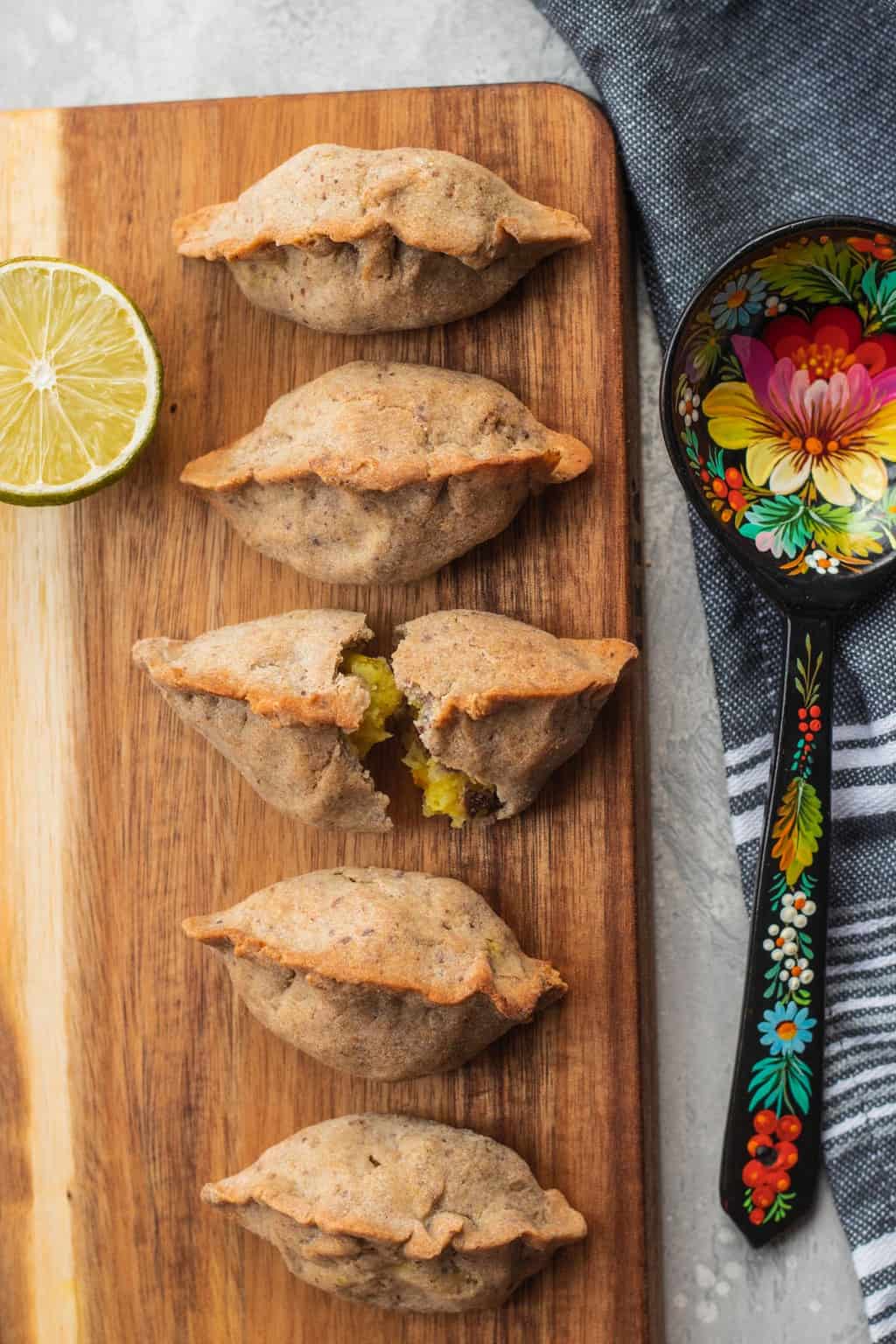 Mushroom And Potato Piroshki Recipe
By Earth of Maria
🔪Prep Time: 30 mins
👩‍🍳Cook Time: 25 mins
Ingredients
2 cups potatoes, peeled and cubed
1/2 cup onion, diced
1 cup shiitake mushrooms, diced
1 tsp turmeric
1/2 tsp cayenne pepper
1/2 tsp salt
2/3 cup tapioca flour
1/3 cup corn meal
1/2 tbsp xanthan gum
1/2 tsp salt
1/2 tsp ground flaxseed, soaked in 1 tbsp water for 10 minutes
1/2 cup coconut milk, the solid part from a can
Instructions
1To make the filling, start by boiling the potatoes for 10-15 minutes, until fork-tender. Meanwhile, sauté the onion and the shiitake mushrooms with a splash of water.
2Drain and rinse the potatoes, then transfer them to a mixing bowl and mash using a potato masher. Then, add the onions and mushrooms, turmeric, cayenne pepper, salt and spring onions. Stir everything together.
3Preheat the oven to 180 degrees C (350 F). Make the dough by combining the tapioca flour, corn meal, xanthan gum, salt, the flax egg and coconut milk. Mix together really well, using your hands if necessary to incorporate all the flour.
4Transfer the dough onto a surface floured with more tapioca flour. Roll out into a thin sheet, around 1/4 inch in thickness. Use a cookie cutter to cut out circles in the dough. You can collect the remaining dough and then roll it out once more and repeat the process until all of it is used up.
5Put around 2 tbsp of filling in the middle of each circle. Connect the edges and press them down lightly to secure.
6Arrange the piroshki on a sheet of parchment paper over a baking tray and bake in the preheated oven for 15-20 minutes, until crispy and lightly golden.
View Full Recipe
Top Vegan Recipe Resources
🥑