Recipes

Easy Snowball Cookie Recipe (No Nuts)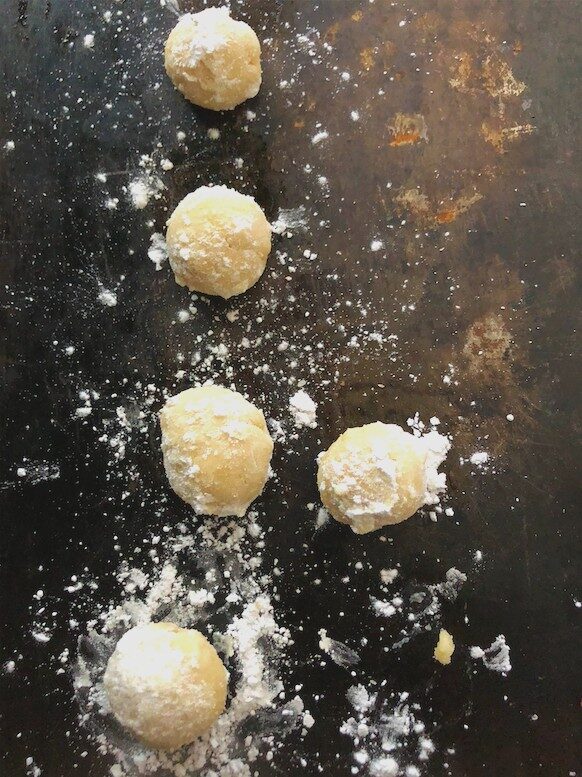 Easy Snowball Cookie Recipe (No Nuts) Recipe
By Peanut Palate
🔪Prep Time: 15 mins
👩‍🍳Cook Time: 15 mins
Ingredients
½ cup vegan butter softened to room temperature
¾ cup powdered sugar
½ tsp vanilla extract
1 cup + 2 tbsp all-purpose flour
⅛ tsp pink salt
Instructions
1Preheat the oven to 350F.
2in a large mixing bowl with a mixer, cream together the softened butter, 1/4 cup sugar (set the rest aside) and vanilla until well combined. Then add in the flour and salt and mix to combine.
3Once a dough is formed, shape the flour mixture into 8 small balls and place them evenly apart on a baking tray lined with parchment paper.
4Bake for 12-13 minutes. They may still look undercooked, but cooking them until they're golden brown is going to overcook them.
5Turn off the oven and remove the cookies. Leave them for about a half hour to cool down. As soon as they're hard enough to pick up (they will be soft and crumbly straight out of the oven), dip them in the remaining 1/2 cup powdered sugar to turn them into little snowballs.
6Enjoy!
View Full Recipe
Top Vegan Recipe Resources
🥑