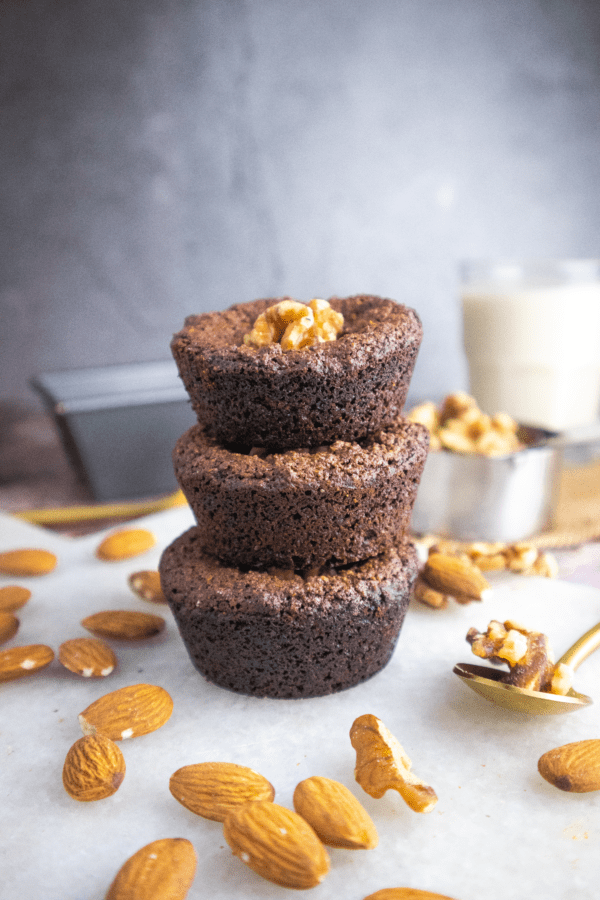 Almond Flour Brownie Bites Recipe
By Peanut Palate
🔪Prep Time: 15 mins
👩‍🍳Cook Time: 35 mins
Ingredients
1 tbsp chia seeds sub: flax meal or chia meal
3 tbsp water
2 tbsp vegan butter, softened sub: neutral tasting oil such as refined coconut oil
½ cup white sugar sub: xylitol, coconut sugar
¼ cup oat milk sub: plant-based milk such as cashew milk, almond milk, soy milk, etc.
1 tsp vanilla extract
1 cup almond flour
¼ cup cocoa powder sub: cacao powder
⅛ tsp pink salt
1 tsp baking powder
¼ cup vegan semisweet chocolate chips optional / sub: dark chocolate
Instructions
1Preheat the oven to 350 degrees F.
2Mix the chia seeds and water in a small bowl. Set aside for 10 minutes to thicken.
3Once the chia seed mixture is ready after 10 minutes, use another bowl to cream the butter and sugar until fluffy.
4Add in the chia seed mixture and mix again. Then add in the milk and vanilla and continue mixing.
5In a separate bowl, whisk together the flour, cocoa powder, salt and baking powder.
6Add the dry ingredients to the wet ingredients and stir until just combined (don't over-mix).
7Stir in the chocolate chips.
8Oil six spots in a regular sized cupcake tray.
9Evenly divide the mixture into the 6 sections.
10Bake for 35 minutes. Check to make sure a toothpick inserted comes out clean before removing from the oven.
11Allow the brownie bites to cool down, then enjoy (I recommend vegan whipped cream or ice cream on it!)
12Store at room temperature in an airtight container.
View Full Recipe
Top Vegan Recipe Resources
🥑