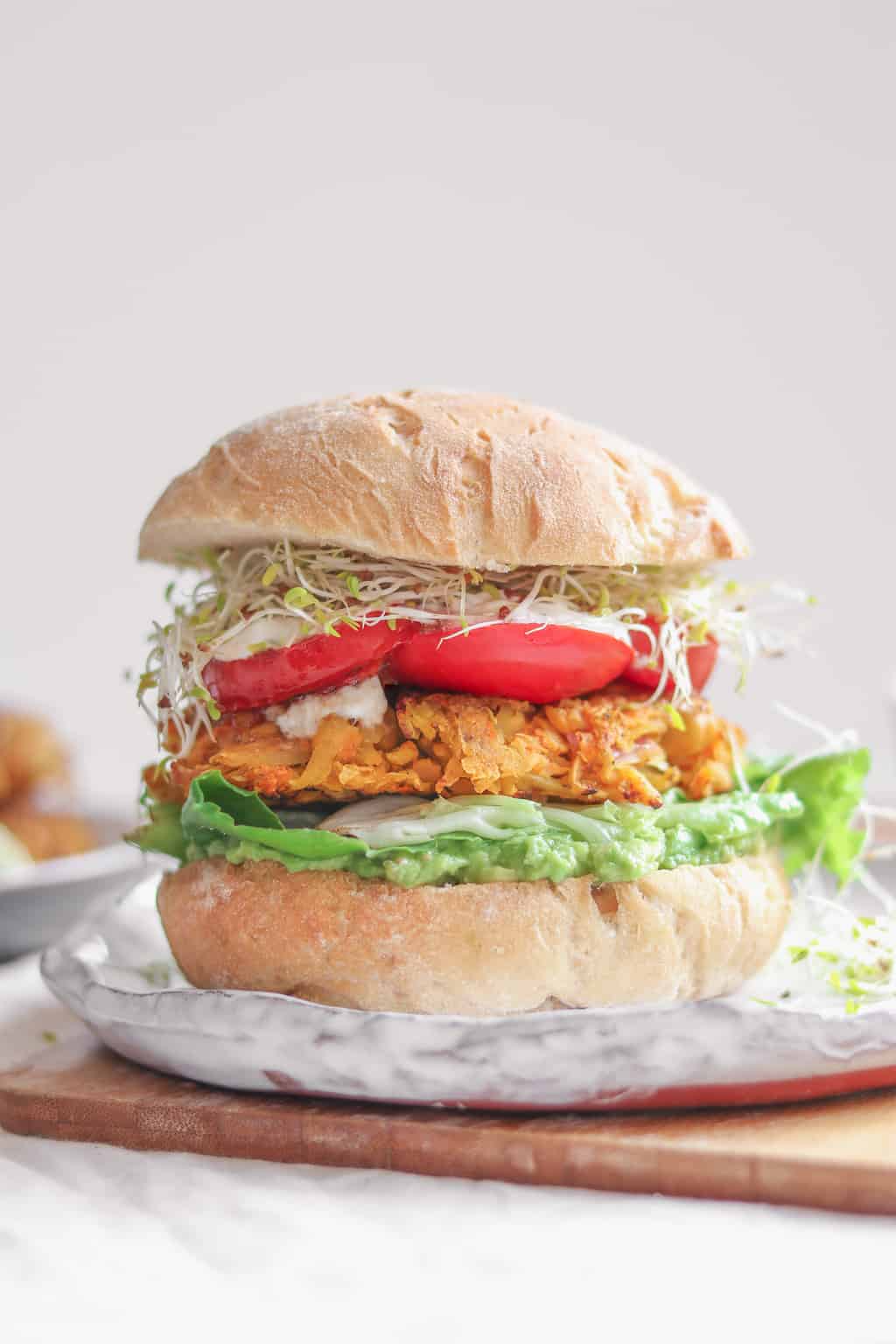 Vegetable Chickpea Fritter Sandwich Recipe
By Earth of Maria
🔪Prep Time: 10 mins
👩‍🍳Cook Time: 12 mins
Ingredients
4 large vine tomatoes, cut into circles
3/4 cup cooked chickpeas
pinch pink Himalayan salt
1 1/3 cups grated potato
2 medium carrots, grated
1 clove garlic, minced
1 1 inch piece ginger, peeled and grated
1/2 large red onion, finely chopped
1/2 tsp paprika
1/2 tsp garlic powder
1/2 tsp turmeric
3 tbsp chickpea flour
1 flax egg , 1 tbsp ground flax seeds + 2 tbsp water)
black pepper, to taste
4 gluten-free burger buns
2 small avocados
pinch pink Himalayan salt
large handful mixed greens
alfalfa sprouts
soy yoghurt
Instructions
1Heat a non-stick frying pan over a medium-high heat. Cook the tomatoes for around 2 minutes on each side.
2In a small bowl, lightly crush the chickpeas using a fork and add a pinch of pink Himalayan salt.
3In a large mixing bowl combine the chickpeas, grated potato, carrot, garlic, ginger, red onion, paprika, garlic powder, turmeric, chickpea flour, flax egg and black pepper. Stir until the ingredients are thoroughly combined.
4Remove the tomatoes from the heat and set aside. Spoon 1/4 of the fritter mixture into the same frying pan and flatten down into a roughly circular shape, repeating with the rest of the batter. Cook the fritters for around 3-4 minutes on each side. Meanwhile, mash the avocados in a mixing bowl, adding pink Himalayan salt to taste.
5Assemble the sandwiches by firstly layering on the avocado sauce, followed by the mixed greens, fritters, tomatoes, soy yoghurt and alfalfa sprouts. Serve straight away. The fritters can be stored in the fridge in an airtight container.
View Full Recipe
Top Vegan Recipe Resources
🥑