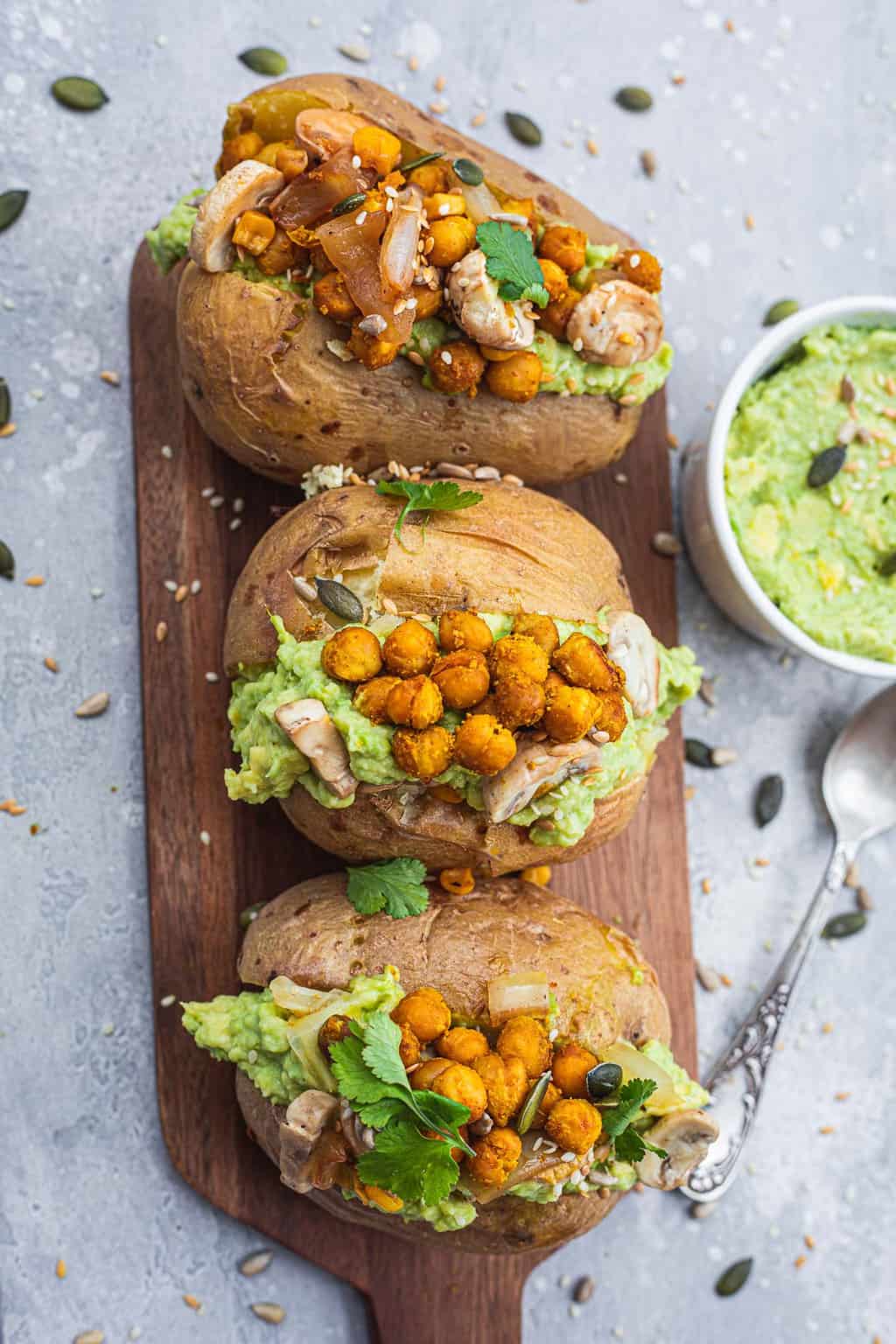 Vegan Stuffed Baked Potatoes With Tahini Chickpeas Recipe
By Earth of Maria
🔪Prep Time: 5 mins
👩‍🍳Cook Time: 20 mins
Ingredients
4 large baking potatoes
1.5 tbsp tahini
2 tbsp tamari
1 tbsp lemon juice
1 can chickpeas, drained and rinsed
1 tbsp curry powde
1/2 tsp pink Himalayan salt
1/2 tsp turmeric
1 medium onion, chopped
1.5 cups button mushrooms, chopped
1/4 cup sweetcorn, tinned or fresh
1/2 tsp pink Himalayan salt, or to taste
2 large avocados, mashed
2 tbsp nutritional yeast
1/4 cup soy yoghurt, unsweetened
Instructions
1Preheat the oven to 200 degrees C/400 F.
2Add the tahini, tamari and lemon juice to a large mixing bowl. Whisk together, then add the chickpeas, curry powder, pink Himalayan salt and turmeric. Stir together really well.
3Transfer the chickpeas to a baking tray lined with parchment paper and bake in the preheated oven for 40 minutes.
4TO BAKE THE POTATOES: Spread the potatoes out evenly on the same baking tray as the chickpeas and piece each one 3 times with a fork. Bake in the preheated oven for between 1 hour and 1 hour 20 minutes, depending on the size of the potatoes, until fully cooked through, removing the chickpeas after 40 minutes.
5TO MICROWAVE THE POTATOES: Pierce each potato 3 times with a fork and place them on a microwave-safe plate. Microwave on 80% power for 8 minutes, flip, and repeat. Check to ensure that they are fork-tender before stuffing and serving.
6Meanwhile, add the onion, mushrooms, corn and pink Himalayan salt to a non-stick frying pan and sauté for 4-5 minutes, until the mushrooms soften.
7Prepare the avocado sauce by stirring together the mashed avocado, nutritional yeast and soy yoghurt.
8When the potatoes are ready, load them up with the avocado sauce, roasted chickpeas, and mushroom sauté. Serve immediately, or store in the fridge in an air-tight container for 3-4 days.
View Full Recipe
Top Vegan Recipe Resources
🥑