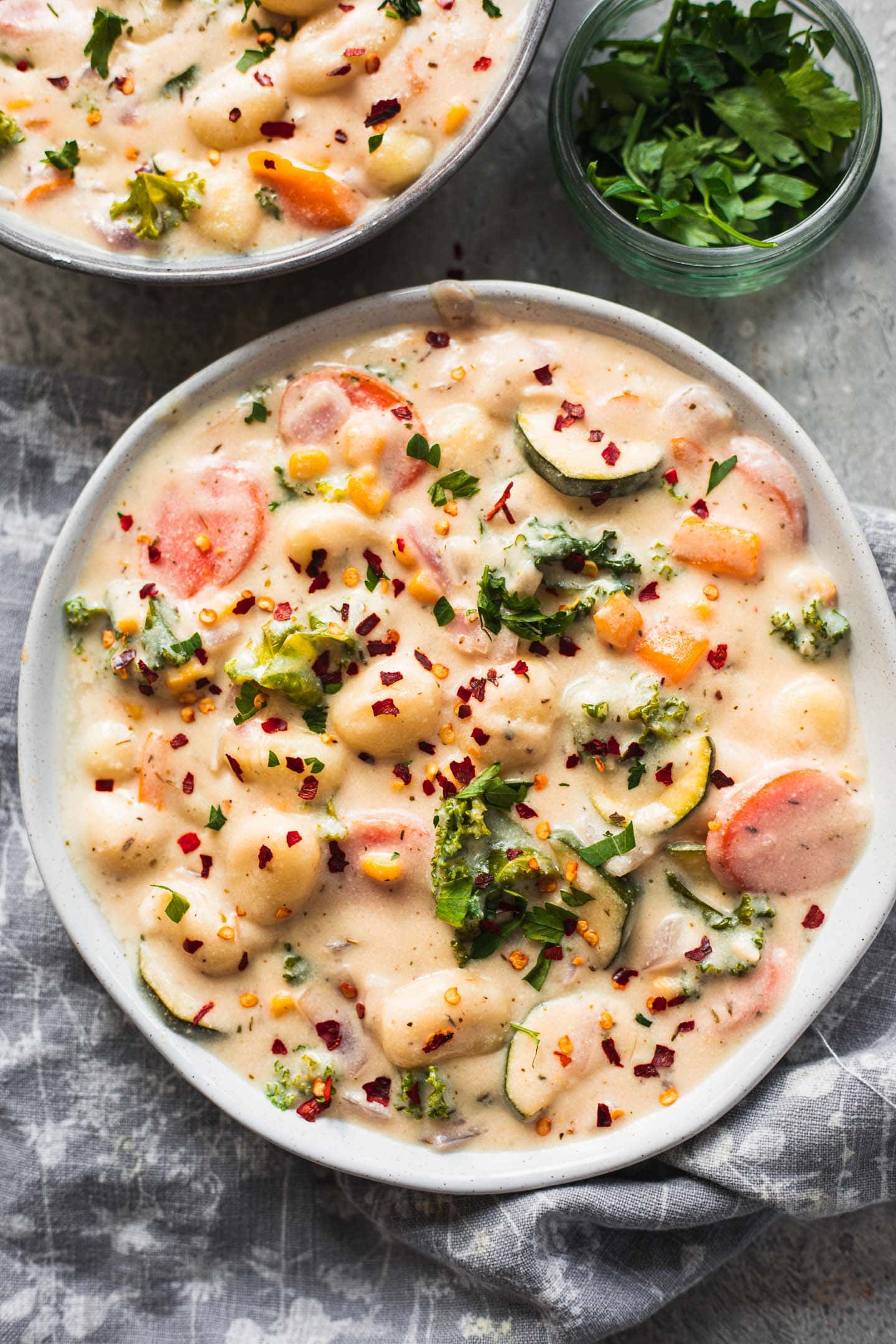 Vegan Gnocchi Soup With Kale Recipe
By Earth of Maria
🔪Prep Time: 0 mins
👩‍🍳Cook Time: 20 mins
Ingredients
1 tbsp olive oil
1 large red onion, diced
1 large carrot, peeled and chopped
1 tbsp garlic paste
1 cup zucchini, chopped
1 large yellow bell pepper, de-seeded and diced
1/2 cup sweetcorn
1 cup cashews, soaked
1 cup plant based milk
1 tbsp apple cider vinegar
3 cups vegetable stock
1/2 tbsp dried oregano
1/2 tbsp dried thyme
1 lb gnocchi
3 cups kale, de-stemmed and chopped
1 tbsp cornstarch
1/2 cup vegan cheese
Instructions
1Heat the olive oil in a large pan for 30 seconds over a medium-high heat. Now add the red onion, carrots and garlic paste, and cook for 5 minutes, until the vegetables are softened and fragrant.
2Add the zucchini, yellow bell pepper and sweetcorn. Cook, stirring frequently, for 5 minutes more, until softened.
3Make the cashew cream. Add the cashews, plant based milk, and apple cider vinegar to a blender or food processor. Blend until smooth.
4Add vegetable stock, the cashew cream, dried oregano, thyme and gnocchi to the pan. Stir together, bring to a simmer, and cook for 5 minutes, until the gnocchi softens fully.
5Stir in the kale, cornstarch and vegan cheese. Continue stirring until the vegan cheese melts and the kale wilts.
View Full Recipe
Top Vegan Recipe Resources
🥑