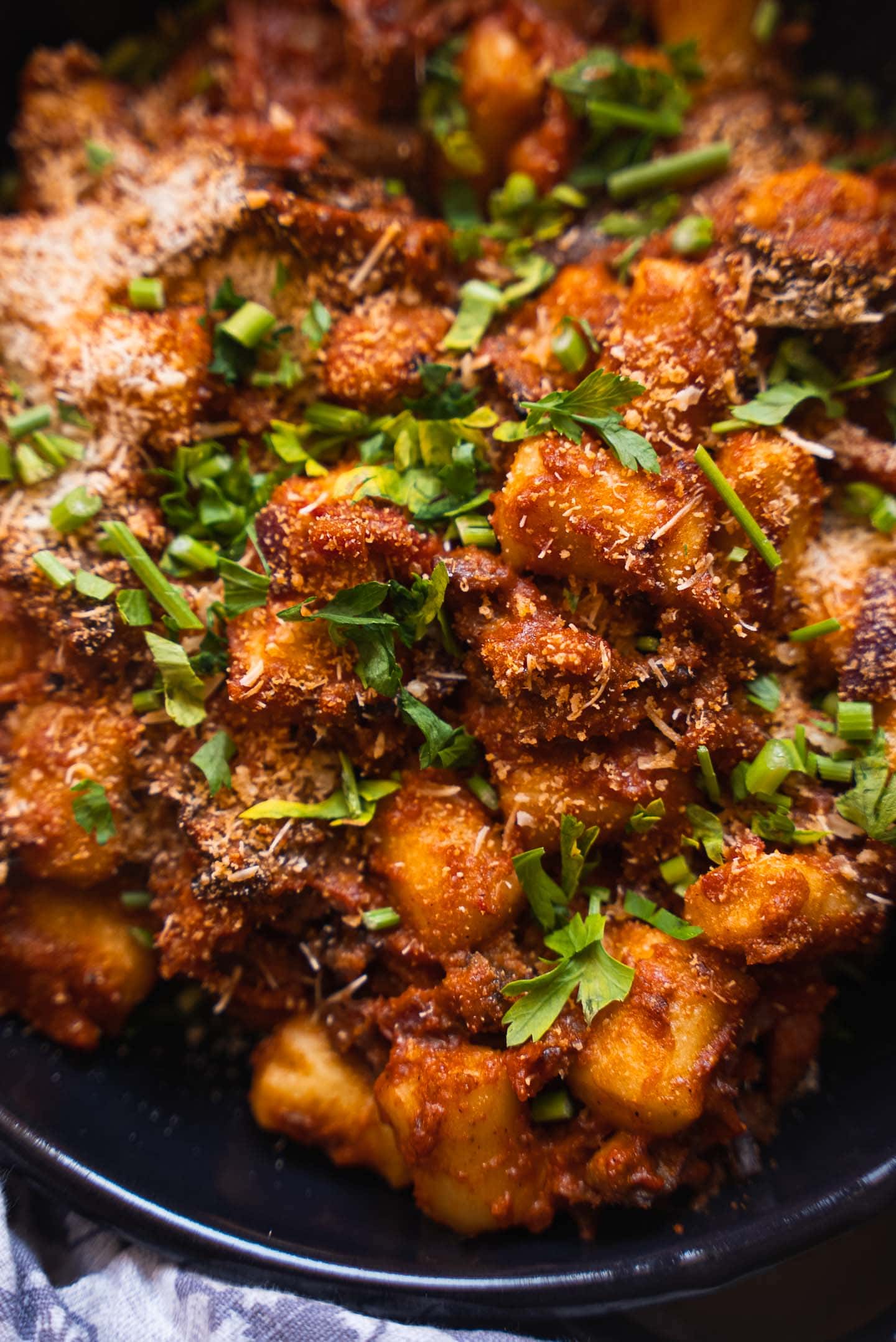 Vegan Gnocchi Bake With Oyster Mushrooms Recipe
By Earth of Maria
🔪Prep Time: 10 mins
👩‍🍳Cook Time: 20 mins
Ingredients
3 tbsp vegan butter
3 cloves garlic, minced
1 large onion, diced
1 large carrot, chopped
7 oz oyster mushrooms
3 tbsp soy sauce
2 tbsp tomato paste
1 tsp garlic powder
2 tbsp sriracha
7 oz gnocchi
1/2 cup vegan cheese, grated
Instructions
1Melt the vegan butter in a frying pan or sauce pan. Add the minced garlic, onion, carrots and oyster mushrooms. Before adding the mushrooms, shred them using your hands. Cook for 5 minutes, until the vegetables soften.
2Add soy sauce, tomato paste, garlic powder, and sriracha. Stir together for around 2-3 minutes more, until fragrant.
3Cook the gnocchi of your choice according to instructions on packaging, until they rise to the surface. This usually takes around 3 minutes.
4Preheat the oven to 180 degrees C/350 F.
5Transfer the gnocchi to the pan with the vegetables using a slotted spoon and mix it together. Add grated vegan cheese, and stir together once more.
6Transfer the gnocchi to an ovenproof dish of your choice. Sprinkle more vegan cheese on top, and bake in the preheated oven for 20 minutes, until crispy on top and the cheese had melted.
View Full Recipe
Top Vegan Recipe Resources
🥑