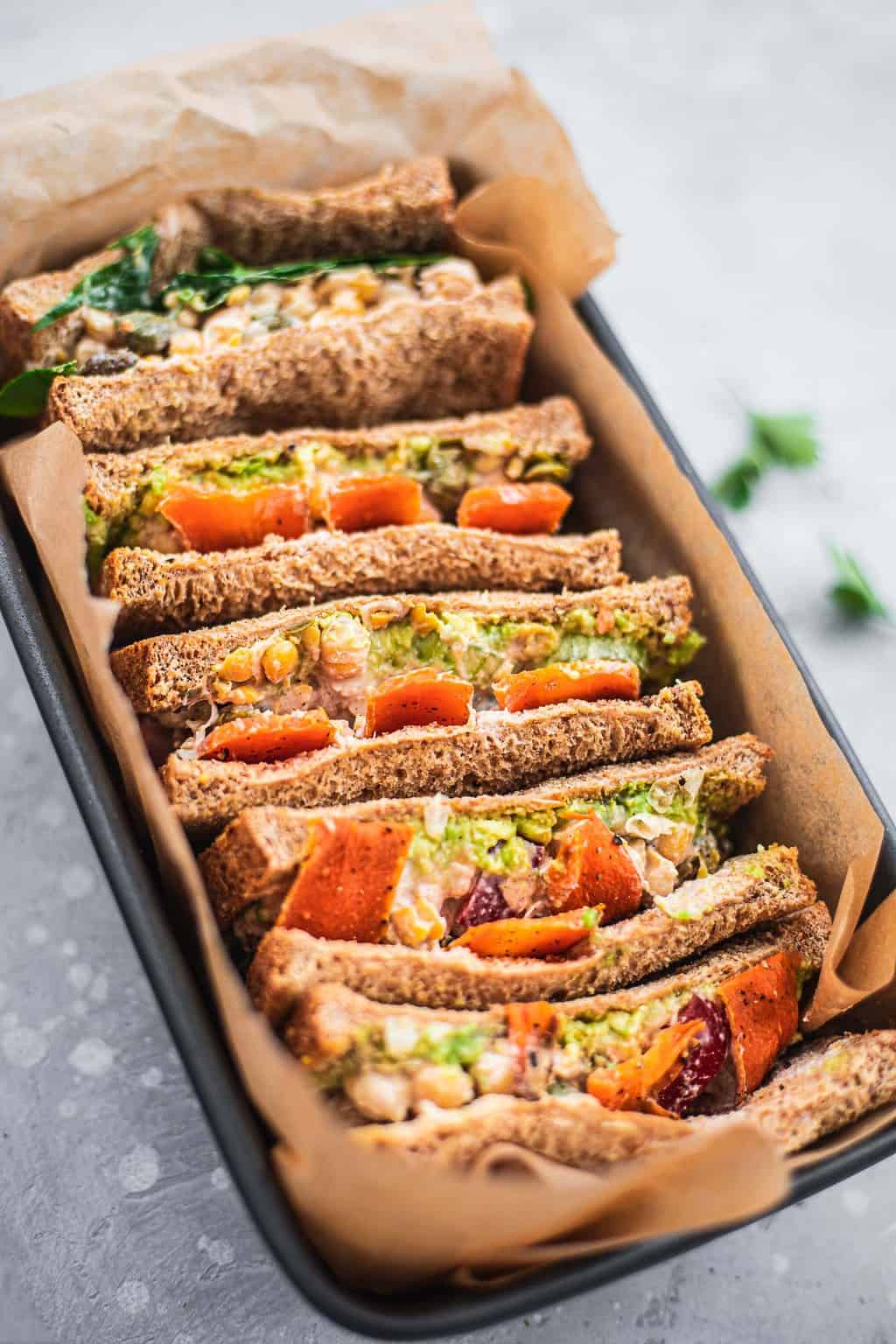 Vegan Chickpea Salad Sandwich (No Mayo!) Recipe
By Earth of Maria
🔪Prep Time: 5 mins
👩‍🍳Cook Time: 20 mins
Ingredients
1 large carrot, peeled and sliced
salt and pepper, to taste
1 tin chickpeas, drained and rinsed
1/3 cup soy yoghurt, unsweetened
1 tbsp nutritional yeast
1.5 tbsp apple cider vinegar
2 cloves garlic, chopped
1 tsp cumin
1/2 tsp celery salt
1/2 tsp paprika
1/4 cup capers
1 medium bell pepper, chopped
2 ribs celery, chopped
1 lime, juice of
8 slices gluten-free bread
1 large avocado, mashed
Instructions
1Preheat the oven to 200 degrees C/400 F.
2Lay the carrots out on a sheet of baking paper and season to taste with salt and pepper. Bake in the preheated oven for around 20 minutes.
3Add the chickpeas, soy yoghurt, nutritional yeast, apple cider vinegar, garlic, cumin, celery salt and paprika to a large mixing bowl. Stir and mash around 2/3 of the chickpeas with either a fork of a potato masher.
4Add the capers, red bell pepper, celery, and lime juice. Season to taste with salt and pepper, then stir well to combine.
5Add a layer of mashed avocado to a slice of gluten-free bread. Then, add 3-4 tbsp of the chickpea salad on top, followed by the roasted carrots. Finish with another slice of bread, then cut in half and serve.
View Full Recipe
Top Vegan Recipe Resources
🥑