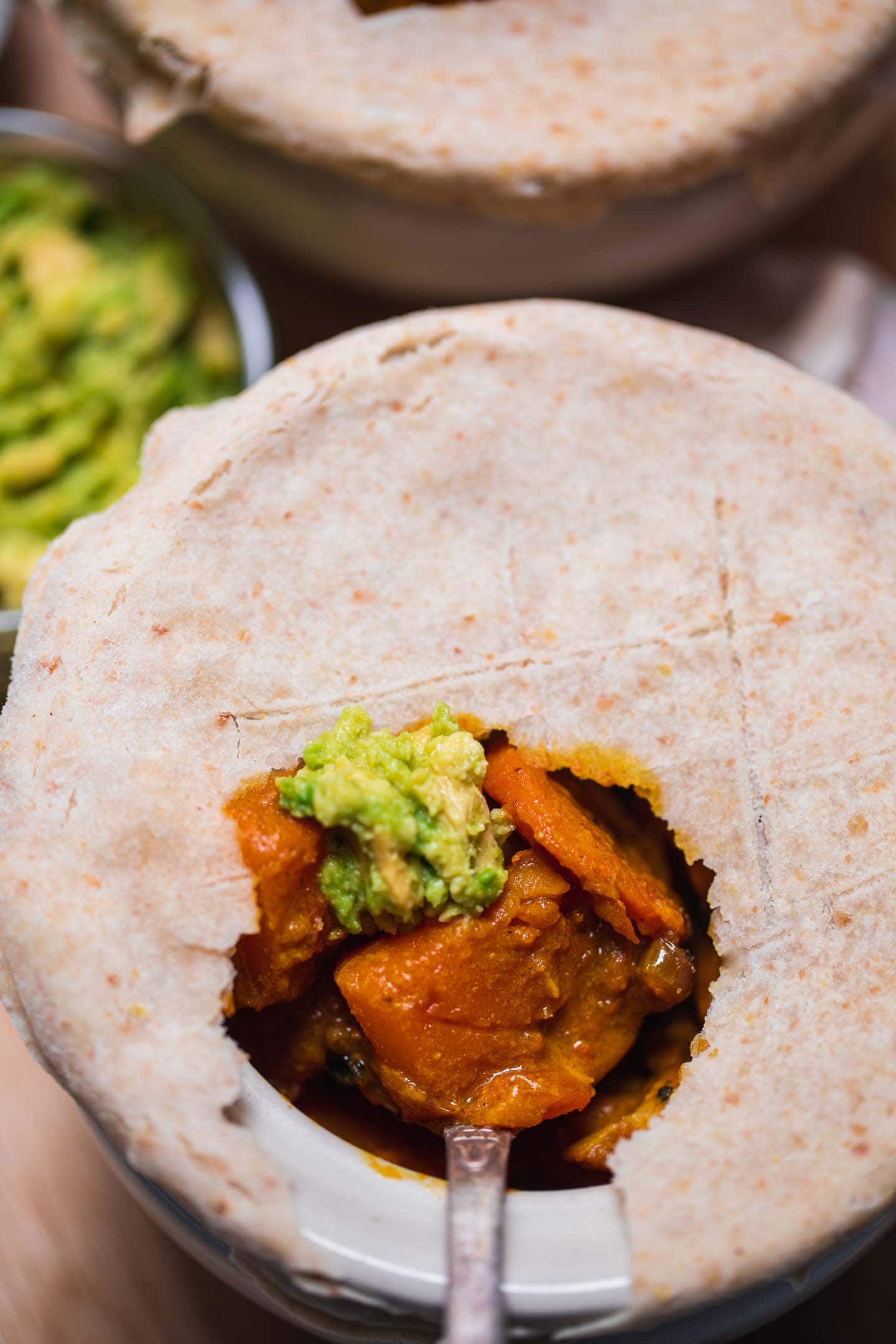 Vegan Butternut Squash Pot Pie Recipe
By Earth of Maria
🔪Prep Time: 55 mins
👩‍🍳Cook Time: 20 mins
Ingredients
1/2 tbsp ground flaxseed, soaked in 1 tbsp water for 15 minutes to make a flax egg
1/4 tsp salt
3/4 cup water
3/4 cup rice flour, plus more for dusting
1 1/2 tbsp coconut oil
3 cups butternut squash, peeled and cubed
1 tbsp olive oil
2 cloves garlic, minced
1 medium red onion, chopped
1 medium carrot, peeled and chopped
2 cups shiitake mushrooms
1/2 cup fresh tomatoes, diced
1 cup plant based milk
2 tbsp nutritional yeast
1 tsp turmeric
1 tsp cumin
2 tbsp tamari
2 tbsp gluten-free flour
Instructions
1Add salt to warm water and bring it to a simmer over a medium heat. Next, gradually add the rice flour to the water and mix, until a clumpy dough forms. At this stage, remove from the heat, allow to cool down for 10 minutes, and stir in the flax egg together with 1 tbsp coconut oil.
2Transfer the dough to a flat work surface, lightly dusted with more rice flour. Roll out into a thin sheet, around 1/3 inch in thickness. Then, brush with 1/2 tbsp coconut oil and roll into a tight tube and press the edges towards the centre to make a rough dough ball. Leave to chill in the fridge for 15 minutes, then repeat the rolling out and chilling process two more times (3 times in total), but do not brush with coconut oil the second and third times you roll it out.
3After chilling the dough for the last time, roll it out once again and use the edges of the ramekin or soup bowl that you are using to cut out the circular 'lids' for the pot pies.
4You can start making the filling when you put the dough in the fridge to chill for the final time. Start by preheating the oven to 200 degrees C/400 F. Drizzle the peeled and cubed butternut squash with the olive oil and bake in the oven for 20 minutes.
5Meanwhile, sauté the garlic, onion and carrot in a non-stick saucepan for 5 minutes, until the carrot starts to soften. Next, add the shiitake mushrooms and tomatoes, and continue to cook, stirring, for a further 2-3 minutes, until they start to soften.
6Pour in the plant based milk, followed by the nutritional yeast, turmeric, cumin and tamari. Stir everything together.
7When the butternut squash is ready, transfer it to the saucepan and lower the temperature of the oven to 180 degrees C/350 F (in preparation for baking the pies). Add the gluten-free flour and stir for a couple more minutes, until the sauce thickens. It is now ready to transfer into soup bowls/ramekins for baking.
8You can now add the filling to the soup bowls/ramekins and secure the crust over the top, scoring it lightly 3-4 times.
9You can now bake at 180 degrees C for 18-20 minutes.
View Full Recipe
Top Vegan Recipe Resources
🥑