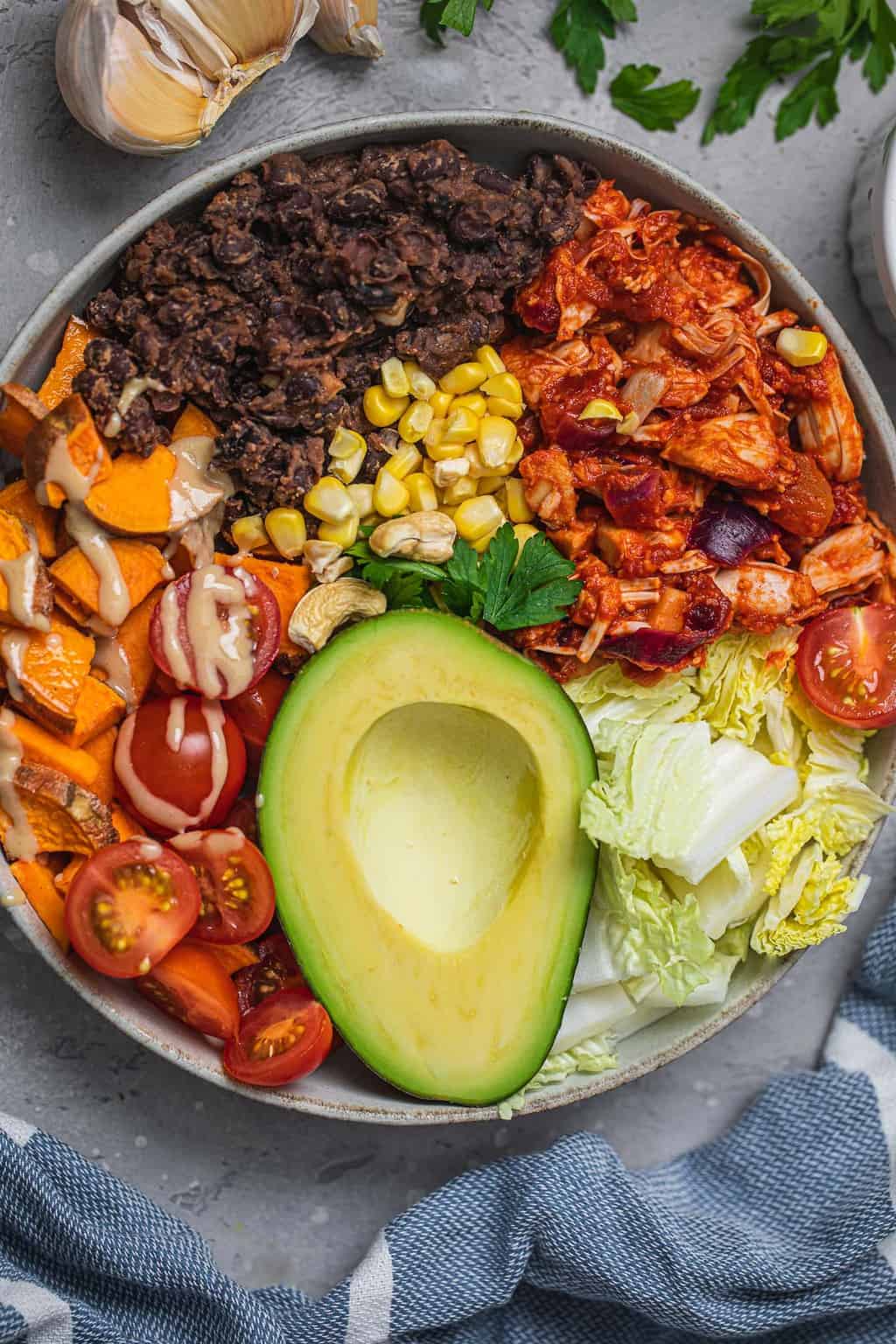 Vegan Breakfast Burrito Bowl Recipe
By Earth of Maria
🔪Prep Time: 5 mins
👩‍🍳Cook Time: 25 mins
Ingredients
1 medium sweet potato, cut into bite-sized pieces
1 tbsp maple syrup
1/2 tsp salt
1 medium red onion, chopped
1 can jackfruit, draind
1/2 tsp sea salt
1 tbsp paprika
1 tsp garlic granules
1/2 can chopped tomatoes
1 tbsp tomato paste
1/2 cup plant based milk
2 cloves garlic, minced
1 can black beans, drained and rinsed
1 tbsp tamari
1 tbsp nutritional yeast
1 tbsp apple cider vinegar
1 lemon, juice of
2 cups lettuce, chopped
2 large tomatoes, chopped
1 large avocado
1/4 cup sweetcorn
2 tbsp tahini
Instructions
1Preheat the oven to 200 degrees C/400 F.
2Mix together the sweet potato, maple syrup and salt. Transfer to a baking tray and bake for 15-25 minutes, depending on the size of your potato chunks (more may be necessary if they are larger).
3To start, sauté the onion for a couple of minutes to soften it.
4Add the jackfruit, sea salt, paprika, and garlic granules. Cook for a further 2-3 minutes, before adding the chopped tomatoes, tomato paste and plant based milk.
5Simmer over a medium heat for 8-10 minutes, until thick and fragrant. Use this time to make the black beans
6Add all the ingredients to a saucepan. Cook for around 5 minutes, stirring frequently and pressing down some of the beans to create a 'refried bean texture'.
7Serve the sweet potato, jackfruit and black beans in a large bowl with lettuce, tomatoes, avocado, sweetcorn, and a generous drizzle of tahini.
View Full Recipe
Top Vegan Recipe Resources
🥑