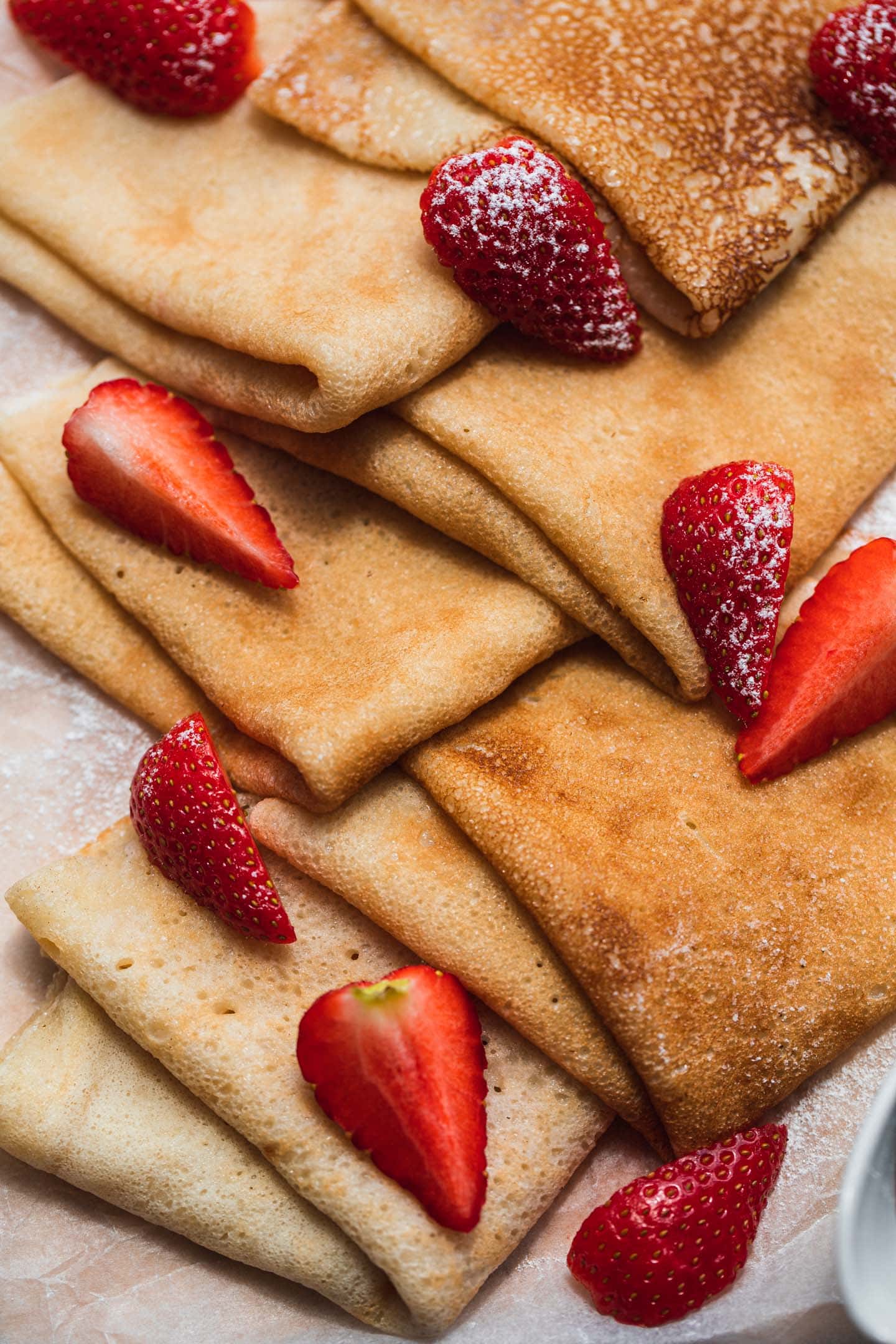 The Best Vegan Crepes Recipe
By Earth of Maria
🔪Prep Time: 15 mins
👩‍🍳Cook Time: 15 mins
Ingredients
3/4 cup aquafaba, (the liquid from a can of chickpeas)
1/2 tsp salt
2 tbsp sugar
1/4 cup water
1 1/2 cups flour
1 tbsp vegan butter
1 cup strawberries, chopped
1 cup blueberries
2 tbsp maple syrup
Instructions
1Add the aquafaba, salt and sugar to a large mixing bowl. Whisk the mixture using either a handheld or standing mixer, and continue whisking continuously for around 5 minutes in total, until a foamy consistency forms with semi-stiff peaks.
2Add water, and whisk for around 30 seconds more.
3Gradually add flour around 1/4 cup at a time, whisking for 10 seconds, then adding more flour. Continue whisking until the batter is very smooth, with no lumps.
4Lightly grease either a wide non-stick frying pan with vegan butter or olive oil. Pour out around 1/2 cup of the batter per crepe and gently tilt the pan to spread out the batter. Proceed to cook for around 2 minutes. You know that the crepe is ready to flip when the edges are crispy and it's easy to slide a spatula under the crepe.
5Using a flat spatula, flip the crepe quickly and cook for around 30 seconds more on the other side. Now transfer to a warm plate as you make the rest of the batch.
6To make the berry compote, melt the vegan butter in a saucepan and add the strawberries, blueberries and maple syrup. Cook on a low heat for 10 minutes, until thick and jammy.
View Full Recipe
Top Vegan Recipe Resources
🥑