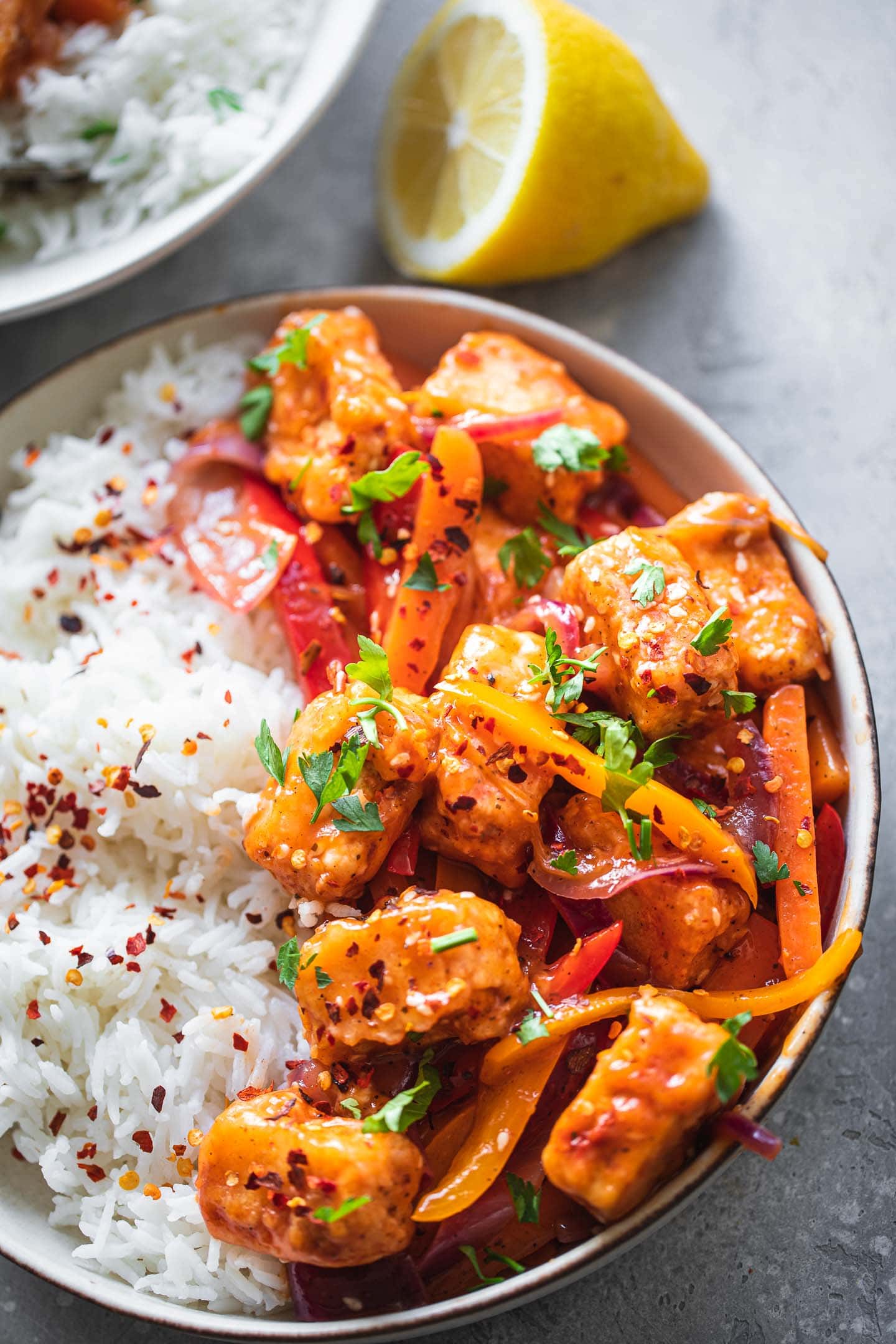 Sweet And Sour Tofu Recipe
By Earth of Maria
🔪Prep Time: 25 mins
👩‍🍳Cook Time: 5 mins
Ingredients
10 oz tofu, extra firm, cubed and pressed (see recipe notes)
1 lemon, juice of
1 tsp paprika
1/2 tsp salt
1/3 cup cornstarch
1 tbsp sesame oil
1 large red onion, diced
2 cloves garlic, minced
1 medium orange bell pepper, chopped
1 medium red bell pepper , chopped
1 large carrot, peeled and chopped into matchsticks
3 tbsp sesame seeds
3/4 cup orange juice
2 tbsp rice vinegar
2 tbsp tomato paste
1/2 tbsp sriracha
2 tbsp tamari
2 tbsp cornstarch
1/4 cup water
Instructions
1In a mixing bowl, mix together the tofu, lemon juice, paprika and salt. Set aside for at least 20 minutes to marinade.
2Preheat the oven to 180 degrees C and line a baking tray with parchment paper.
3Add cornstarch to a ziplock bag, followed by the tofu. Shake to ensure that the tofu cubes are evenly coated. Then, transfer them to the baking tray and bake for 25 minutes.
4Prepare the sauce by whisking together the orange juice, rice vinegar, tomato paste, sriracha, and tamari. In a separate bowl, whisk together water and cornstarch.
5Heat a little bit of sesame oil in a wok or pan over a medium heat. Add the onion and garlic, cooking for 2-3 minutes, until softened. Now add the carrot and bell peppers, cooking for 5 minutes more.
6When the tofu is ready, add it to the wok/pan together with the sauce and cornstarch slurry. Stir for a few minutes, until the sauce thickens.
7Stir in the sesame seeds and serve.
View Full Recipe
Top Vegan Recipe Resources
🥑