Recipes

Whole Roasted Cauliflower With Tahini Sauce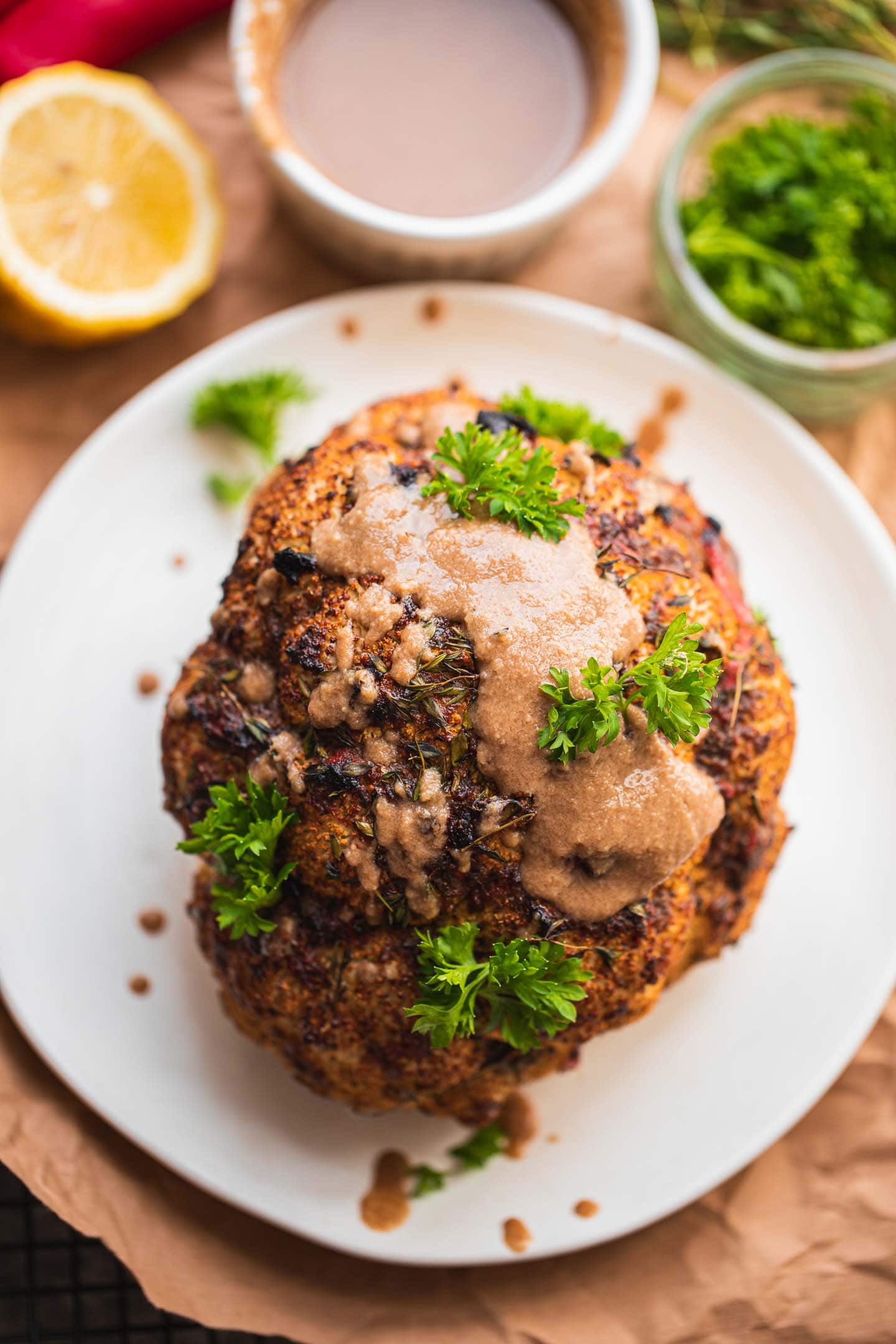 Whole Roasted Cauliflower With Tahini Sauce Recipe
By Earth of Maria
🔪Prep Time: 10 mins
👩‍🍳Cook Time: 50 mins
Ingredients
1 head cauliflower
2 tbsp olive oil
2 tbsp tamari
3 cloves garlic, minced
1 tsp garlic powder
1 tsp garam masala
1 tsp cumin
2 tsp dried basil
1 red chilli pepper, finely chopped
1/2 lemon, juice of
3 tbsp fresh thyme
2 tbsp plant based milk
1 tbsp maple syrup
2 tbsp balsamic vinegar
1/4 cup tahini
3 tbsp lemon juice
1/2 lemon, juice of
1/2 tsp salt
Instructions
1Preheat the oven to 180 degrees C (350 F) and line a baking tray with a sheet of parchment paper.
2Prepare the cauliflower by trimming the leaves and the base of the stalk of the cauliflower, but make sure not to accidentally trim away any of the florets.
3Mix together the the olive oil, tamari, garlic, garlic powder, garam masala, cumin, dried basil, chilli pepper, and lemon juice.
4Turn the cauliflower upside down and pour in around 1/4 of the sauce, shaking it a few times to distribute it throughout the florets. Place it on the baking tray and brush the rest of the sauce all over the cauliflower. You can also use your hands to do this.
5Place in the oven and roast for around 50 minutes, until golden brown on the outside and tender on the inside (you can test for readiness using a toothpick). After around 45 minutes, keep a close eye on it to make sure that it doesn't start to burn.
6Make the tahini sauce when the cauliflower is almost ready. Whisk together the plant based milk, maple syrup, balsamic vinegar, tahini, lemon juice and salt.
7Serve immediately with the cauliflower.
View Full Recipe
Top Vegan Recipe Resources
🥑