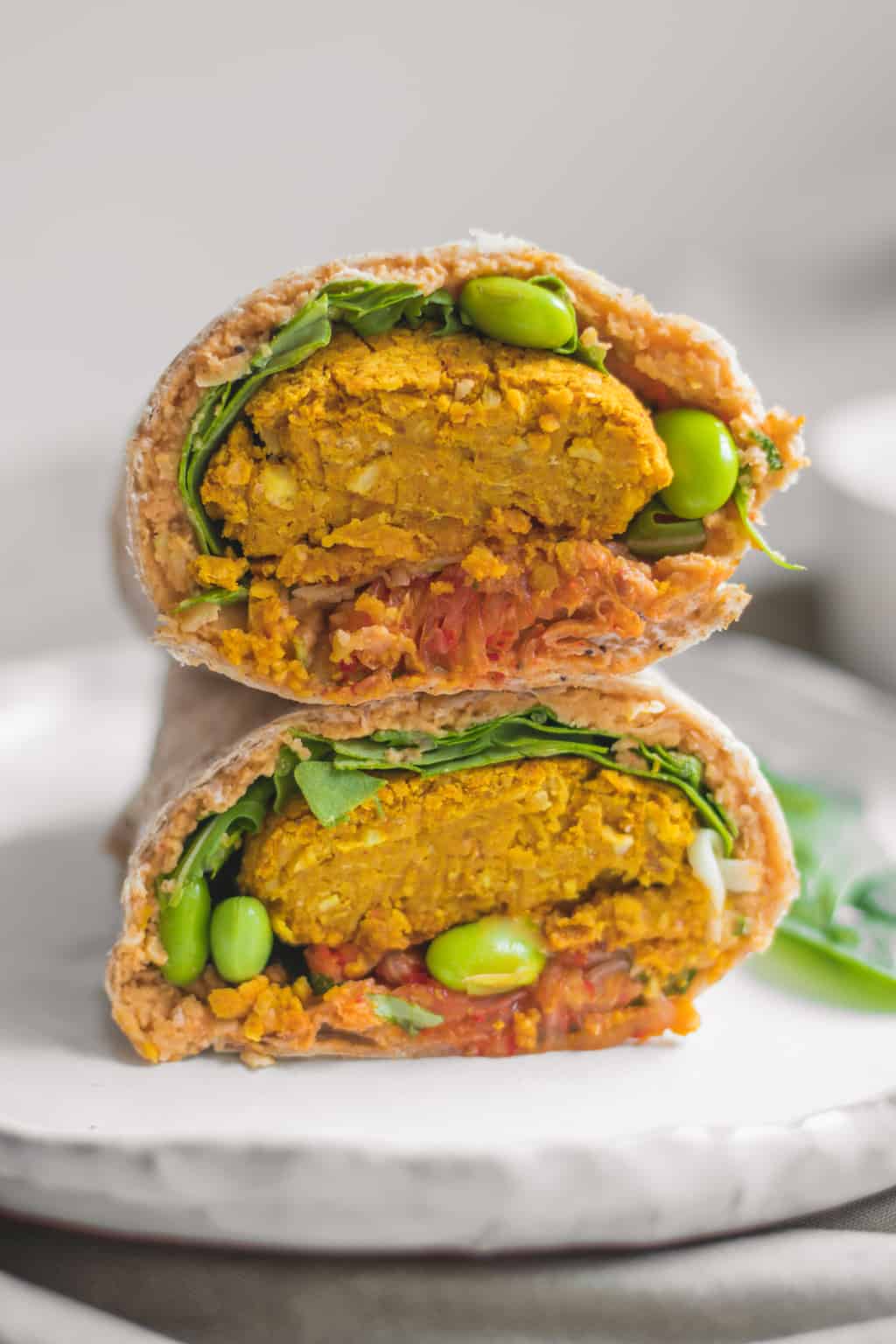 Edamame And Kimchi Vegan Falafel Wrap Recipe
By Earth of Maria
🔪Prep Time: 10 mins
👩‍🍳Cook Time: 20 mins
Ingredients
1.5 cups cooked chickpeas
2 cloves garlic
1 tsp cumin
1 tsp turmeric
1 tsp paprika
1/4 tsp cayenne pepper
2 tbsp buckwheat flour
1 tbsp ground flaxseed
juice of 1/2 lemon
1-2 tbsp water
1.5 cups cooked chickpeas
1 tsp paprika
1 tsp date syrup, optional
1 lemon, juice of
1/2 tsp salt
2 gluten-free tortillas
1 cup fresh arugula
1 cup zucchini, spirallized
1/2 cup edamame
1/4 cup kimchi
Instructions
1Preheat an oven to 200 degrees C/392 F. Add all the falafel ingredients to a food processor and blend for a couple minutes, until well combined. Add more water if necessary.
2Use your hands to make flat falafel shapes and arrange them evenly on a sheet of baking paper. This mixture should make 6-7 falafels. Bake for up to 20 minutes, checking after the 15 minute mark to make sure they don't burn.
3Meanwhile, make the hummus by placing all the ingredients into a food processor and blending until smooth. Add more water if necessary.
4Once the falafels are ready, arrange the wraps by spreading the hummus on tortillas and adding fresh arugula, the falafels, spiralized zucchini, edamame beans and kimchi. Roll up tightly and serve straight away, or store in the fridge in an airtight container for 2-3 days.
View Full Recipe
Top Vegan Recipe Resources
🥑