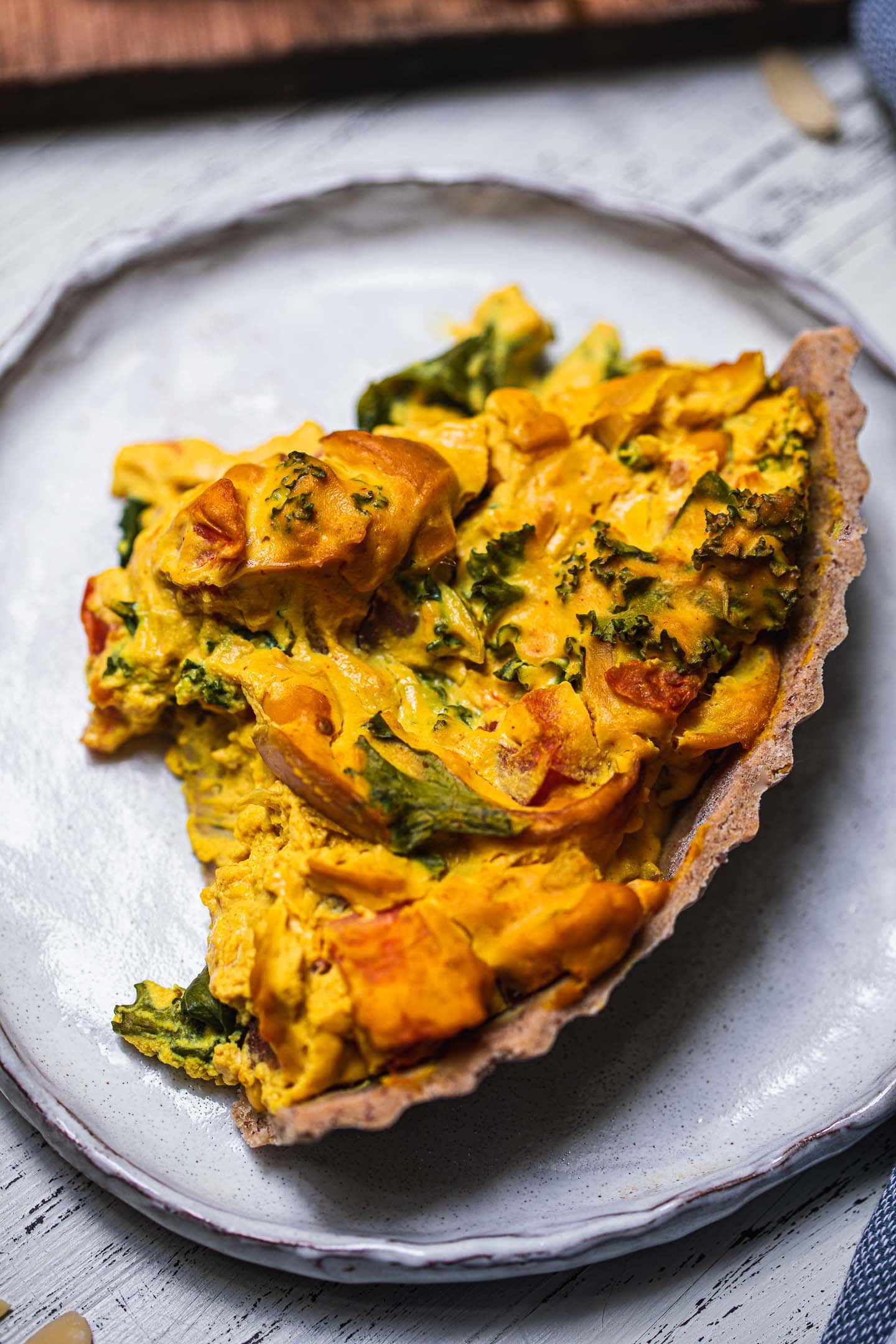 Easy Vegan Quiche Recipe
By Earth of Maria
🔪Prep Time: 30 mins
👩‍🍳Cook Time: 30 mins
Ingredients
2 cups rice flour
1 cup buckwheat flour
1 cup chickpea flour
1 1/2 tbsp xanthan gum
1/2 tsp salt
1/2 cup vegan butter, (preferably inn stick form rather than from the tub)
2 tbsp ground flaxseed, soaked in 1/2 cup water for 10 minutes
1/2 cup ice cold water, + 2 tbsp
10 oz extra firm tofu
3/4 cup plant based milk
3 tbsp nutritional yeast
2 cloves garlic
1/2 tsp salt
1 tsp cumin
1 tbsp turmeric
1/2 tsp paprika
1/2 lemon, juice of
1/2 tbsp olive oil
1 large red onion, sliced
1/4 cup chickpea flour
Instructions
1Start by preparing the crust. Combine the the rice flour, buckwheat flour, chickpea flour, xanthan gum, salt and vegan butter in a large mixing bowl. Chop up the butter using a butter knife and combine well with the rest of the ingredients. Avoid using your hands at this point as this may melt the butter.
2Add the flax egg and ice cold water. Combine using the butter knife, then mix quickly using your hands until a dough forms. Leave to chill in the fridge for 15-20 minutes. Preheat the oven to 180 degrees C/350 F and use this time to make the filling.
3Start by adding the tofu, plant based milk, nutritional yeast, garlic, salt, cumin, turmeric, paprika and lemon juice to a high speed blender or food processor. Blend until very smooth and no graininess remains.
4Heat the olive oil in a non-stick frying pan and sauté the onion for 3-4 minutes, until fragrant. Then, pour in the sauce and chickpea flour, and stir for 2-3 minutes to allow it to thicken.
5Remove the dough from the fridge and roll out into a thin sheet, around 1/3 inch in thickness. Press into a quiche tin and trim around the edges. You can bake the excess dough to crumble on top of the finished quiche at the end. Poke a few rows of holes in the bottom of the pie.
6Pour in the tofu filling and bake in the preheated oven for 25-30 minutes.
View Full Recipe
Top Vegan Recipe Resources
🥑