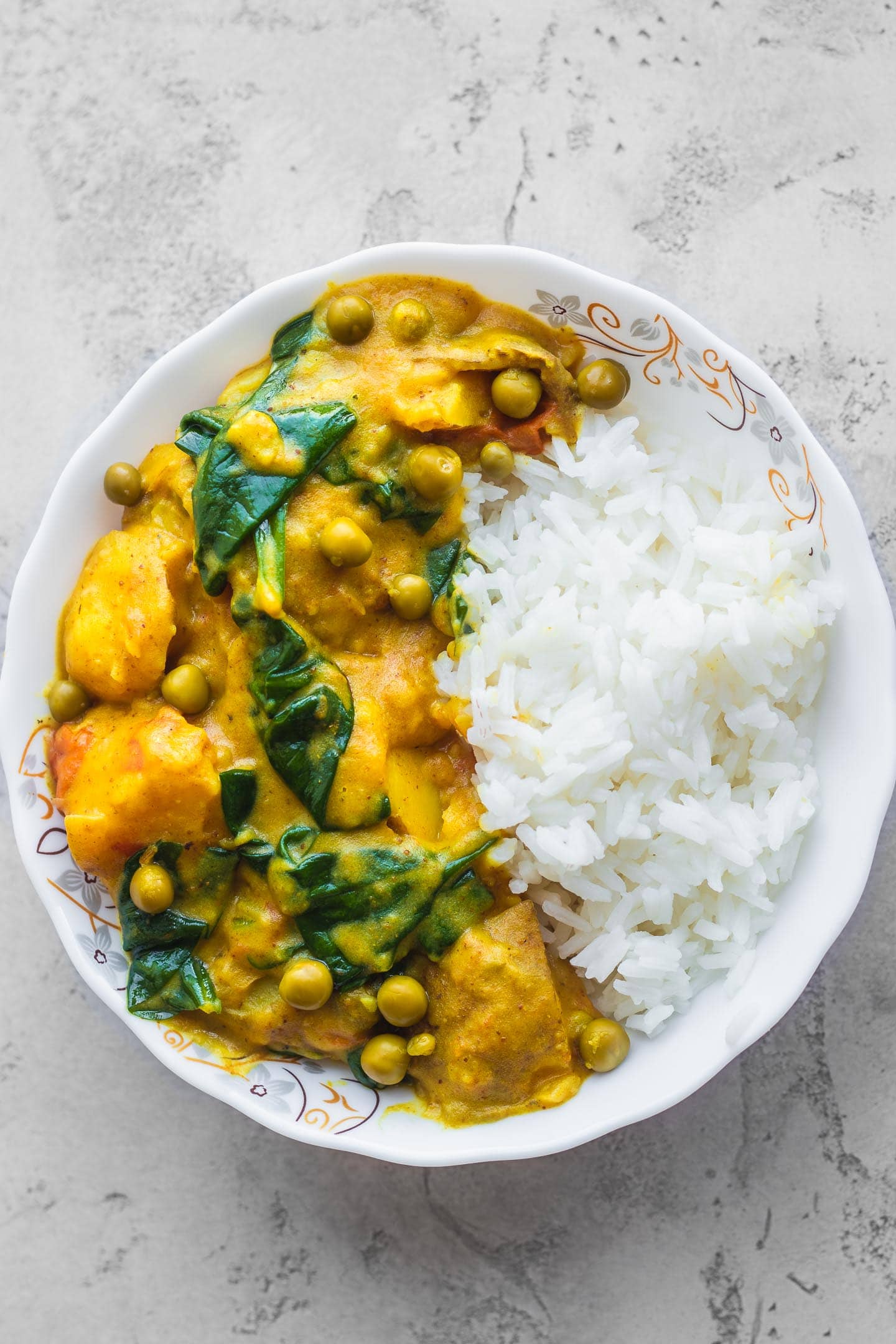 Easy Vegan Potato Curry Recipe
By Earth of Maria
Ingredients
2 cloves garlic, minced
1/2 large onion, chopped
1 tbsp tomato paste
5 oz fresh tomatoes, chopped (around 5 medium tomatoes)
14 oz potatoes, chopped
1 can coconut milk, 14 oz
1 tbsp curry powder
1 tsp turmeric
1 tsp garam masala
1 cup spinach
1/2 cup green peas, fresh or thawed from frozen
salt and pepper, to taste
rice, to serve
Instructions
1Add the garlic and onion to a non-stick saucepan and sauté for 2-3 minutes, until fragrant. Add a splash of water if it starts to stick to keep this recipe oil-free. Then, add the tomato paste and sauté for 1 minute more to coat.
2Add the fresh tomatoes and press them down gently. Cook, stirring occasionally, for 2-3 minutes, until the tomatoes start to release their juices.
3Add the potatoes, coconut milk, curry powder, turmeric and garam masala. Bring to a simmer, cover and cook on a low-medium heat, stirring occasionally, for around 15 minutes, or until the potatoes are fork-tender.
4At the last minute, stir in the spinach and the green peas, cooking until the spinach has wilted. Season to taste with salt and pepper and serve over a bed of rice of your choice.
View Full Recipe
Top Vegan Recipe Resources
🥑