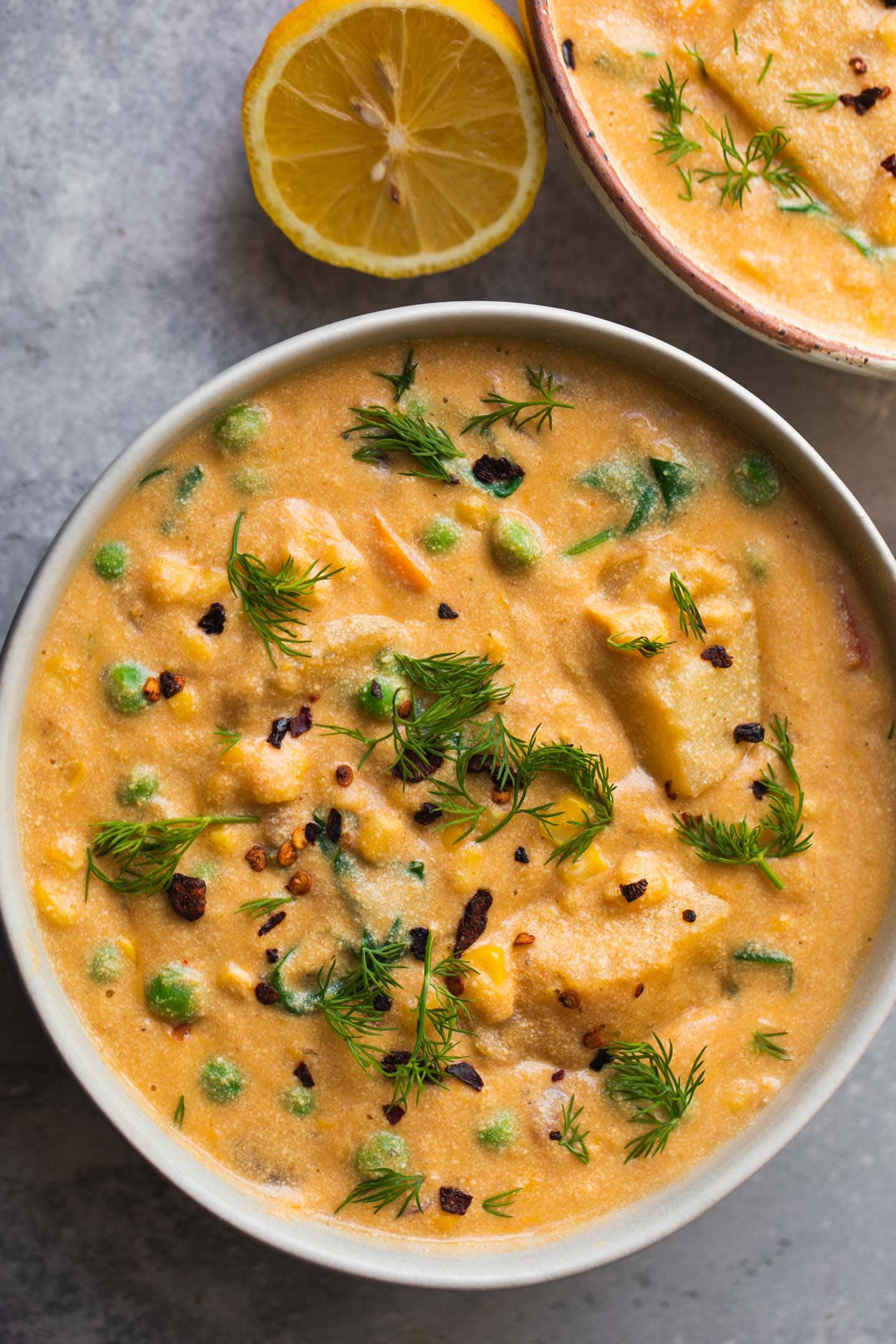 Easy Vegan Corn Chowder Recipe
By Earth of Maria
🔪Prep Time: 5 mins
👩‍🍳Cook Time: 25 mins
Ingredients
2 tbsp vegan butter
1 medium red onion, diced
1 medium red bell pepper, diced
2 ribs celery, diced
1 1/2 lbs potatoes, diced
4 cups vegetable broth
1 cup plant based milk
2 tbsp apple cider vinegar
10 oz extra firm tofu
3 tbsp nutritional yeast
1/2 tsp salt
1 tbsp paprika
1 tbsp cumin
1 tbsp garlic powder
1 tbsp mustard
1/2 lemon, juice of
2 cups fresh sweetcorn
2 tbsp gluten-free flour
1 cup green peas
2 cups spinach
Instructions
1Melt the vegan butter in a saucepan. Add the red onion, bell pepper and celery. Cook for around 5 minutes, until they start to soften.
2Add the potatoes and vegetable broth. Cook for around 15 minutes more, until the potatoes soften fully.
3Transfer 1/2 of the cooked vegetables and broth to a blender, also adding the plant based milk, apple cider vinegar, tofu, nutritional yeast, salt, paprika, cumin, garlic powder, mustard and lemon juice. Blend until smooth.
4Add the sauce back to the pan together with the sweetcorn and flour, and stir for 2-3 minutes, until the soup starts to thicken.
5Stir in the green peas and spinach and cook for 2 minutes more before serving.
View Full Recipe
Top Vegan Recipe Resources
🥑