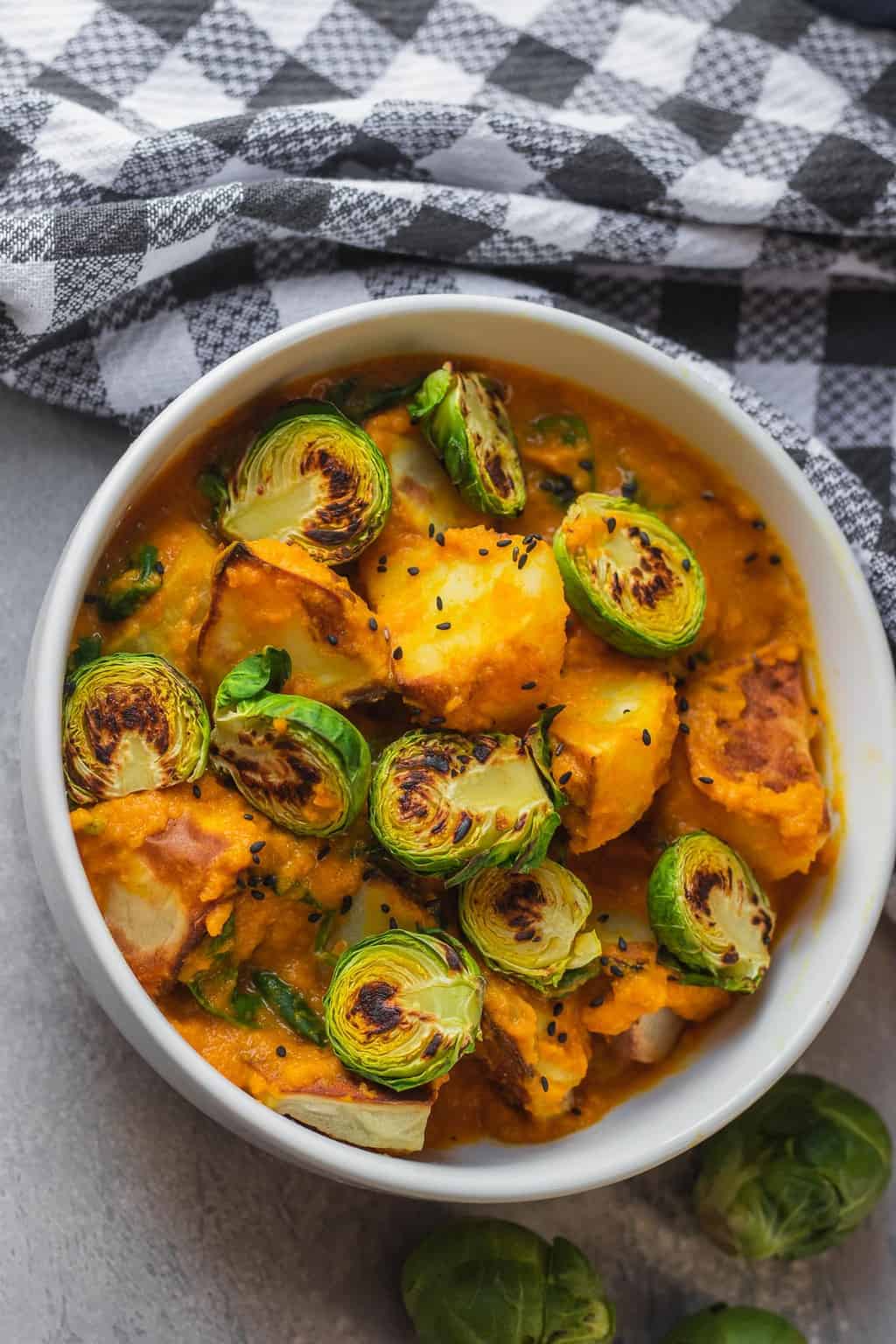 Easy 'Cheesy' Potatoes With Brussels Sprouts Recipe
By Earth of Maria
🔪Prep Time: 5 mins
👩‍🍳Cook Time: 40 mins
Ingredients
1.7 lbs potatoes, peeled and chopped
0.5 lbs Brussels sprouts
1 1/2 tbsp date syrup
1 tsp garlic powder
3 cups butternut squash, peeled and cubed
2 large carrots, peeled and chopped
1 medium white onion, chopped
1/2 cup plant based milk
1 small red chilli pepper, de-seeded and chopped
2 cloves garlic
1 tbsp mustard, ensure vegan and gluten-free
1/2 tsp sea salt, or to taste
1 tsp paprika
1 tsp cumin
1 tsp turmeric
1 tbsp cornstarch
1 cup green peas
2 cups spinach
Instructions
1Preheat the oven to 200 degrees C (400 F) and line a baking tray with parchment paper.
2Start by tossing the potatoes and Brussels sprouts in a little bit of date (or maple) syrup and garlic powder. Transfer to the baking tray and roast in the preheated oven until the vegetables cooked through and crispy.
3Boil the butternut squash, carrots and onions until they are soft, which usually takes around 15 minutes.
4Once the vegetables for the cheesy sauce are cooked through, drain them but keep the water you cooked them in. Add the vegetables to a food processor or blender together with around a cup of the cooking water, plant based milk, red chilli peppers, garlic, mustard, salt, paprika, cumin, turmeric and cornstarch. Blend until smooth.
5When they are ready, transfer the potatoes and Brussels sprouts to a pan over a medium-high heat together with the sauce. Stir for a few minutes to allow the sauce to thicken.
6Add green peas and spinach, stirring for 2-3 minutes more. Serve when the spinach wilts.
View Full Recipe
Top Vegan Recipe Resources
🥑