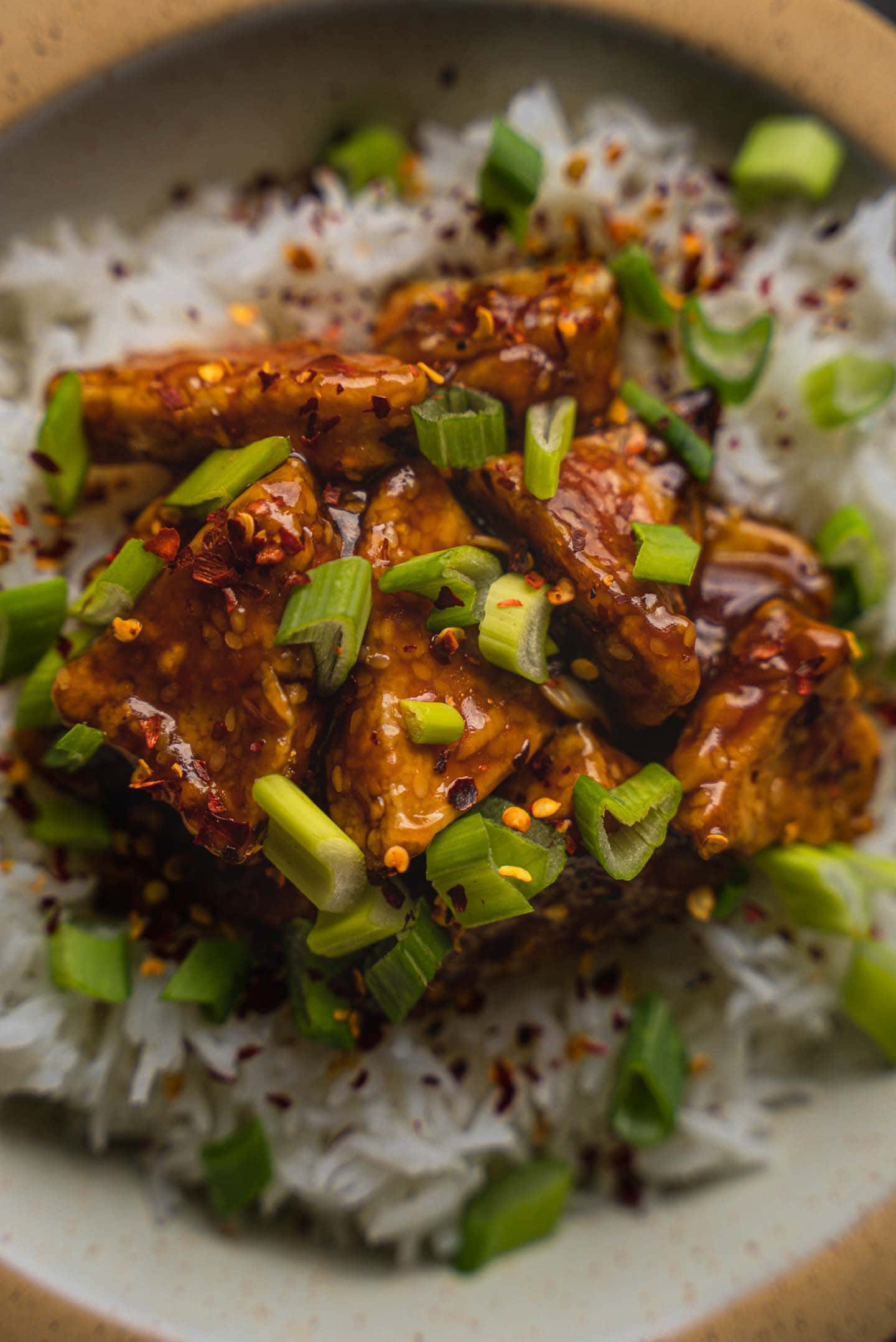 Crispy Teriyaki Tofu Recipe
By Earth of Maria
Ingredients
▢ 10 oz extra firm tofu
▢ 1/4 cup cornstarch
▢ 1 tbsp sesame oil
▢ 2 cloves garlic, minced
▢ 2 tbsp ginger, peeled and grated
▢ 1/4 cup soy sauce
▢ 2 tbsp maple syrup
▢ 2 tsp mirin
▢ 1 tbsp cornstarch
▢ 1/2 cup water
▢ 3 tbsp sesame seeds
▢ 1/2 cup scallions, chopped
Instructions
1Preheat the oven to 350 degrees F/180 degrees C and lining a large baking tray with parchment paper.
2Cut it either into cubes or triangles. Add to a mixing bowl with the cornstarch and stir together well.
3Arrange the tofu on the baking tray and bake in the preheated oven for 25 minutes, flipping half way through, until crispy and lightly golden.
4When the tofu is almost ready, add the sesame oil to a wok or skillet over a medium heat. Add the garlic and ginger, cooking for 3-4 minutes, until fragrant.
5Make a cornstarch slurry by stirring together the cornstarch and water.
6Add the soy sauce, maple syrup, mirin and cornstarch slurry. Stir continuously for a few minutes, until the sauce thickens.
7When the sauce thickens, add the tofu and stir together well. At the last minute, add the sesame seeds and serve with rice or noodles of your choice, garnished with scallions.
View Full Recipe
Top Vegan Recipe Resources
🥑