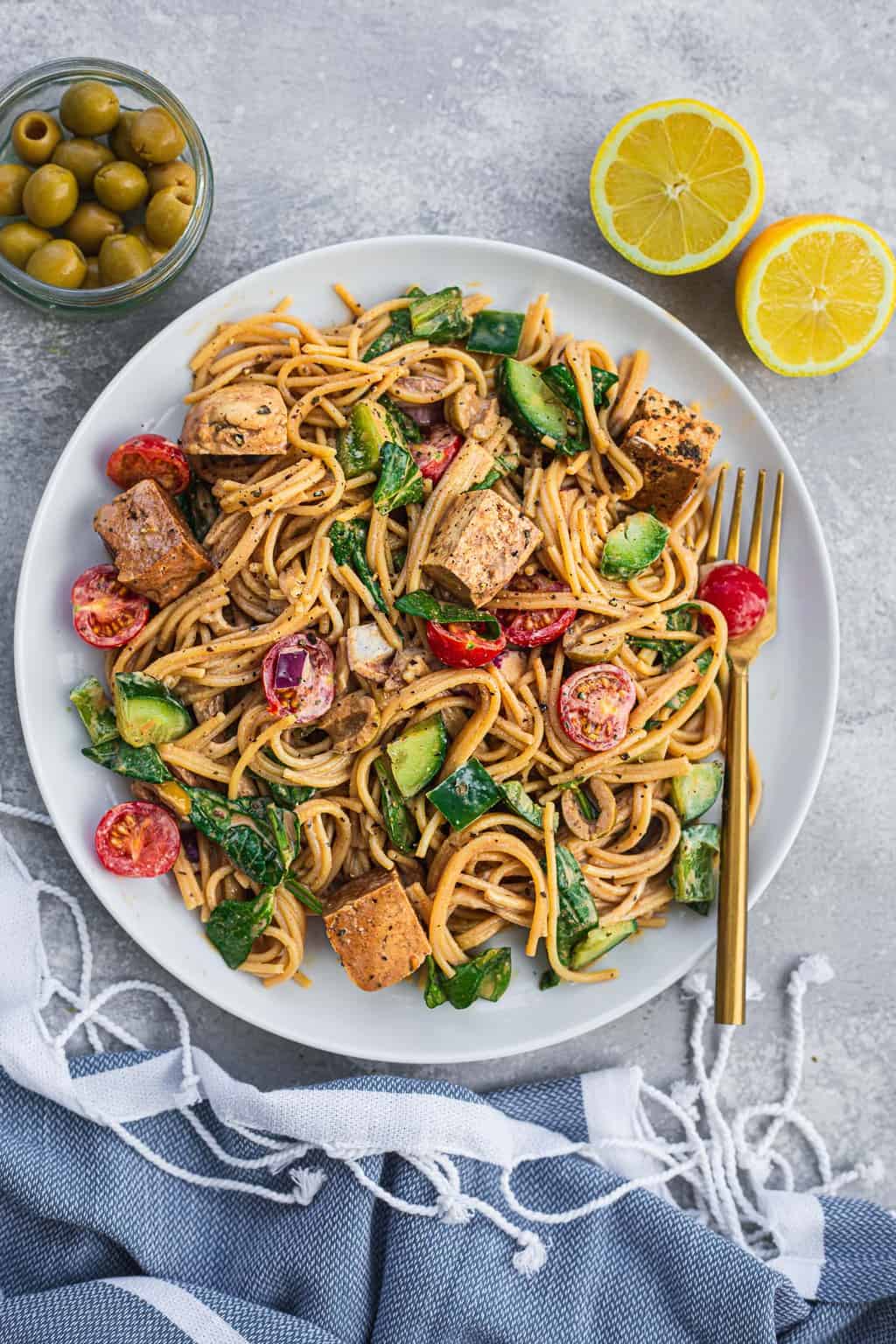 Cold Spaghetti Salad With Balsamic Tofu Recipe
By Earth of Maria
Ingredients
7 oz firm tofu, cubed
1/4 cup tamari
1/4 cup balsamic vinegar
2 tbsp agave nectar
2 tsp dried basil
1 tbsp paprika
1/2 cup tahini
1/4 cup soy yoghurt
juice of 1 lemon , plus more if too thick
1 tsp garlic granules
1/4 cup plant milk
14 oz gluten-free spaghetti
1 medium red onion, chopped
10 cherry tomatoes, halved
1/2 large cucumber, diced
1 large green bell pepper, diced
2 cups spinach, chopped
10 pitted green olives, halved
Himalayan pink salt, to taste
Instructions
1Prepare the tofu. Add the tofu, tamari, balsamic vinegar, maple syrup, dried basil and paprika to a mixing bowl. Stir together, and set aside to marinade for at least 30 minutes.
2Meanwhile, cook the spaghetti according to packaging instructions.
3Prepare the sauce by whisking together the tahini, soy yoghurt, lemon juice, garlic granules and plant based milk.
4Add the spaghetti to the sauce together with the red onion, cherry tomatoes, cucumber, bell pepper, spinach and olives. Toss together really well, seasoning to taste with salt and pepper.
5Add the tofu on top of the salad and leave to chill in the fridge for at least 10-15 minutes before serving.
View Full Recipe
Top Vegan Recipe Resources
🥑