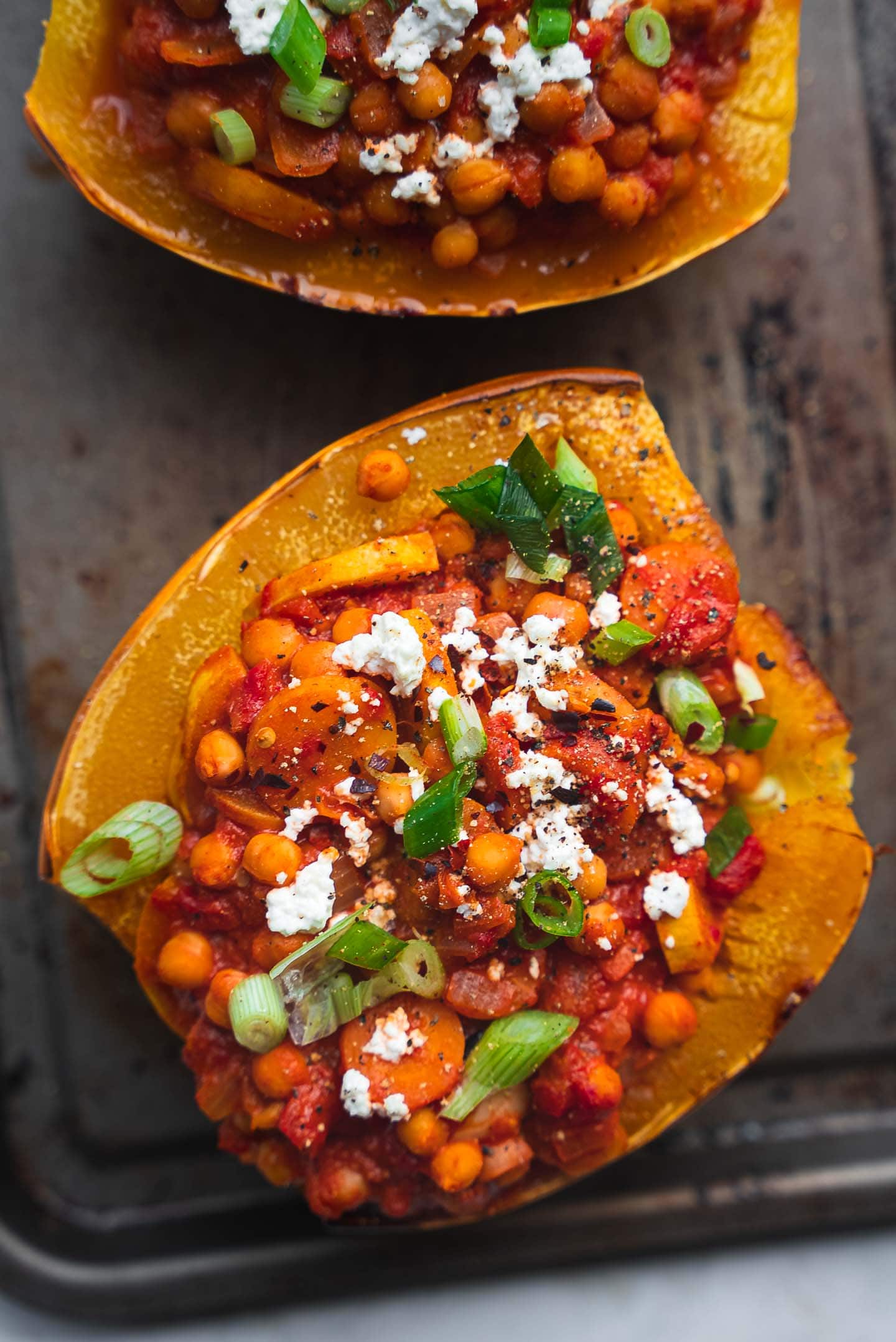 Chickpea Stuffed Spaghetti Squash Recipe
By Earth of Maria
🔪Prep Time: 10 mins
👩‍🍳Cook Time: 35 mins
Ingredients
1 large spaghetti squash
1/2 tsp salt
1/2 tsp black pepper
1 large onion, diced
2 cloves garlic, minced
2 medium carrots, peeled and chopped
1 medium zucchini, chopped
2 tbsp tomato paste
1 tsp cumin
1 tsp paprika
1 tsp turmeric
1 can tomatoes, (14 oz)
1 can chickpeas, (14 oz)
2 tbsp tamari
1/4 cup nutritional yeast
1/3 cup vegan feta
Instructions
1Remove the top of the spaghetti squash, and then cut it in half. You can place the squash in the microwave for a couple minutes to soften.
2Scoop out and discard the seeds. Spray the halves of the squash with cooking spray. Next, season generously with salt and pepper.
3Place the spaghetti squash face-down on a baking tray lined with parchment paper, and bake at 350 degrees F (180 degrees C) for 30 minutes, until softened.
4Add garlic, onion, carrots, zucchini, tomato paste, cumin, paprika and turmeric to a large non-stick pan over a medium heat. Cook, stirring frequently, for 10 minutes, until the vegetables are softened and fragrant.
5Add canned chopped tomatoes, chickpeas, nutritional yeast, and tamari. Cook, stirring frequently, for a further 10 minutes. Taste and season with extra salt if necessary.
6Remove the spaghetti squash from the oven, and scrape it using a fork to make the 'spaghetti' strands.
7Distribute the filling evenly between the two halves of the squash, and sprinkle with cheese of your choice. Bake for another 5-10 minutes,
View Full Recipe
Top Vegan Recipe Resources
🥑