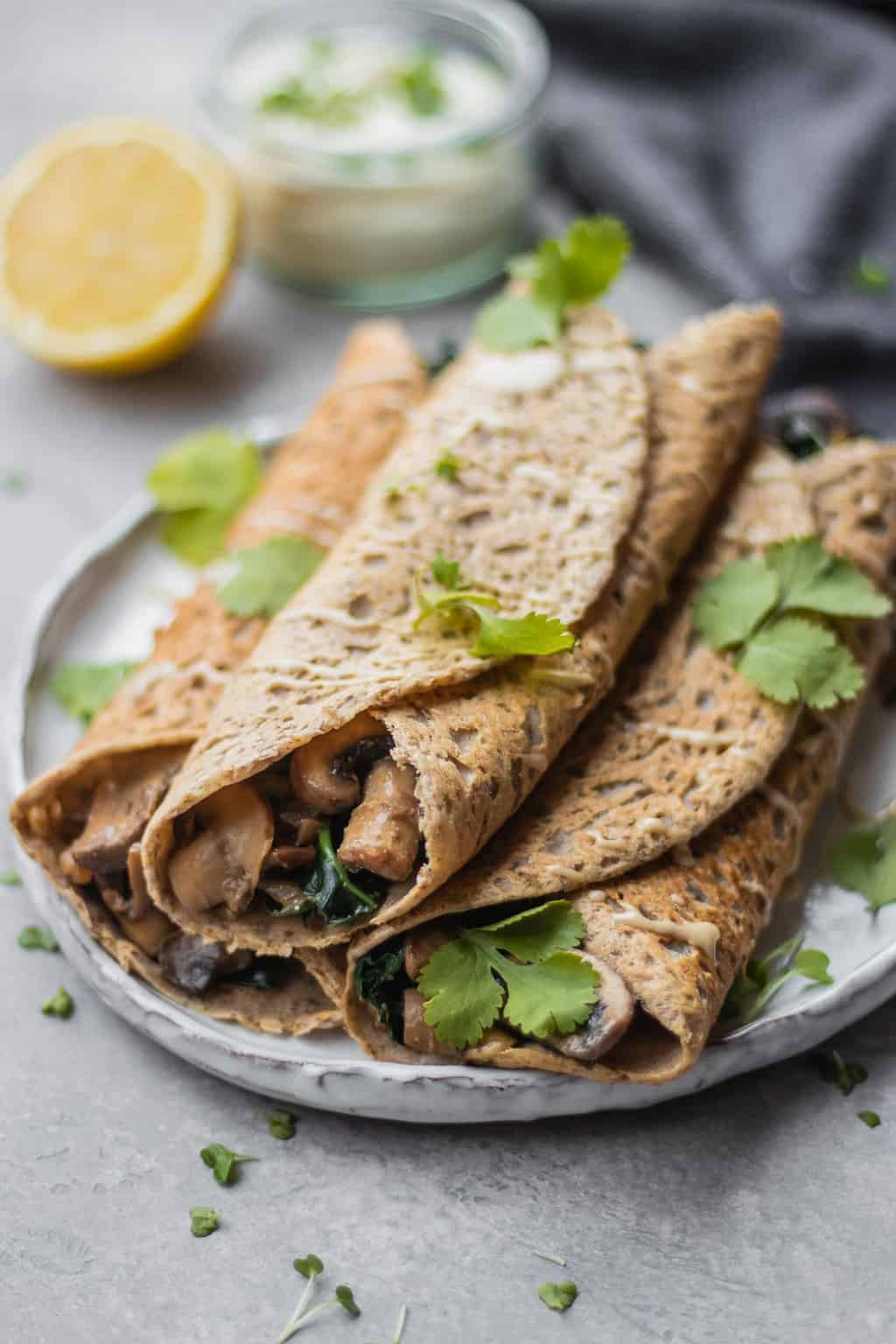 Buckwheat Crepes With Mushrooms Recipe
By Earth of Maria
🔪Prep Time: 5 mins
👩‍🍳Cook Time: 25 mins
Ingredients
1 3/5 cups buckwheat flour
3 tbsp ground flaxseed
1 tsp coconut sugar
1/2 tsp salt
2 1/2 cups almond milk
1 medium onion, chopped
10 oz mushrooms, chopped
1/4 cup almond milk
1 tsp cumin
1/2 tsp garlic granules
2 tsp corn starch
2 tbsp tamari
1 handful kale, chopped
Instructions
1Add the buckwheat flour, ground flaxseed, coconut sugar, salt and almond milk to a large mixing bowl. Whisk the ingredients together really well.
2Heat a large non-stick frying pan over a medium-low heat. Add enough batter to the frying pan to cover the entire surface (around 1/4 cup per crepe). Cook for around 2 minutes, until it is easy to lift up the crepe. Flip, then cook for a further thirty seconds on the other side.
3Meanwhile, prepare the mushroom filling. Add the onion to a non-stick saucepan and cook for 2-3 minutes, until translucent.
4Add the mushrooms and cook for a further 3-4 minutes, until they shrink down.
5Add in the almond milk, cumin, garlic granules, corn starch, tamari and kale. Cook for 2-3 minutes, until the kale wilts and the sauce thickens.
6Serve immediately with the buckwheat crepes.
View Full Recipe
Top Vegan Recipe Resources
🥑